Regardless of what is often said and published, gold is never a good investment. It is, sometimes, a good speculation; but it is never a good investment. The price of gold is a feather suspended in the air whose level changes in concert with associated speculative winds.
"So", you may say, "what is the significance of this?" The significance is twofold. (1) Gold is not a good candidate for the typical investor's retirement portfolio. (2) Buying and holding gold is best left to those who are expert in the intricacies surrounding the commodity. There is a certain percentage of the typical investor's retirement portfolio that should be committed to gold; but this percentage is zero. There are three basic underlying reasons why this is the case.
(1) Gold is not designed to make a profit less inflation. All commodities are speculative, versus investments, for this reason. Historically, U.S. stocks have displayed a tendency to rise in value, with dividends included, about 8.88% per year. (This figure varies depending upon what year you begin measuring from.) This is not a coincidence in that 8.88% equals about the average historical U.S. corporate profit margin plus average historical U.S. inflation. Companies are designed to make a profit. Gold and other commodities are not. Longer-term bonds are designed to make a profit too. Longer-term bonds are designed to pay interest that exceeds the rate of inflation and default losses.
(2) Gold's value is almost entirely perceptual. Only about 10% of the gold consumed each year is consumed for industrial use (i.e., electronics, dentistry, etc.). The vast majority of the remaining gold consumption is for jewelry, mostly, and investment. (World Gold Council, Gold Demand Trends) Gold is pretty, but many things are pretty; and many of the other things that are pretty are far less expensive. Besides, pretty is not important. Gold is not practical for eating, making clothing, building a house, or heating or cooling your home. Mankind's overemphasis on gold over the years has been, and continues to be, a reflection of his selfishness, ignorance and stupidity. Very largely, gold is only worth what people think it is worth; and, in reality, beneath this, it is worth very little.
(3) The amount of gold currently being recycled is about 4 times current industrial-use consumption; the total annual demand for gold only equals about 2.5% of all of the gold ever mined; industrial-use annual demand for gold only equals about 0.26% of all of the gold ever mined; and a very large amount of previously-mined gold can be readily reused. (World Gold Council, Gold Demand Trends and FAQs) By far, there is plenty of gold already mined and readily reusable (e.g., gold bars and much of the existing gold jewelry) to meet the rational demand for gold. There is no need to newly mine any gold to meet the rational demand. Furthermore, conditions can easily change whereby no new gold needs to be mined to meet both the rational and irrational demand. Demand could simply be met by the gold already mined. If the consumer does not want the gold in its current form, the gold can be melted and reshaped. When this situation occurs, the cost of mining gold will be irrelevant to the market price of gold because there will be no gold mining; and the price of gold should fall dramatically.
Given (2) and (3), gold figures to be worth relatively close to $0 an ounce some time in the future. There is no scenario of which I am aware of that will lead to this occurring anytime soon; but it is clear that buying and/or holding gold is a speculative endeavor.
Gold rose strongly in value from April 2, 2001 to September 5/6, 2011, moving from $255.95 to $1895.00 per ounce on the London exchange. Since then, gold's value has fallen from its peak and stagnated. As of February 12, 2013, it was $1,647.50 per ounce on the London exchange. On a non-inflation-adjusted basis, the U.S. dollar price of gold has never been anywhere near as high as it has been recently. On an inflation-adjusted basis, the U.S. dollar price of gold was higher for some brief periods during the early 1980s, during and after a period wherein U.S. dollar inflation was a serious problem. U.S. dollar inflation, in terms of CPI-U, was over 10% for the years 1979-1981 and 1974.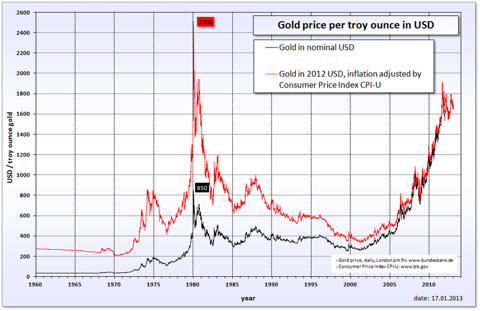 Source: RealTerm via Wikipedia.
As you can see above, viewing a historical gold price chart, it is easy to see that gold prices may have bubbled and, recently, peaked. At this point in history much more so than very many other periods, buying and/or holding gold appears to be a risk, as opposed to a good response to risk. At the current price level, the mere fact that gold prices have not risen for the last year and a half or so in U.S. dollar terms is a risky situation, as it could lead to additional selling over time as people jump off the bandwagon. From its inflation-adjusted U.S. dollar price peak in early 1980, over the course of the next 19.5 years or so (to about mid-1999), gold lost about 85% of its inflation-adjusted value. In non-inflation-adjusted terms, gold lost more than 70% of its value.
Working in gold's favor is the fact that there are more ways to speculate on gold prices today than there were in 1980, 1999 or 2001. The largest gold funds are the SPDR Gold Shares (NYSEARCA:GLD), iShares Gold Trust (NYSEARCA:IAU), and ETFS Physical Swiss Gold Shares (NYSEARCA:SGOL) ETFs. Some of the largest gold mining companies are Barrick Gold Corporation (NYSE:ABX), Goldcorp Inc. (NYSE:GG), Newmont Mining Corp. (NYSE:NEM), and AngloGold Ashanti Ltd. (NYSE:AU). If you are going to buy or hold gold or gold mining company stock, you should be well-informed regarding (1) how much gold is being held in storage by (government) central banks and like entities (e.g., the IMF), (2) how much gold these entities are likely to buy and sell in the near future, (3) the likely consumption of gold jewelry by consumers around the world in the near future―particularly in India and Greater China, by far the two greatest gold jewelry consumption areas, (4) the amount of previously-bought gold jewelry, etc., likely to be recycled in the near future, (5) likely near-term investor sentiment around the world regarding the metal, and (6) the cost of producing the most expensive ounce of gold necessary to meet near-future demand, among many other things. You should also remain cognizant that nothing rises strongly in price forever.
Disclosure: I have no positions in any stocks mentioned, and no plans to initiate any positions within the next 72 hours. I wrote this article myself, and it expresses my own opinions. I am not receiving compensation for it (other than from Seeking Alpha). I have no business relationship with any company whose stock is mentioned in this article.