[The following conversation is loosely based upon two Instant Messenger chats that I had yesterday with my economics students.]

Student: Hey Dr. R, What do you think of this commentary by Grove City economics professor Tracy C. Miller (Obama's $1 Trillion Gamble). Miller points out that savings are actually good for an economy, since they fund business investments, and that President Obama's stimulus plan is designed to reduce American savings. He argues that Obama should let the "self-correcting" mechanisms in the economic system solve the problem, even though that solution would probably take longer.

Me: Interesting piece. Only problem is that he ignores the trade deficit in his equations.

Student: This is true. But I'm wondering how much the trade deficit actually plays into it... For example, suppose we do balance trade, how much would that actually solve the problem?

Me: Tremendously. Our trade deficit is 5% of GDP. We would be increasing Aggregate Demand for American products by 5%, which would increase American incomes by 5%.

Student: Wouldn't that also probably send us into an inflationary period?

Me: That I don't know. There are too many factors to calculate. If balancing the trade deficit is added to the stimulus package is added to Bernanke's huge expansion of money supply, we would definitely have inflation.

Student: What's his idea behind expanding the money supply, outside of creating a stimulus?

Me: Bernanke is expanding the money supply so fast in order to prevent deflation. Prices have been falling.

Student: Especially gas.

Me: That means people can't pay their debts because unexpected deflation hurts debtors, resulting in high levels of bankruptcy.

Student: Cause it's not like we have enough money to pay our debts.

Me: But if we balance the trade deficit, we would quickly get to prosperity.

Student: So how would we go about balancing trade?

Me: I would balance trade using Import Certificates (ICs). But we could also do so through other ways, such as tariffs.

Student: Essentially, make it harder for people to export stuff to the US.

Me: In fact, if we simply let the mercantilist countries know that we were planning to enact Import Certificates, they would start taking down their barriers to importing from the United States. Tariffs would have the opposite reaction. They would produce counter-tariffs and result in less trade overall.

Student: Wouldn't ICs discourage trade as well?

Me: No. Import Certificates tie our imports of their goods to our trading partner's imports of our goods. So they encourage our trading partners to take down their trade barriers.

Student: So basically, they wouldn't be able to export to us, unless they bought our goods?

Me: Yes. That's it exactly. China's import duties on American vehicles, auto parts, and mining machinery are about 40%. Then they also have non-tariff barriers. Plus they manipulate their currency to keep our prices high relative to theirs.

Student: So what's the incentive for them to go along with our deal?

Me: Well, Import Certificates force them to go along. They don't give them any choice. If they don't increase their imports from the United States, then their exports to the U.S. collapse. The trade deficit country wins any trade war when the technique used is Import Certificates.

Student: What would happen if they just decided not to import anything from US... boycott us?

Me: Then the U.S. would not import anything from them. We would be fine.

Student: I don't know. China produces a lot of the goods we buy.

Me: There would be a big market for used goods for a while, plus a lot more fixing up of broken electronics.

Student: Hmmm, that brings up an interesting point...

Me: What's that?

Student: What about the exchange of goods through the Internet? Services/online suppliers. It's almost impossible to regulate.

Me: You are correct that Import Certificates would normally be paid at the border, so it would be harder to charge them on services and downloads. However, since services and downloads are usually paid by credit card, the credit card companies could charge for the Import Certificates at the same time that they do the currency conversions. Alternatively, services and downloads could be excluded from the Import Certificates program since we do have a trade surplus in services.

Student: Wouldn't Import Certificates just be another form of regulating by the government though?

Me: Yes. The government would be regulating trade to insure that it is balanced.

Student: Eh, I'm not sure I like giving the power to the government.

Me: Well, the trouble is that many foreign governments are already regulating our foreign trade. They are practicing mercantilism, the strategy of maximizing exports and minimizing imports. For example, the Chinese government wants the yuan to be artificially low in currency markets and the dollar to be high. So they purchase lots of dollars. In other words, they demand lots of dollars which keeps the price of the dollar up. Then they use the dollars they purchased to buy US assets such as US Treasury Bonds. Meanwhile, the dollar is high and the yuan is low.

Now the Chinese producers pay their workers in yuan and then sell their goods to the United States to get dollars. They are competing with American producers who pay their workers in dollars and sell their goods in the United States to get dollars. Well, the Chinese costs are low because the yuan is low compared to the dollar, so the Chinese producers make money and the U.S. producers lose money.

Student: Wow, that is nefarious! And that makes sense! But to let our own government in control? I don't know.

Me: I would rather have the U.S. government balancing foreign governments' currency manipulations than the U.S. government practicing unilateral disarmament in the trade arena.

Student: I'd rather just have it be completely free. Let the companies worry about it.

Me: That would definitely be the best solution. But we live in a world where more and more countries practice mercantilism. In Trading Away Our Future, one of our proposals was to target Import Certificates just at those governments that were practicing mercantilism, as evidenced by their accumulations of dollars. The Import Certificates would bring trade with that country to balance.

Student: What about more saving? Especially domestic...

Me: Tracy Miller is correct that increased savings is actually good for an economy. But Keynes was also correct that during a recession there is an excess of savings over investment. The Keynesian problem is worldwide. There is too much savings over investment in the world as a whole. According to Keynes when business investment goes down, income will keep going down until private savings is low enough so that savings equals investment.

Student: I thought savings always equals investment?

Me: Yes. but the full equation for a particular country is that the demand for business investment equals the supply of savings from three different sources: (1) private savings, (2) government savings - the government budget surplus, and (3) foreign savings - the loans that come into our country so that we can have a trade deficit. The intersection determines the long-term interest rate and the amount of investment, as shown in the graph below:
click to enlarge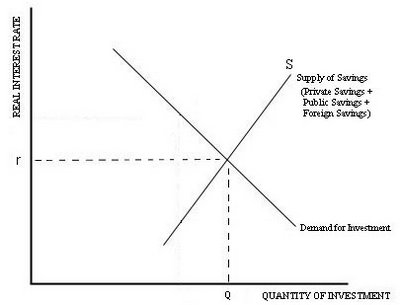 Right now, what's going on in the U.S. economy is that the demand for business investment is falling (shifting to the left in the graph) because businesses see their sales falling, so they aren't about to buy new equipment. Meanwhile government savings is falling (due to the increased budget deficits). Unless the U.S. government keeps running huge budget deficits, private savings will have to fall, forcing down American savings until the sum of all of the three sources of savings gets as low as investment.

Student: What would be a way to turn investment around?

Me: Change business expectations. If they think their sales will go up, then they will start investing more and the demand curve for investment would shift to the right.

Student: Would the stimulus help this?

Me: The Obama administration thinks that their stimulus will help. I don't.

Student: So one of the ideas is actually to just change business expectations.

Me: Yes. Do you see that balancing trade would change business expectations?

Student: I'm not sure, I think it would probably shift expectations around a bit.

Me: Businesses would start expecting to make money out of production in the United States. Even before this recession hit, those businesses that competed in world markets didn't expect to make money out of U.S. production. That's why investment in US production has been way down as shown in the graph below: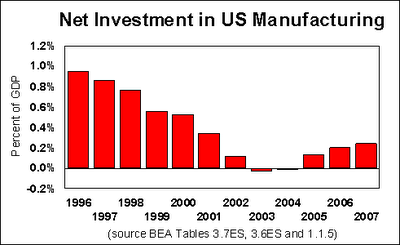 Student: So it has a lot to do with expectations

Me: Yes. The best way to change expectations is to show businesses that we are going to balance trade.

Student: Balance trade, institute the FairTax to increase American savings...

Me: Yes! you got it! As American investment grows, we will need more American savings in order to keep interest rates low. The FairTax would encourage the needed savings. Together balanced trade and the FairTax would solve all our problems and get the U.S. economy growing.

Student: Problem is, it's not exactly what people want to hear.

Me: People will start listening in a few years cause things are going to keep getting worse until we deal with our real problems.

Student: Well, I don't think it would solve all our problems, but I think it would help.
Disclosure: no positions