American Capital Mortgage Investment Corp. (NASDAQ:MTGE) is a mortgage REIT. It invests in Agency MBS, non-Agency MBS and other mortgage related investments. For FY2012 it managed a 41% economic return. This was comprised of $3.60 in dividends and $4.87 per share in increased book value. This compares extremely well to a top Agency mortgage REIT, American Capital Agency Corp. (NASDAQ:AGNC). Which produced a 32% annual economic return.
MTGE not only beat AGNC on annual economic return, it beat in many other areas. MTGE's investment strategy of a mix of Agency and non-Agency assets seems better suited to the current Fed induced low Agency net interest rate spread environment. For instance, MTGE increased its book value by $0.53 per share in Q4 2012, while AGNC lost -$0.85 per common share (or -2.6%). Both increased their undistributed taxable income per common share by like amounts +$0.63 and +$0.66 , but MTGE's increase was still a higher proportion of its current dividend or +70% of its dividend versus +52.8% for AGNC. MTGE beat AGNC with an average Agency CPR of 7% in Q4 2012 versus AGNC's 10%. The explanation for this CPR beat is likely the composition of MTGE's Agency portfolio of 83% HARP or lower loan balance securities (as of December 31, 2012). This composition helped MTGE beat AGNC on net interest rate spread in Q4 too with a spread of 1.72% versus AGNC's 1.63%. MTGE did maintain slightly higher leverage in Q4 at 8.3x versus AGNC's 7.8x. However, one would not call MTGE's Agency portfolio substantially riskier. One can't compare MTGE's non-Agency portfolio to AGNC, since AGNC doesn't have one, but the following table shows that MTGE's non-Agency portfolio performed well.

Compared to Annaly Capital Management (NYSE:NLY), another big Agency MBS investor, MTGE did even better. NLY's average interest rate spread for Q4 2012 was only 0.95%. I could cite many more metrics, but this is probably the key one as far as long -term profits go.
In sum MTGE may have a much smaller portfolio of only about $7B, but it is outperforming companies with much larger portfolios and resources such as AGNC with a $98B portfolio including TBA mortgage MBSs and NLY with about $124B in Agency securities alone. You probably won't do much better than MTGE's management team. Further the net interest rate spread seems likely to widen in 2013. The chart below of the 30 year US Treasury Bond yield on which some mortgage rates are based has been trending upward for some months now.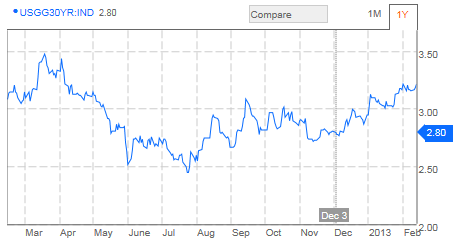 This upward trend is likely due to in part to the inflationary pressures of QE3 and QE4. The worry that the US will not balance its budget anytime soon may be fueling the rise too. President Obama and Congress have to come to an agreement on alternatives to the sequestration cuts, or the sequestration cuts will go into effect in March. The sequestration cuts were originally the brainchild of the Obama administration, but now President Obama is saying he doesn't want to make cuts (or as few as possible). This naturally has international markets worried about the seriousness with which the US is approaching its budget problems. Consequently a "good" resolution of the sequestration issues might slow or reverse the upward trend in the 30 year US Treasury yield.
Many mortgage rates are based on the US long term Treasury bond rates. Others are based on LIBOR. In conjunction with the long bond rate going up, 30-year fixed rates mortgage rates have also risen from a low of about 3.30% in the fall of 2012 to about 3.60% currently. This should mean that net interest rate spread for the mortgage REIT companies should improve in Q1 2013 versus Q4 2012. For at least the short term, the profit outlook looks a bit rosier.
The charts below show MTGE's approximate portfolio breakout.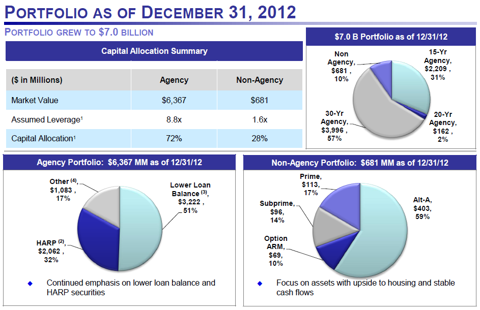 This is the breakout that brought good profits in 2012. And this portfolio, with MTGE's excellent management team directing it, should bring good profits in 2013.
The chart of MTGE's Agency CPRs below shows that MTGE's CPR trend also bodes well for greater profits in 2013.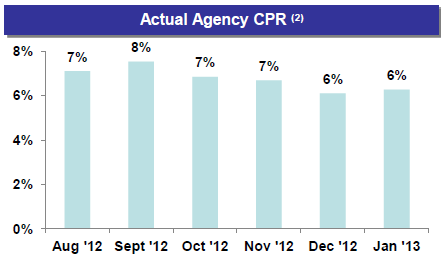 In sum MTGE has outperformed in a strong sector. This sector is likely to remain strong as the Fed is directly supporting the US real estate market. MTGE is a buy.
The two year chart of MTGE provides some technical direction for this trade.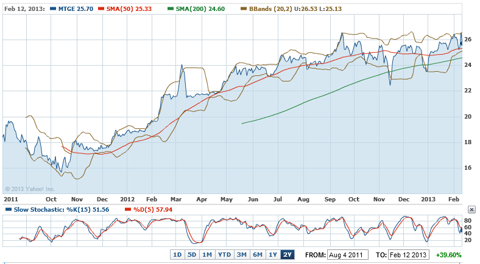 The slow stochastic sub chart shows that MTGE is neither overbought nor oversold. The main chart shows that MTGE is in a weakening uptrend. Given that, you probably want to wait until it retreats to at least its 50-day SMA to start to buy it. Some might wish to wait until it retreats to its 200-day SMA. However, MTGE is in a Fed supported sector. It pays a 14% dividend. It has a PE of 2.89 and an FPE of 7.74. It had an economic return of 41% for FY2012. It has outperformed such stalwarts as AGNC and NLY recently. It deserves your interest.
There is still the worry of a possible recession in 2013. If a recession occurs, it will likely take the overall market down. Plus the overall market is currently overbought. With these things in mind, a good plan would be to average into MTGE over the course of 2013. With this strategy you should end up with an overall good entry price in a great equity.
NOTE: Some of the fundamental financial information above is from Yahoo Finance.
Disclosure: I have no positions in any stocks mentioned, but may initiate a long position in MTGE over the next 72 hours. I wrote this article myself, and it expresses my own opinions. I am not receiving compensation for it (other than from Seeking Alpha). I have no business relationship with any company whose stock is mentioned in this article.