By Todd M.
Overview
Whole Foods Market (NASDAQ:WFM) is set to report first quarter 2013 earnings after the close of trading on Wednesday, February 13. Results are typically disseminated at approximately 4:03 p.m. EST, with a conference call at 5:00 p.m. EST.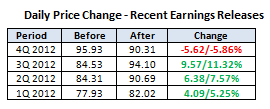 Outliers and Strategy
Earnings Per Share: Whole Foods typically reports GAAP Earnings Per Share that compares with Street estimates. The current consensus estimate is $0.77, with a range of $0.72 to $0.80. Whole Foods has beaten EPS expectations for the past eight quarters. However, the company may report an Adjusted Earnings Per Share value in the 1Q 2013 release. See below:
In the 4Q 2012 release, Whole Foods stated that "Hurricane Sandy negatively impacted sales for the first five weeks of the first quarter, particularly in the Northeast region… The Company expects to record a onetime charge in the first quarter for estimated uninsured losses."
Revenues: Wall Street consensus estimates expect revenues to come in at $3.86 bln, with a range of $3.79 bln to $3.92 bln. Revenues have beaten Wall Street estimates four of the past eight quarters. (Source: Yahoo! Finance)
Earnings Per Share Guidance (FY2013): The guidance given in the 4Q2012 release, which excludes the impact from Hurricane Sandy, was for EPS of $2.83 to $2.87. Analysts are looking for FY2013 EPS guidance of $2.84 to $2.99.
Recent News
11/20: Zack's Investment Research upgraded Whole Foods from Neutral to Outperform. The firm points to long-term growth due to strategic initiatives such as quality inventory management, cost management, and prudent capital investments.
11/20: Whole Foods announced a $300 mln increase in stock buyback authorization. This brings the total authority to $471 mln, or approximately 3% of shares outstanding, to be purchased through December 31, 2014.
11/20: According to a post on Benzinga.com, Goldman Sachs upgraded Whole Foods from Neutral to Buy, while raising the firm's price target from $105 to $106. Goldman Sachs cites the secular trend in eating healthy, sustained square footage growth in the organic industry, and the potential for scalability to improve margins.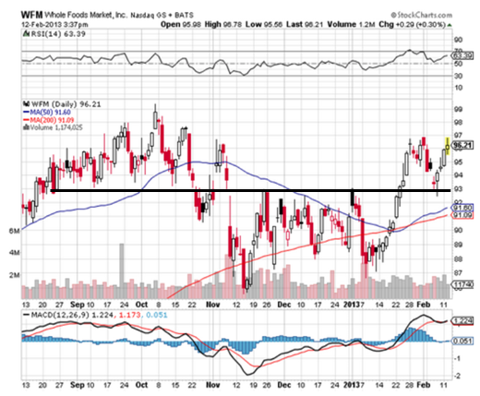 Technical Review
Whole Foods shares have underperformed the broader market YTD, rising 5.66% vs. the S&P 500's increase of 6.75%. However, the stock is trading at $96.32, near all-time highs of $99.86, set on October 5, 2012. If earnings surprise to the upside, look for initial resistance at $100. Conversely, if results disappoint, support can be found near $93, which is old resistance from November through January, followed by the 200-day SMA, near $91. (Chart courtesy of StockCharts.com)
Summary
Thanks in part to continued trends in healthy eating, strong brand loyalty, an improving economic situation, and quality management, Whole Foods has continued its ascent in the organic food industry. However, considering the recent relative underperformance to the market, it seems as though the Street is neutral heading into the upcoming release. Earnings Per Share Guidance for FY2013 will be crucial, as this quarter's results could be muted by a charge related to Hurricane Sandy.
Disclosure: I have no positions in any stocks mentioned, and no plans to initiate any positions within the next 72 hours. I wrote this article myself, and it expresses my own opinions. I am not receiving compensation for it (other than from Seeking Alpha). I have no business relationship with any company whose stock is mentioned in this article.
Disclaimer: By using this report, you acknowledge that Selerity, Inc. is in no way liable for losses or gains arising out of commentary, analysis, and or data in this report. Your investment decisions and recommendations are made entirely at your discretion. Selerity does not own securities in companies that they write about, is not an investment adviser, and the content contained herein is not an endorsement to buy or sell any securities. No content published as part of this report constitutes a recommendation that any particular investment, security, portfolio of securities, transaction or investment strategy is suitable for any specific person.