Zoom Technologies (NASDAQ:ZOOM) had a difficult 2012, declining 68% from February 1, 2012, when it was priced at $1.54 to January 2, 2013 when it was priced at $0.52. The only people making any return on their investment were the short-sellers.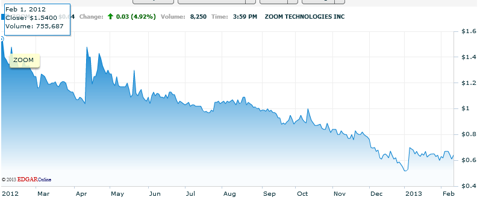 Click to enlarge
For those unfamiliar with Zoom Technologies, they are a China-based cell-phone manufacturing company for the Chinese market, and also engages in distribution of cell-phones in a number of countries, including for T-Mobile (subsidiary of Deutsche Telekom, DT) in the USA which holds 9.5% of the US market share. Zoom posted net income of $642 thousand in First Quarter 2012, $420 thousand in Second Quarter 2012, and $986 thousand in Third Quarter 2012. Zoom posted gross profits of $6.1 million, $8.3 million, and $5.9 million in those same quarters, respectively. With such slim margins, it's understandable that institutional investors make up a slim 3% of all holders of Zoom stock.
Fourth quarter results have yet to be released.
As stated earlier, short sellers would've made out well in 2012, yet it seems that the short-sellers think the bottom has just about hit for Zoom. The number of short interest has declined from a high of 1,295,042 on July 13, 2012 to a low of 424,777 at the end of January 2013. Additionally, the price has closed between $0.60 and $0.67 every day in the past month.

Click to enlarge
Zoom announced on January 7 that they would be selling off its China-based subsidiaries and use the proceeds of that sale to get more involved in the US market.
ZOOM is flying under the radar, with no reported consensus or target price and a 50-day average volume of 54,000. As with all stocks, it's important to do due diligence and find out if a stock is right for your portfolio. Yet with a stock apparently hitting or nearing bottom, while holding exclusivity rights to T-Mobile distribution in the US, and not having to worry about institutional investors, there appears to be an opportunity here. It would almost surely have to have a better year in 2013 than in 2012.
Disclosure: I am long ZOOM. I wrote this article myself, and it expresses my own opinions. I am not receiving compensation for it (other than from Seeking Alpha). I have no business relationship with any company whose stock is mentioned in this article.