Buffalo Wild Wings Inc. (NASDAQ:BWLD) reported 4th-quarter and full-year earnings after the bell on Tuesday of 89 cents per share up from 73 cents a year ago but behind the 96 cents analysts had been looking for. Revenue was up 37.8% to $303.1 million and the company had annual sales over $1 billion for the first time in history. Revenue benefited from a 5.8% increase in same-store sales at company owned stores and a 7.4% increase at franchised locations. The quarter also benefited from 62 additional company owned restaurants over the same period a year ago, and an extra week in the 4th quarter of this year compared with last. Cost of sales in the quarter as a percentage of sales increased from 29.38% a year ago to 31.99% this quarter. The driver of the higher costs is the increasing price of wings, which were $2.07 per pound in the quarter compared with an average of $1.42 in 2011. These increased costs affected the company's ability to drive increased revenue to the bottom line.
Today the company operates nearly 900 locations in 49 states and Canada, and is forecasting opening 60 company owned stores and 45 franchised locations in 2013. This is about a 12% increase in the store count planned for the year. Management sees the chain reaching 1,700 units in North America, about a 90% increase over the current store count. At current sales per store and a current P/S ratio of 1.5 that would give Buffalo Wild Wings a share price of about $150. Buffalo Wild Wings is not only focused on growing in the U.S. but also has plans to expand into the Middle East with an agreement with Olayan Group to develop 22 units over the next six years in the region. The company is forecasting earnings growth of 25% in the next year.
Buffalo Wild Wings trades at about 25 times trailing twelve months earnings after the move down afterhours and about 21.5 times estimated fiscal year 2013 earnings. When you factor in the company's growth rate the PEG ratio is 1.2 compared with the restaurant industry as a whole, which has an average 1.43. Most of the volatility in the stock has come from earnings releases as the company has now missed earnings estimates in each of the past three quarters. The first quarter is important for Buffalo Wild Wings with the final college bowl games and the Super Bowl in the quarter along with March Madness. The company is seeing adjusted same-stores sales growth of 2.6% at company stores and 1.6% at franchisee stores when you adjust for sporting events occurring at the same time this year as they did last year. It is important to remember that the first quarter of 2012 was very strong with company owned stores seeing a 9.2% same-store sales increase, the strongest quarter of any quarter over the past five years.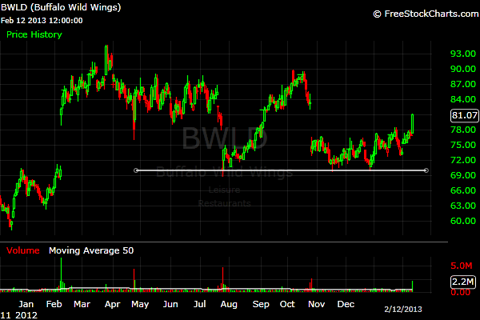 Click to enlarge
The chart of Buffalo Wild Wings shows how the street has had a hard time predicting earnings for this company with large gap moves on most earnings releases. Even with the large moves in the stock the beta is still only .98 placing its risk in line with the market. Support is strong near $70 and should the move down after this earnings release hold above that level it could be a strong buy signal for this growing company. The company also announced it has reached a sponsorship agreement with the NCAA that will allow Buffalo Wild Wings to market itself as the "official hangout" of March Madness. This deal should help drive Buffalo Wild Wings results in both the first and second quarter. Furthermore store openings in 2013 are more weighted toward the beginning of the year compared with 2012. This is a company with good shorter-term catalysts and strong long-term prospects that on a pullback could produce a good long-term investment.
Data sourced from: Company filings, and Yahoo!Finance. Chart from: Freestockcharts.com
Disclosure: I have no positions in any stocks mentioned, and no plans to initiate any positions within the next 72 hours. I wrote this article myself, and it expresses my own opinions. I am not receiving compensation for it (other than from Seeking Alpha). I have no business relationship with any company whose stock is mentioned in this article.