This article, written in May 2012, evaluated the dividend growth potential of Lorillard (NYSE:LO). With Lorillard announcing a dividend increase and a better-than-expected Q4 2012 earnings this morning, it's time to rerun the numbers. Let's get into the details.
Earnings Roundup:
Earnings per share came in at 79 cents, which is 3 cents higher than the estimates.
The board of directors also approved a dividend increase of about 6%.
As of this writing, the stock is up 6%, obviously backed by the strong results and dividend increase.
The company also issued a bullish note for 2013, indicating that it expects to receive $196 million in outstanding claims over the next five years.
New Yield: At the current share price of $42, the new yield works out close to 5.3%, which is higher than the 4.7% at the time the above-mentioned article was written.
Payout Ratio: The new annual dividend of $2.20 per share stretches the payout ratio to about 77%, which is slightly higher than the 75% in the original article. This still compares favorably with Altria and Reynolds, which have payout ratios of 85% and 95%, respectively.
Dividend Growth Rate: Investors should note the fact that this recent 6% dividend increase is the lowest since Lorillard was spun off in 2008. But the five-year average dividend growth rate is still impressive at 12%. It's no secret that all the U.S tobacco companies, including Lorillard, are investing heavily in e-cigarettes. The slow down in dividend growth could be an indication that the company is intent on pursuing growth. Having said that, a 5.3% yield is nothing to laugh at.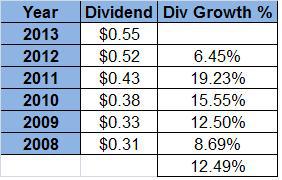 Source: Yahoo Finance; table created by the author.
Extrapolation: The original article performed the extrapolation exercise assuming an annual dividend growth rate of 8%. Since we have already seen the dividend growth slowing down, the table below assumes a 6% annual dividend increase. The end result shows the power of dividend growth stocks, especially if the starting yield is high as well.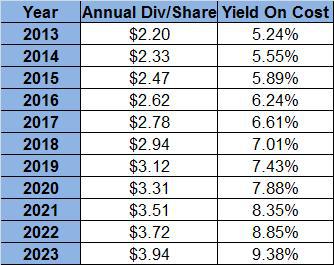 Source: Yahoo Finance; table created by the author.
Conclusion: We'll conclude by recapping the company's strengths, potential problems, and our stance on it.
Pros: The strengths are obviously the aspects listed above -- the juicy current yield, great dividend growth prospects, and management that is intent on both returning value to shareholders and pursuing growth.
Cons: An obvious dark cloud hanging over Lorillard is its overdependence on menthol products due to potential governmental regulations on it. And as the company's own website says, banning menthol means a 30% cut in overall cigarette sales. In addition to putting a dent in the money the government makes in taxes, this might also encourage the illegal sale of such cigarettes.
Our Stance: Philip Morris International (NYSE:PM) is still our favorite when it comes to investing in sin stocks. PM recently delivered its own outstanding quarterly results, sending shares up close to 3%. Despite all the concerns regarding PM's debt, it should do well over the long term doing what it does best -- selling an addictive product and returning the money to shareholders.
That said, since we didn't own any U.S.-based tobacco stocks, we were were looking for a nice entry point in Lorillard. The pullback from $47 to below $40 prompted us to buy a few shares, mainly because of the high yield. Being a smaller player offers more room for growth, as compared to Altria and Reynolds. Despite today's run-up, Lorillard carries a lower valuation than the other two stocks -- obviously due to the menthol worries. It's a well-known risk at this point and we believe Lorillard carries a nice risk/reward profile going forward.
Disclosure: I am long PM, LO. I wrote this article myself, and it expresses my own opinions. I am not receiving compensation for it (other than from Seeking Alpha). I have no business relationship with any company whose stock is mentioned in this article.
Disclaimer: This article in no way endorses smoking. Please do your own research before buying or selling shares in any of these stocks.