Italy, next to France, has always been the center of Western fashion. In the course of the twentieth century, a plethora of Italian fashion houses monopolized a great deal of the high profit margin business of selling fashion: ready-to-wear-clothing, footwear, accessories and leather goods. Alas, French firms LVMH (OTCPK:LVMUY, OTCPK:LVMHF) and PPR (OTC:PPRUF) have monopolized in turn the majority of Italian luxury brands (my previous article, 3 Global Luxury Dividend Stocks To Buy And Hold Forever, deals with these giant companies).
A glance at the world's top 10 luxury brands tells us that Prada (OTCPK:PRDSY, HKG:1913) is the only top Italian brand (Gucci is owned by PPR) remaining in the hands of the founding family: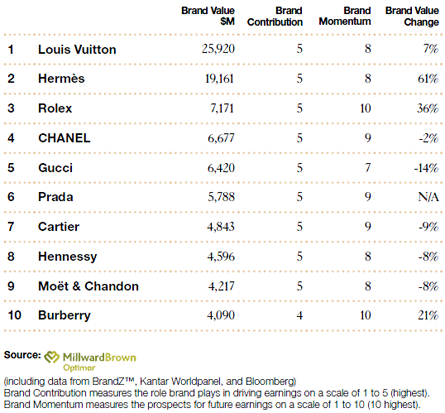 Prada is also the only large Italian luxury brand you can buy on the global stock markets (it is listed in Hong Kong to be precise). The listing of Prada in Hong Kong in 2011 has induced Giorgio Armani, who holds his brand privately, to make some suitably bitchy comments on the company.
Prada's 2011 IPO in Hong Kong
Patrizio Bertelli and Miuccia Prada Bianchi, the key people of Prada:

Source: Prada 2011 Annual Report, page 2
Speaking to the Financial Times in 2011, Mr. Bertelli, the business brains behind Miuccia Prada, explained the family's reasons for listing in Hong Kong. "If the bourse represents a market, then we should go to a bourse where things are happening," he said at Prada's all-white Milan headquarters.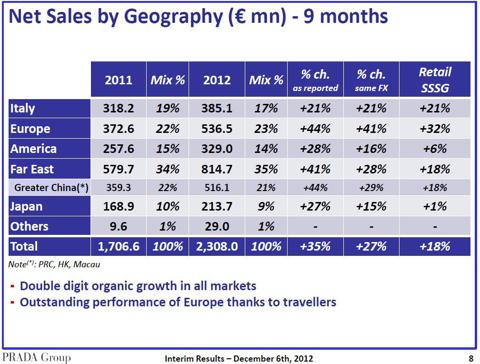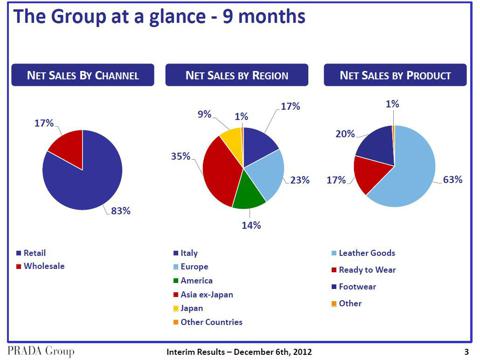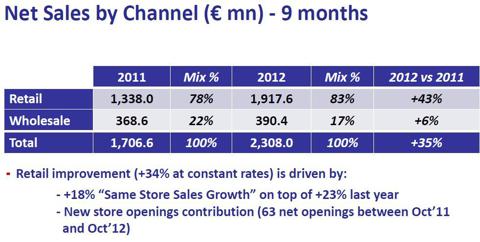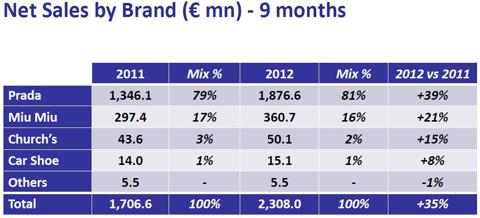 Source: Prada Group 3Q 2012 Interim Results
Mr. Bertelli is known for his assertive management style, and Mrs. Prada has been a leading name in fashion for the last three decades.
The chart below shows you the ownership situation of Prada. The two above mentioned persons own 80% of the company and the rest floats on the Hong Kong stock exchange: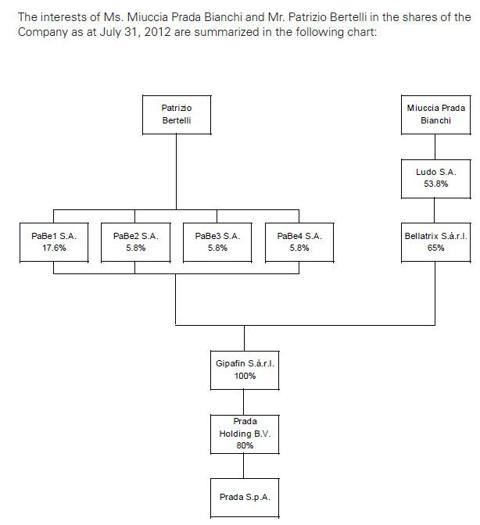 Source: Prada 1H 2012, p. 30
While the timing of Prada's IPO was less than fortunate, the stock has exploded since the start of 2012: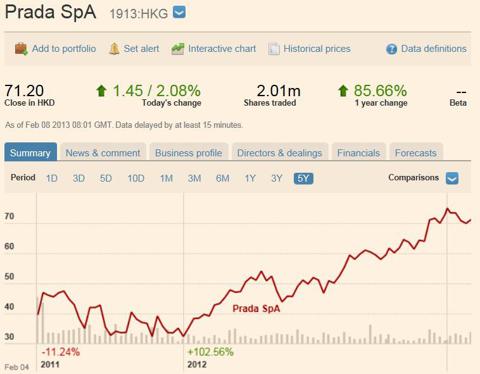 Source: FT.com
As of February 8, 2013 the entire company has a market valuation of $23.66 billion, which is a far cry from the valuation of $10.76 billion as it was on January 1, 2012. For comparison, Whole Foods Market Inc. (NASDAQ:WFM) is currently valued at $17.78 billion with a TTM (trailing twelve month) P/E of 38.03. Prada has a TTM P/E of 30.99 on expected revenues for the year 01/2013 of $4.54 billion and expected earnings for the same period of $857.6 million. That gives us a forward P/E of 27.58.
Prada Group 3Q 2012 financial results
The revenue growth was 35% for the first 9 months of 2012 and the net income growth was 49.56% for the same period.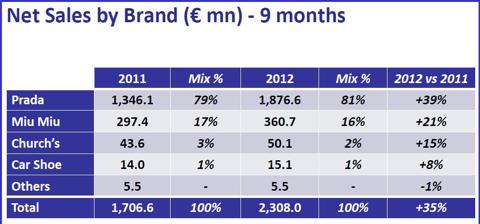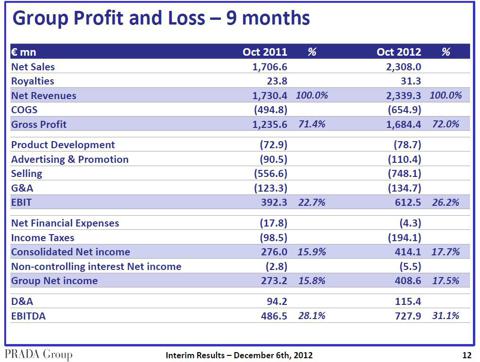 Source: Prada Group 3Q 2012 Interim Results
Bottom line:
LVMH's TTM P/E is currently 19.27 and PPR's P/E is 18.93. Yields for these stocks are 2.21% and 2.07%, respectively. Prada has a TTM P/E of 30.99 with an expected growth of earnings of 52% in 2013 and 25% in 2014. The yield is currently at 1.44% if the expected dividend of 0.103 EUR per share gets paid in July.
Earnings growth figures north of 50% deserve our close attention. Value investors ought to pray and wait for a correction. Barring fresh market turmoil, I regret to predict that we shall not see the kind of prices for this stock we have seen in 2011. The market is currently correctly valuing this stock, but even at these levels buying it makes sense. This stock has extremely high levels of growth in earnings and revenues.
Disclosure: I have no positions in any stocks mentioned, and no plans to initiate any positions within the next 72 hours. I wrote this article myself, and it expresses my own opinions. I am not receiving compensation for it (other than from Seeking Alpha). I have no business relationship with any company whose stock is mentioned in this article.