It's been a long, hard, bearish market for investors the past few years. Growth has been hard to pin down and many are arguing that the January rally was just a paper tiger. A large number of investors have turned towards dividend stocks to replace growth. One stock that some have overlooked but should definitely consider is Capital Product Partners L.P. (NASDAQ:CPLP).
Capital Product Partners LP is an owner of international oil and gas tankers under medium to long-term charters. Their yield of 11.4% gives them the third highest yield in their Oil and Gas Transportation peer group, just behind Teekay Tankers (NYSE:TNK) with 14.3% and Niska Gas Storage Partners (NYSE:NKA) with a 11.6% yield. CPLP has consistently given out a $0.2325 dividend every quarter since 3rd Quarter of 2010 and $0.225 for the two quarters prior. For a stock that spent most of that time floating between $6 and $10, that is a pretty slick dividend.

Can this be sustained? That's the expected and prudent question to ask here. That they've been able to consistently pay out the same dividend every quarter for nearly three consecutive years with nary a hiccup would certain indicate that, but let's go deeper into the financials.
In 2009, CPLP posted revenues of $123 million, increasing to $125 million in 2010, $130 million in 2011, and $154 million this past year. Their largest knock on the balance sheet was a $43.2 million one-time non-cash impairment charge related to a tanker acquisition. This charge did result in a net loss in the 4th quarter of 2012, yet as this was a one-time charge, it will not negatively impact the ability to pay dividends going forward. Additionally, they lowered their long-term debt from $619 million to $458 million, from the end of 2011 to the end of 2012. CPLP also has $43 million in cash-on-hand, plenty to pay out all expected dividends for the upcoming year.
Should you consider trying to time this stock to get a lower price and a marginally better yield? I wouldn't recommend it. There isn't much pressure to drive down the price from short sellers, with never more than 1-2 days to cover throughout 2012.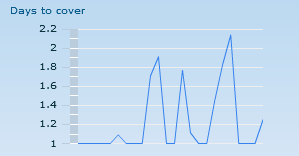 Additionally in 2013, analysts expect earnings growth of 100% over 2012.
Yet it isn't necessarily off to the races for the stock price. The 12-month price target range is between $7.50 and $8.50, with a consensus at $8.20.

If you're looking for a stock with a solid dividend that won't surprise you, with a price that won't burn you, then CPLP might be worth considering adding to your portfolio. It's not glamorous and it won't make you a mint overnight, but it likely won't leave you crying into your beer either.
Disclosure: I have no positions in any stocks mentioned, and no plans to initiate any positions within the next 72 hours. I wrote this article myself, and it expresses my own opinions. I am not receiving compensation for it (other than from Seeking Alpha). I have no business relationship with any company whose stock is mentioned in this article.