Annie's, Inc. (NYSE:BNNY) reported earnings on Monday of 15 cents per share topping estimates by a penny. Revenue increased by 22.7% to $37.9 million in the quarter and I think it worth pointing out that the company is trading at 4 times sales, a hefty multiple considering the industry norm is less than one times sales. The company took a $1.6 reduction in net sales in the quarter and a $0.7 million inventory write-off as a result of a voluntary frozen pizza recall. The company expects to recover a substantial portion of the costs related to the recall. At the end of the quarter the company had $13 million in cash and no debt, through the first 3 quarters the company has generated $10 million in cash flow.
In the quarter the meals category increased 25%, followed by a 22% increase in snacks, and a 18% gain in the dressings, condiments and other categories. Frozen pizza is an important growth category for Annie's and successfully relaunching the product after the recall will be important. The company began shipping new pizza's on February 11th and expects products to be back on retailers' shelves by the end of the month or in March. The company had been seeing strong results from pizza and is expecting the trend to pick back up. Furthermore the company is going to increase promotional spending on pizza. Overall the company sees a continuation of strength in the natural and organic food business and, if anything, management sees some acceleration in that segment.

Annie's valuation is the most concerning area when looking at investing in the company. I tend to stay away from companies with a PEG ratio over 2 (Annie's is at 2.09) additionally the P/S ratio of 4.04, more than double that of The Hain Celestial Group, Inc. (NASDAQ:HAIN). Also the EV/EBITDA ratio of 30.26 is much higher than Hain Celestial at 16.83. I believe long term in the natural and organic business however I continue to believe that Annie's products are maybe not aimed at the core of that market. One problem with Annie's products is that no matter how organic Mac & Cheese and Pizza is I do not think most people would consider it healthy. I believe Annie's will have a hard time converting customers into consistent Annie's customers when its products cost significantly more than national brands and the benefits of Annie's products are not clear.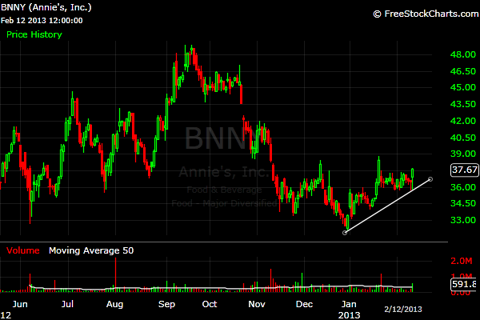 Looking at Annie's chart you can see the decline in the stock though the later months of 2012 and since 2013 the stock has rebounded some putting in place a small uptrend. The move up after earnings has added $1.17 onto the stock price bring it closer to short term resistance around the $38.50 level. I believe if the stock reaches and then pulls back from that level that this could be a short opportunity. With Annie's trading at 36 times fiscal year 2014 earnings and over 4 times sales any misstep on earnings or growth could send the stock tumbling. While the company has so far handled the pizza recall well it is important that product sales pick up where they left off.
Data sourced from: Company filings, and Yahoo!Finance. Chart from: Freestockcharts.com
Disclosure: I have no positions in any stocks mentioned, and no plans to initiate any positions within the next 72 hours. I wrote this article myself, and it expresses my own opinions. I am not receiving compensation for it (other than from Seeking Alpha). I have no business relationship with any company whose stock is mentioned in this article.