Largest U.S. Trucker in Complete Freefall... but not to worry... the GDP "only fell 3.8%" (ahem)

It is amazing what a different story you hear when you compare government reports to company reports. Whatever alternative universe the bulls live in, is one I'd love to languish in - must be a nice place. One area that has been leading this market down of late is transports. They've been horrid. While the dry bulk shippers have been bad for a long time, railroads held up much of 2008. They have been terrible of late; Paul Kedrosky has a chart showing the year over year crash in shipments by category.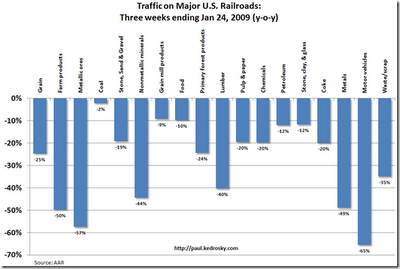 It is a similar case with the Fedex (NYSE:FDX), UPS (NYSE:UPS) cohort. I'm not that familiar with the trucking industry since it's not really an area I play in on the long side, but I am familiar with YRC Worldwide (NASDAQ:YRCW) which is the #1 trucker in the U.S.

Let's see what YRC is saying
Struggling No. 1 U.S. trucking company YRC Worldwide Inc (YRCW) on Thursday reported a fourth-quarter net loss, citing the impact of the slowing U.S. economy and impairment charges.
The U.S. trucking sector has suffered from weak volumes since the third quarter of 2006, a slowdown that has been made worse by sliding retail and auto sales, the U.S. housing sector meltdown and the slowing of the overall economy.
The company reported revenue for the quarter of $1.93 billion, down from $2.35 billion a year earlier.
The Overland Park, Kansas-based company reported a fourth-quarter net loss of $244.4 million, or $4.14 a share, compared with a net loss of $735.8 million, or $12.99 a share, a year earlier. Excluding impairment charges related to a write-down of goodwill related to the integration last year of two trucking units under a single brand and a write-down of goodwill at its YRC Logistics unit, the

company posted a loss of $2.51 a share.
"Our results reflect the significance of the economic recession that has been longer and deeper than anyone anticipated," (anyone? hmm... someone is not reading certain blogs) Chief Executive Bill Zollars said in a statement. "Although we were not pleased with this level of performance, it was consistent with our internal expectations and those of our banking group."
YRC is in discussions with its lenders on its debt covenants and Zollars said "discussions with the banks are progressing well, and we are on track to finalize an amendment by mid-February."
Those darn debt covenants keep popping up.
YRC National Transportation total tonnage per day down 14.6%
YRC Regional Transportation total tonnage per day down about 14%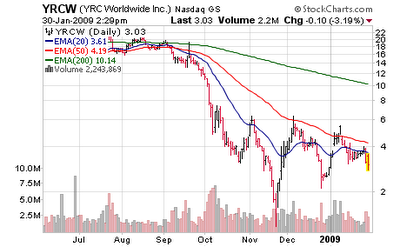 Disclosure: No position