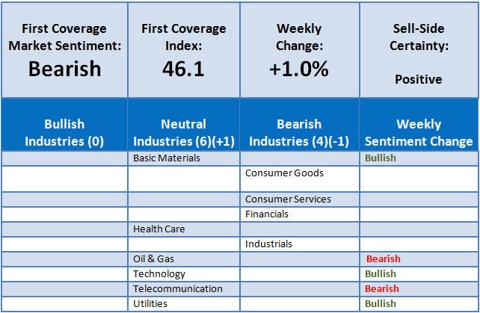 It's an interesting week for sentiment and one that some might optimistically think may foretell brighter days ahead.
After months of the sell-side demonstrating little variance in its overall bearish sentiment towards the market and then recent weeks of walking up to, teetering upon and considering a leap into the abyss, now it appears that the sell-side has retreated gingerly from the edge to decide that the world isn't going to end…at least in the short term.
Three bullish shifts in short-term industry sentiment, in addition to two industries making the small but encouraging move from bearish sentiment to neutral, indicate a sell-side that is thinking February is likely to be better than this past January, at the very least. As we all know by now, January was the worst ever start of a new year for the broader markets.
We admit surprise at the depth of that well of optimism from which the sell-side seems to be drawing. However, we are equally not surprised at all by how January ended up based on what the sell-side was saying to their buy-side clients back at the start of the month.
We reported, after market close on January 9, when the year-to-date returns were still basically flat as opposed to down almost 9%, the following:
At the very least, (the institutional sell-side) seem to be telling the buy-side bulls, who were getting ready to declare a bottom and a rally after the first few days of the new year, to hold back on the victory dance.
Boy, that turned out to be accurate and the understatement of the month!
However, if that was then, clearly this is now. And now the indicators suggest that a rally might be in store, at least for the start of February. This is the first week of 2009 that has more positive indicators than negative. Areas like Technology and Basic Materials are both being suggested as places that the buy-side should continue or, in most cases, commence the allocation of capital.
In fact, with the exception of Energy and a continuing decline in the sentiment towards Industrials, albeit slower than the last two weeks, the sell-side seems almost giddy in its shorter-term attitude towards the market relative to prior weeks.
As we've said in past updates, the sell-side ability, as an aggregate group of hundreds of firms sending thousands of ideas to their buy-side clients, has had an uncanny ability to call inflection points in the market that lead to substantive multi-week, multi-month and even multi-quarter trends. It might be too much to hope that this week represents the start of the end of this bear market. But, at the very least, it bodes well for the week ahead.