There is an old adage that misery loves company, which could explain exactly why, if it is true, Pfizer (NYSE:PFE) is attempting what would be a very unlikely tie up with Wyeth (WYE).
Other than short-term cost savings and finding a sympathetic ear to moan about their respective patent cliffs, it is hard to see any other benefits of a merger, especially when all you get by adding a cliff to a cliff is an even bigger cliff.
This could also be a cliff with a $60bn price tag, given that Wyeth's current market cap is $51bn and recent deals in the sector have achieved premiums of about 20%. In early market trading, Wyeth shares had risen by 8% indicating that some at least were hopeful of a deal. Pfizer shares on the other hand fell by 2% as some analysts questioned the rationale of a merger.
As the deal, if it materialises, is rumoured to be financed through a mixture of cash and shares, there are doubts about whether the banks who themselves are in precarious positions would be willing to fund such a large acquisition.
It would also have to include a high cash component and low share element, as it is hard to see why Wyeth shareholders would want to accept Pfizer shares, which over the last 12 months have lost more than a quarter of their value.
Lack of logic
Given that both groups are facing similar problems, it is hard to see the logic in such a deal other than merging to increase scale. But Pfizer, which was has evolved from the big acquisitions of Warner-Lambert and Pharmacia, has found that its size has meant that it has had to keep finding blockbuster drugs to keep adding growth to the bottom line. This has worked until now because of Lipitor, the world's biggest selling drug and one that in 2007 contributed $12.66bn to sales.
Undoubtedly, with Lipitor losing patent protection in 2011, Pfizer needs to do something, but EvaluatePharma's merge companies tool shows that the addition of Wyeth will not solve Pfizer's most pressing headache, finding products to replace Lipitor when it goes off patent in 2011. The table below shows that the only area where sales growth is generated from the merger is in over-the-counter sales, which in 2014 is expected account for less than 3% of total sales. Total pharmaceutical sales themselves fall by 3% even after the merger.
(Click to enlarge)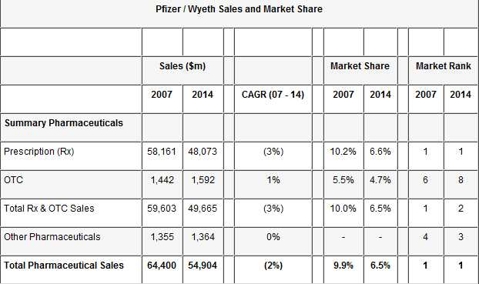 Click to enlarge
Admittedly, the example above does not take into count cost savings, which on the surface look like the only reason to do a deal. While there is more evidence that some managers believe that the cost savings of putting two huge companies together would justify the risk, it would also have to involve slashing R&D costs.
But while the savings would help generate profits for a few years, Pfizer would still be left with the fundamental problem of not having replacement pipeline products.
But if the two do defy conventional wisdom, and ignore the historically poor shareholder returns from mega-mergers, it does not solve the fact that Wyeth also has troubles of its own. The table below shows that $8.71bn of Wyeth's estimated 2008 sales are at risk of generic competition by 2012, a figure that is more than half the group's estimated prescription sales of $16bn for 2008.
(Click to enlarge)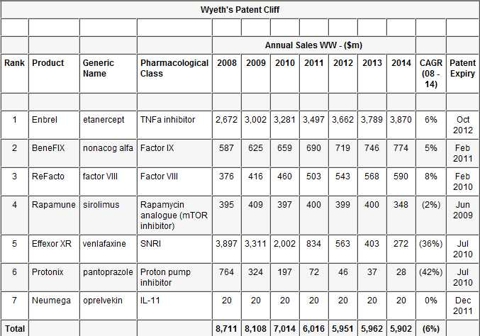 Click to enlarge
While the biggest falls are in sales of Effexor XR and Protonix, the reduction in sales does not take into account possible generic competition to Enbrel, due to the lack of a regulatory path in the US for biosimilars. But with many expecting the new administration to act on this, Enbrel, which was approved in 1998, could face generic competition by the end of 2012, with expiry of its key patent and having exceeded 14 years of market exclusivity, a maximum period that innovators are arguing for before generic companies can launch rival biotech products.
The table below also shows that Wyeth adds very little to Pfizer in terms of R&D products. The group has 75 products in all stages of development, compared with Pfizer's existing 170 projects. Of those 75 products analysts have assigned significant value to only two of them, Prevnar 13, the follow-on to pneumonia vaccine Prevnar, and Alzheimer's drug bapineuzumab, which given its less than impressive performance in phase II trials this year remains a highly risky bet.
(Click to enlarge)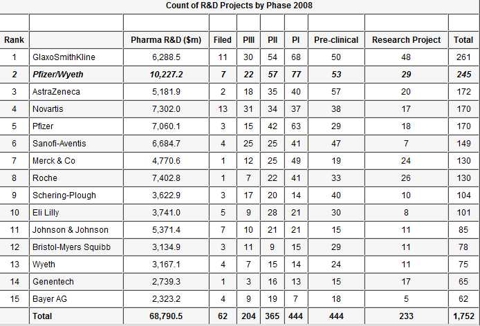 Click to enlarge
The merger would also leave the larger group still trailing GlaxoSmithKline (NYSE:GSK), which has 261 products in development and yet spends less than Pfizer on R&D, and while Pfizer could strip cost from research it is unlikely as a combined company to get them down to match Glaxo's level.
But if Pfizer is considering buying Wyeth solely to cut costs, then on the surface Wyeth looks like a company that might be the best choice to take the axe to R&D.
However, as the approach to cutting R&D and other costs to justify mega-mergers also needs to be backed up with evidence on acquisitions of smaller biotechs, but given the potential $60bn price tag with most of it expected in cash, it is hard to see how Pfizer would fulfill the growth part of the strategy.
With so much against a merger, its looks as though a much more sensible use of Pfizer's current $28.5bn cash pile would be to buy several smaller biotechs and leave the idea of mega-mergers to the bankers and lawyers who would ultimately be the only winners.
Disclosure: None.