This week, President Obama's new administration will be dealing with Wall Street bonuses and executive compensation that will be included in the TARP program for those companies seeking money from TARP to heal them survive. Next week, the administration will be dealing with financial industry issues after discussions between industry reps and government officials over the weekend. Obama scolded Wall Street firms for giving out large bonuses, while at the same time asking the government and taxpayers for bailout money - a paradox, to say the least.
My technical scans this Monday morning are showing a lot of sell candidates. The market simply does not look that healthy right now, and things look like there still more pain to come before things get better. I'm looking at an energy company, which operates oil pipelines, storage facilities and asphalt refineries. It posted higher than expected quarterly profits last week, assisted by a three times increase in sales at its asphalt and fuels marketing segment. The company also provided a first quarter earnings range, the upper range of which was in line with analysts' estimates. Long term I like this company fundamentally. Short term, I'm seeing a low-risk high-reward short sale on it. Short it now, and or wait for a pullback to buy in longer term later on.
Short Sale NuStar Energy (NYSE:NS)
NS Trade Setup:
Sell Entry: 48.61 to 49.71
Stop-Loss: 52.63
Take Profit Areas: 42.24, 39.94, 37.65
NuStar Energy Company Profile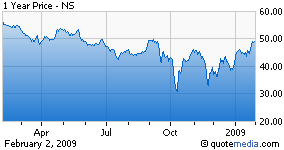 NuStar Energy L.P. provides terminalling services for crude oil and refined petroleum products to the producers of crude oil, integrated oil companies, chemical companies, oil traders and refiners. The company's operations are managed by NuStar GP, LLC, which is the general partner of Riverwalk Logistics, L.P., its general partner. NuStar GP, LLC is a wholly owned subsidiary of NuStar GP Holdings, LLC (NuStar GP Holdings).
The company conducts its operations through its wholly owned subsidiaries, primarily NuStar Logistics, L.P. (NuStar Logistics) and Kaneb Pipe Line Operating Partnership, L.P. (KPOP). It has five business segments: refined product terminals, refined product pipelines, crude oil pipelines, crude oil storage tanks and marketing. In March 2008, NuStar Energy, L.P. announced that it has completed its acquisition of CITGO Asphalt Refining Company's asphalt operations and assets.
Disclosure: Author is short NS.