The market continues to indiscriminately sell stocks. But in 2008, micro cap value took one of the biggest hits compared to other investment categories.
I occasionally like to remind myself of something Benjamin Graham said:
It is our argument that a sufficiently low price can turn a security of mediocre quality into a sound investment opportunity - provided that the buyer is informed and experienced and that he practices adequate diversification. For, if the price is low enough to create a substantial margin of safety, the security thereby meets our criterion of investment.
Graham's thoughts on this topic can help build a profitable diversified portfolio of value micro cap ideas. Unfortunately, these deep value micro cap stocks can also be illiquid at times. But that should not deter serious value investors. Building or selling a position requires patience if maximum profits are to be realized. We all know millions of investors are speculating and investing billions of dollars chasing liquid stocks. Logic would conclude that the potential to find extraordinary bargains with illiquid stocks are significantly higher. Exploiting market anomalies with ignored and neglected illiquid stocks can be one of the best ways to realize outsized gains. This approach can create a significant advantage for the individual investor as most institutions can't fully participate.
I considered many factors when compiling this list. Although some of the most attractive values were below $1 per share, I had to ignore for this article due to SeekingAlpha's restrictions. Financial measures were compiled, considered in combination and compared to other competitors such as
Dilution as measured by TTM Shares Outstanding/ 4 year average >.99
Enterprise value/Market Cap <1.10
Shares short as a percentage of float < 3%
Earnings Quality CFFO/NI >1
Insider activity that has avoided selling at or near the current price
ROIC, ROE in combination with other attributes
Cash and total debt per share
Capital Structure
And others including those in the below list of ideas
click to enlarge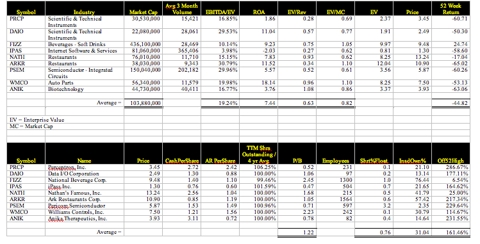 Disclosure: I have a long position in PRCP, DAIO, ARKR and no position in any of the other stocks in this article.