CEF Weekly Fund Type and YTD Price Changes (1/30/09)

Summary: Closed end funds (CEFs) on average continued to outpace the market for the final week of January. This performance was led by fixed income funds which make up the bulk of the CEF market sector. The preferred funds bounced back from the previous week (down 4.89%) as fears of the banking system being nationalized lifted. High yield funds continued to show strength the past week, possibly indicating investors' confidence that the debt credit markets may slowly be returning. Special equity funds (SpecEqFnds) demonstrated a solid advance driven by the strong performance in energy sector.

Taken together, it would appear CEF investors are indicating either a base is being built for a slow economic recovery or CEF values are compelling on a relative basis.
click to enlarge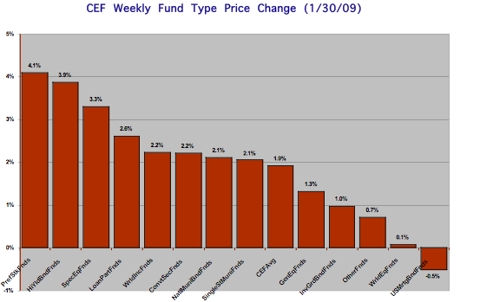 However, this initial positive performance may just be the bait for a "bear trap".
CEF YTD January: The unweighted average YTD price change for 650 CEFs for January was up 9.7%. (Yes, up!) This was in stark contrast to the DJIA that was down 8.8% YTD. The DJIA set a January record decline superseding the previous record set in January of 1916. The S&P 500 was down 8.6% YTD.

For CEFs, fixed income funds performed well while equity funds provided little investment performance. Double digit price changes were recorded for high yield, single state and national munis, and loan participation funds. General and world equity funds generated negative returns for investors for the month of January but well short of the equity indices.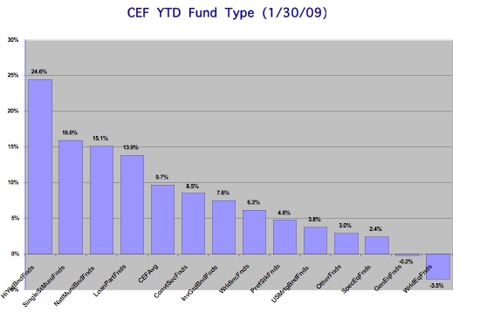 Insider Transactions in Jan 09 of Note: Van Kampen muni CEFs, VIM and VKQ, had strong insider buying during the month. A common director, Rodney F. Dammeyer was the buyer in both situations. He acquired approximately $1.2 million of stock in each. Mr. Dammeyer appears to be a steady buyer of the stocks over the past couple of years.

Additionally, insider buying continued in Boulder Growth & Income Fund (NYSE:BIF) with a 10% owner ERNEST HOREJSI TRUST acquiring an additional $600,000 of shares in BIF. Susan L. Ciciora, a director of BIF, is a beneficiary of the Trust.

CEF Observations: Focus is on CEFs with the largest discount deviations from their historical average discounts: BLU (GenEq; Large Cap), ASG (GenEq; Mid Cap) and GHI (WrldInc; Emerging Mkts). (See previous article: "CEF Discount "Mean Gravitation" Provides Opportunities.")

Disclosure: author owns BLU