"Anyone who has never made a mistake has never tried anything new." - Albert Einstein
My early readers remember me as a bull on OCZ Technology Group (NASDAQ:OCZ). I was green and thought that the ~40% short interest was due to a very highly misplaced bet. As far as I could tell, all of the pieces were in place: this was a company in a blossoming new industry (SSDs that I believed would eventually replace bulky old hard disk drives). The company was becoming more vertically integrated, it was (allegedly) on the verge of a long-term NAND wafer supply deal, the revenues were skyrocketing, and the gross margins were trending upwards. The long case, despite all of the red flags and warning signs, was "clear" to me, and the other folks on the long side of the trade.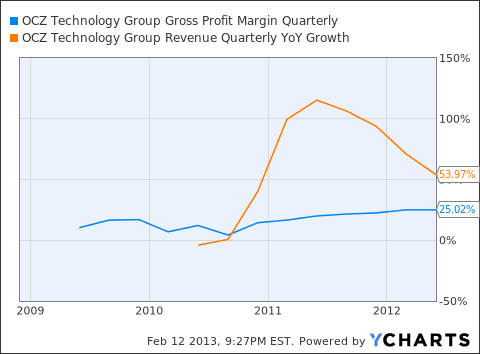 OCZ Gross Profit Margin Quarterly data by YCharts
I couldn't have been more wrong, and it is an investment lesson that will stick with me for the rest of my life. OCZ fooled me, but I want my readers to learn from my mistakes and not follow the same gut-wrenching path that I did. While this certainly applies to OCZ, the lessons I will demonstrate here apply to all stocks, in particular small-cap growth names.
Pay Attention To Cash Flow/Burn
Revenue growth is nice, gross margin expansion is good, but OCZ managed to pull the wool over the longs' eyes. While gross margins and revenues kept improving, it turned out that the company was recognizing quite a bit of revenue growth by applying aggressive customer incentives (rebates and such) and then shoving all of these incentives into the SG&A portion of the quarterly reports.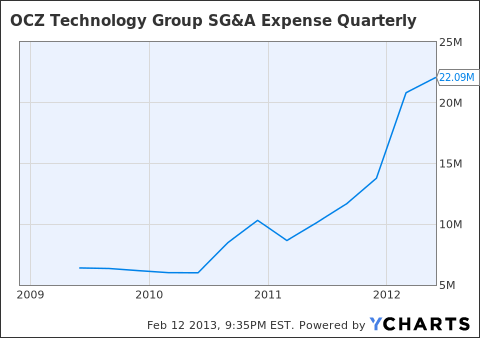 OCZ SG&A Expense Quarterly data by YCharts
This, of course, is unsurprising in light of the fact that the company burned through an inordinate amount of cash: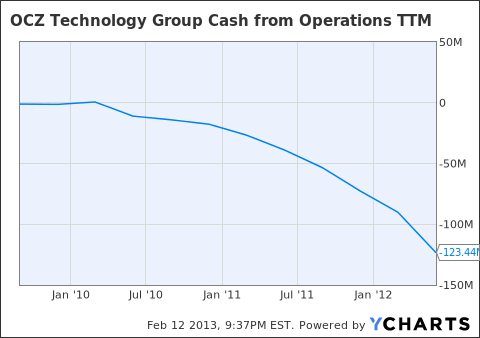 OCZ Cash from Operations TTM data by YCharts
This leads me to a very related red flag: secondary offerings.
Dilution And Insider Sales
OCZ diluted its shareholders to an unrealistic extent, primarily because the business model they were running (high revenue growth, selling products at/below cost, an unhealthy number of product lines, etc.) burned through cash like candy. As a result, shareholders were heavily diluted. This was a red flag that I keep kicking myself for not heeding, but when the float of your company triples within a two year time span and it still can't generate a dime in cash, then you are holding a lemon: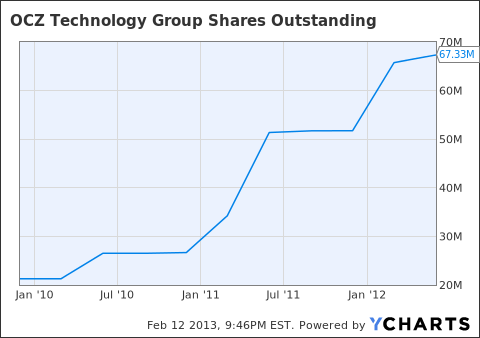 OCZ Shares Outstanding data by YCharts
Even more telling is that each and every time one of these secondary offerings came about, former CEO Ryan Petersen would make a habit of dumping shares as though they were toxic. The worst part is that he (and most of the top brass) never once made a single open market purchase, if only to give shareholders faith:

The financial metrics were ugly as sin, and while the company kept trying to spin its story of gross margin expansion and becoming cash flow positive by Q4 2013 (that would have been this quarter), the truth was that it was a house of cards waiting to be knocked down.
However, none of this compares to my biggest mistake: not listening to the short sellers.
Short Sellers Are Smart People
Short sellers are smart. Really, really smart. You have to be if you're going to sell shares of a company -- especially a growth story -- short. In the case of a buyout/merger or another piece of good news, if you don't know what you're doing, you're toast.
OCZ shorts knew what they were doing, and through a bogus buyout rumor (that I was gullible and believed) and multiple "squeezes", the shorts either stayed the course or added to their positions. Only recently -- as the stock went precipitously close to $0 -- did some begin to cover.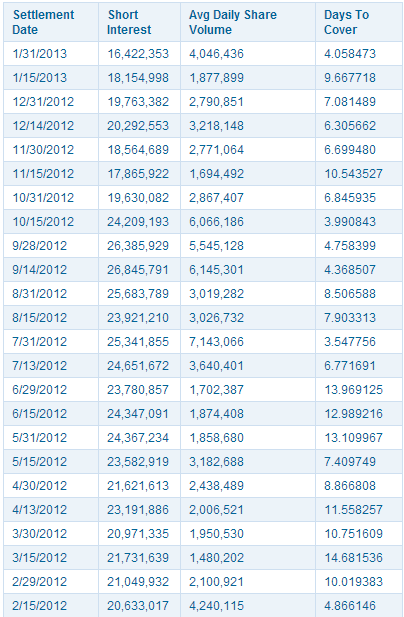 On the Yahoo! Message Boards, numerous short sellers would point out everything that eventually came to life: the shady management, the potential for an SEC investigation, the numerous secondaries, the cash burn, and how the buyout rumors were all bogus.
They had it right in the end. So that's another lesson to learn: if the short sellers don't give up, then chances are, there's something far deeper that these short sellers understand that the typical momentum and/or retail investor doesn't see. Shorts are the ultimate in long-term investors since they generally don't quit until the stock hits zero.
Notice how 23% of the float is still short: what are these remaining shorts looking for?
Dilution: The shorts know that OCZ needs to raise cash/funding somehow. Whether it's going to be by taking on high interest debt, issuing convertible notes, outright diluting shareholders, or some combination. Management has stated that it will try to minimize dilution, but dilution is coming and the shorts will use that opportunity to drive the stock down further.
Delisting: If OCZ fails to file its 10-Q for the August quarter by February 28th, then the stock faces the risk of being delisted.
Bankruptcy: OCZ has $9M in cash, $7M in debt, $35M in receivables, and $30M in accounts payable. Further, the breakeven level of $110M is a 46% increase from the midpoint of the "guided" range for Q2 and Q3. While Ralph Schmitt and team expect 20-30% growth going forward, it is not at all off the table that the company runs out of cash and goes bankrupt before it ever sees those numbers, especially given the soft PC demand environment.
While OCZ's newfound focus on higher margin enterprise drives could perhaps pay off, it's a long-shot as time and money are working against them. How do you catch up with financially sound competitors when you're on the verge of bankruptcy and can't score $9/share in a secondary offering like you did the last couple of times you burned through all your cash?
There Is Some Glimmer Of Hope...
I don't know how much I buy it, but CEO Ralph Schmitt noted at the recent Stifel Nicolaus conference that "strategic alternatives" (i.e. a buyout) aren't "off the table". Who would buy OCZ? What would they pay for the company?
Sure, they've got Indilinx, but that only managed to produce one measly controller while owned by OCZ. Schmitt noted on the Stifel Nicolaus conference that OCZ would be getting out another, enterprise focused controller this year. Keep in mind that Indilinx was worth ~$32M at purchase, so it's hard to see a company paying a premium to OCZ's lofty market capitalization of $140M just to get a company that will have designed two whole controllers.
There is no evidence that the consumer SSD part of the business can ever really be profitable, there's no evidence that the SSD caching solutions can compete with the likes of Fusion-io (NYSE:FIO), Intel (NASDAQ:INTC), or even STEC (NASDAQ:STEC), and there's no real assurance that there's anything of value left at OCZ.
If OCZ can explore "strategic options", then it needs to go actually find them immediately. If they could actually get shareholders ~$3 - $4 per share for the company, then this is the best and only chance for OCZ to survive. The problem is, if someone wants enterprise SSDs on the cheap, then they should go buy STEC at ~$65M EV...and that hasn't happened.
Conclusion
Don't fall for the same trap that I did. Understand that this stock is merely a highly volatile trading vehicle that, ultimately, is more likely to go to zero than it is to double. Think twice before "investing" in this company. In fact, just bypass "thinking" about it and don't buy it. You'll sleep much better at night.
Disclosure: I am long INTC, STEC. I wrote this article myself, and it expresses my own opinions. I am not receiving compensation for it (other than from Seeking Alpha). I have no business relationship with any company whose stock is mentioned in this article.
Additional disclosure: I am short $FIO puts.