One of the top-performing market sectors last year was healthcare, whose stocks, as represented by the Health Care SPDR ETF (NYSEARCA:XLV), gained 15% over the full year and since the bell rang in 2013 have added another 8.5%.
But what is it that made the sector such a success? And why may there be a replication of that success over the next 12 months?
First, be aware that last year's gains are an anomaly. The healthcare sector from roughly 2000 until 2010 was a loser - or more accurately, an underperformer, against the broad market. Nobody wanted in so long as legislation regarding what was ultimately to become the Affordable Health Care Act was still unclear. Then, last year, with the measure passed by congress, much of the doubt surrounding the sector was removed, and healthcare began its recovery.
Insurers and hospitals, which stand to benefit most from the new legislation, grew handily, while at the same time a tremendous increase in the discovery of new and potentially lucrative drugs lifted the biotech subsector, too. The 2012 calendar year was, in fact, the best year for FDA approval of new drug compounds in nearly two decades.
And according to the latest Q4 reports, the sector is not showing any signs of slowing.
Look here: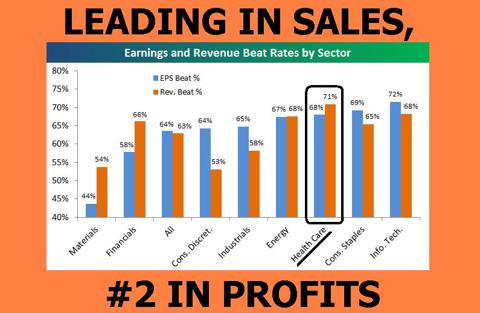 Click to enlarge
Healthcare proved itself in Q4 to be the sector with the highest revenue beat rate in the entire market at 71%. And it parlayed those sales into a strong bottom line, as well. The sector proved better than all, save information technology and consumer staples, in beating Wall Street earnings estimates.
There's momentum here, and investors looking for winners for 2013 would be remiss not to dig a little to uncover the gems in the sector.
Four Names; All Moving
To that end, I've highlighted below a few names from the healthcare field that don't get spotlight treatment like many of the big caps. These are companies that are years away from becoming the next Bristol Myers Squibb or Johnson & Johnson, but even those names had to start somewhere and pay their dues.
I'll start with a hospital operator, AmSurg Corp. (NASDAQ:AMSG), an outfit that's building a network of ambulatory surgery centers (ASCs) across the U.S. in partnership with the physicians who staff them. They now operate 228 such clinics, having grown the business both organically and via acquisition.
The model has been popular enough to garner the company a 99% rate of institutional ownership and drive the stock price higher in an orderly fashion over the last 15 years by better than 667%.
AmSurg obviates the need for hospital visits for minor surgical procedures. The company sets up a facility adjacent or in close proximity to its physician partners and offers a range of services at reasonable cost to the patients who require them. AmSurg covers the administrative end of the business while the doctors do the doctoring in a more personalized, less-threatening environment that appears also to cost less than a hospital to manage.
The stock has a market cap of $977 million, trades at a reasonable 1.46x book value and at 15.8x earnings. And, according to BofA/ Merrill Lynch estimates, should see a steady 10% growth rate through 2014.
Only two risks for investors interested in a position in AMSG. First, Medicare rate cuts could eat into the company's profitability by driving potential patients away from ASCs toward traditional hospital facilities. Second, the company may see fit to make up for a generally slow growth rate by pursuing more acquisitions via increased leverage and thereby run into difficulties with debt service and, possibly, integrating their new centers.
Startup Outpatient Operator
Capital Group Holdings (OTCPK:CGHC) is a relative newcomer to the clinical health field, having purchased last summer Arizona-based Alliance Urgent Care Centers. The company has since renamed the business One Health Urgent care in keeping with its broader branding efforts, but the business model remains unchanged. One Health still aims to provide a one-stop destination for patients in need of urgent care services, including on-site lab testing and x-ray imaging.
There are currently six such centers operating in the Phoenix area, with more in development. The company states its goal is to move the model to other states once the Arizona market is saturated.
The acquisition comes at a good time for CGHC, entering the hospital business at a time when federal legislation is more accommodative and the buyer (Alliance) has built a proven business that appears to be replicable in other jurisdictions.
Capital Group's broader strategy seems to be to use the bricks and mortar clinical presence to develop its original business brand, OneHealthPass, a telephone-based consultation service that provides doctors on a 24-hour basis to registered participants.
Of course, the risk to investing in start-up microcaps is clear enough. Remaining properly capitalized without diluting shareholder equity is ever a challenge.
But it's possible recently purchased television ads will help the branding effort and boost the company into profitability before the need to refinance waters down the current float. This is a stock to keep an eye on over the next few quarters.
Schooling the Hospitals
University General Health System Inc. (UGHS.OB) operates on a slightly larger scale than CGHC, but with a market cap of $140 million it's still a small cap. The company also has real earnings (one cent), and trades at four and a half cents per share as of last day's close.
The company operates a hospital, two ASCs and a senior care center in Houston, and just purchased a second hospital in Dallas, in December. It has some impressive growth figures as of the last reporting period, with nine-month operating income up 454% to over $23 million.
In my view, UGHS's integration of the Dallas facility will determine the company's success over the near term. News of the purchase, incidentally, has done little to bring buyers to the company's stock.
Buying Up the Hospitals
One of the most exciting opportunities in the field may be a Canadian-listed company whose stated strategy is to acquire U.S.-based ASC assets by purchasing a majority stake in them.
The company is called Medical Facilities Corporation (TSE:DR) also trading as (OTCPK:MFCSF), is well-capitalized, has a market cap of over $411 million and recently completed the purchase of a 51% stake in Arkansas Surgical Hospital, a 51-bed facility assisting patients with chronic pain and spine disorders that generated over $50 million in sales in 2011.
DR stock trades with a 7.71% dividend yield and wildly high P/E of 130 and is up nearly 15% since its debut on the Toronto Stock Exchange in June of 2011.
The ASC Opportunity
Ambulatory Surgery Centers are going to be a profitable business under the current legislative regimen and companies that have the capital to own and efficiently operate these businesses may offer outsize investment returns in the years ahead.
Disclosure: I have no positions in any stocks mentioned, and no plans to initiate any positions within the next 72 hours. I wrote this article myself, and it expresses my own opinions. I am not receiving compensation for it. I have no business relationship with any company whose stock is mentioned in this article.