Introduction
In light of the announcement of a new relationship with Mitsui & Co., Ltd. (MITSY.PK), renewable oils and bioproducts company Solazyme (SZYM) has found renewed interest amongst its shareholders in recent days. The company's stock has risen 15% from $7.98 to $9.14 as confidence rose over the press release found here. The announcement shared between the two companies provided additional validation for Solazyme's unique algae-based technology platform which converts carbohydrates into tailored oils.
SZYM data by YCharts
Upon issuance of the press release, I was given the opportunity to interview Mr. Joseph Zwillinger, Solazyme's Director of Business Development and the company lead who helped establish the agreement with Mitsui & Co. The information that follows in this article marks the conclusion of my thoughts along with the supported commentary from this interview. The first part of this interview can be found here. The second part can be seen here.
Planting the Flag
"In terms of demand, there's huge growing demand in Asia. I think it's important [to note] that this is truly a big flag-planting event for Solazyme in Asia with a first partner. We view incredible demand growing in that region. Mitsui is a global company and they have very extensive distribution [capabilities] and relationships into all regions of the world."

- Joseph Zwillinger, Solazyme's Director of Business Development
As if claiming a part of the world itself, the management team at Solazyme continues to think much more globally than many of its pundits seem to understand. Perhaps due to being shrouded by national politics and veiled behind a locally shunned industry, the company has seemingly endured a misconception that it remains dependent upon a receptive audience in America. Particularly, behind a thought that it remains dependent on the nascent biofuel industry.
Yet Solazyme is not out to merely save the United States from its addiction to oil or to only fuel American cars with a new form of biofuel. Indeed, Solazyme's ambitions appear to remain seeded in a much bigger picture of growing the company internationally and becoming a global provider of renewable solutions. For the world that has become so accustomed to exploitation when it comes to oil production, the company seeks to become a major player on this playing field by providing another option that utilizes easy-to-find carbohydrates in order to create the hard-to-produce resources found in valuable oils.
Seemingly for this reason alone, the company has been forming partnerships that operate on a global scale. A quick look at the operations of Solazyme's joint venture partners Bunge (BG) and Roquette shows a level of operational influence that stretches across all of the populated continents. The same could be said about those also developing products with the company such as Dow (DOW) and Unilever (UN). Naturally, this also brings us back to the addition of Mitsui & Co. The company joins a growing list of well-established companies willing to partner with this biotechnology company despite the fact that it has yet to even operate on a large commercial scale.
"Mitsui & Co. has very, very deep relationships in Asia so that's going to be helpful for us to penetrate the region. But they truly are global, and our manufacturing network up to this point as we've announced, is in Latin America & the United States. So we're certainly looking at domestic supply in those markets, but it will undoubtedly expand beyond that."
It's clear that Solazyme's management continues to look ahead into a future where its technology is much more proliferated in the sense of its production capability. As it stands now, the company remains somewhat market-constrained by the limits of its regional production. Yet to that very thought, the company has already begun to expand its network geographically. Now underway with its partners, Solazyme is developing manufacturing facilities in Brazil, France, and the United States.
Being Everywhere At Once.
By developing a global network of production capability, Solazyme is appealing to the global demands of the market. The company's technology already offers increased flexibility when it comes to product choice as described in my article found here. Yet value can also be created by offering geographical flexibility for global partners. Rather than venturing into the expensive task of creating its own distribution network, Solazyme is turning to established partners who already have the capabilities to rapidly introduce product into the market. Appealing to these global players works most effectively when one is able to supply them from multiple locations.
"I think one of the important aspects that Mitsui saw in Solazyme is that we are already establishing a global manufacturing network. Most of the customers for these products are global customers, and servicing their needs from a variety of different manufacturing locations is going to be critical. And that's kind of our global strategy moving ahead."
Asia's Importance In The Effort For Global Expansion.
While it's clear that Solazyme and Mitsui & Co. founded their relationship with the intention of reaching the Asian markets, it would be errant to believe that Mitsui & Co.'s future role with Solazyme is solely restricted to this region. The company maintains a very active presence around the world as seen in the graphic below. Zwillinger confirms this thought with his statement seen here:
"Just the fact that Mitsui & Co. is based in Japan should not indicate that this is exclusively an Asian deal. It's not by any stretch. It is truly a global partnership that we're looking to build."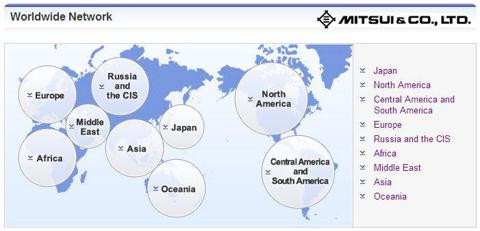 Click to enlarge
(Click to enlarge)
Despite the global focus, however, Solazyme's interests in Asia remain high. Asia's ongoing development offers a region of increasing demand for Solazyme's products. The region further diversifies the company's markets not only on a geographical basis but also in terms of product type.
"Asia is truly going to be an important region for Solazyme seeing the robust growth in demand and the rise of the middle class in that region. It's really going to stimulate a lot of demand for our products, particularly as Asia evolves into preferences towards sustainable products and high-end luxury products," states Zwillinger.
Commenting on the wide range of markets available he continues to make his case:
"There's developed markets for polymers additives in more developed nations. Personal care is growing rapidly in Asia. [Our markets] really kind of span the globe and the spectrum of developing vs. developed regions. So [our partnership with Mitsui & Co. is] a pretty global partnership and we're looking at applications in all regions that you can think of - Latin America, North America, Europe, and Asia."
Conclusion.
As of February 12, Solazyme carried a market capitalization of $544 million, a valuation less than half of what it was at the time of its IPO in 2011. Despite its ongoing work of establishing a network of global partners capable of becoming the foundation for its expansion efforts, the market continues to discount the plans already in place. While the company's stock continues to gyrate over associations made with the biofuel industry, in reality the company's progress has elevated beyond the concerns of a specific division.
Solazyme is establishing a network of global partners capable of introducing the company's high-margin product alternatives into the conventional markets these partners already control. Rather than competing against them by entering into these markets, Solazyme gains near-immediate access by addressing the very goals these partners are also attempting to address. This is the case when we consider sustainability, cost of input, regional supply, trait characteristics, and even market flexibility.
The company has spent the last 10 years developing a disruptive technology that is capable of addressing a market space worth over $3.1 trillion and growing. At this important stage of the company's transition into large scale commercial production, Solazyme's management continues to look forward at global expansion even as many investors continue to dwell upon technological viability.
Yet with each established partnership, Solazyme brings in additional validation for its capabilities. According to the press release found here, Mitsui & Co.'s partnership with Solazyme even comes attached with a financial incentive as the two companies cooperate together in the development of their products and ultimately in their relationship together. Investors should continue to dwell upon the global emphasis of Solazyme's plans going forward. The company appears to bracing for an impact on a much larger scale and with a much larger spectrum of products than investors are currently pricing into the company's valuation.
Disclosure: I am long SZYM, BG. I wrote this article myself, and it expresses my own opinions. I am not receiving compensation for it (other than from Seeking Alpha). I have no business relationship with any company whose stock is mentioned in this article.