ARM Holdings (NASDAQ:ARMH) is in a bubble. There is no other rational way to explain the absurdly high valuation that the stock trades at today, given the current and future prospects for the business. The same arguments that apply to ARM, in particular that it is the "nexus" of the semiconductor industry with little competition, could easily be applied to Taiwan Semiconductor (NYSE:TSM), the foundry at which almost every major player has chips built. Further, both TSMC and Qualcomm (NASDAQ:QCOM) exhibit greater growth rates than ARM while trading at substantially more reasonable EV/EBITDA multiples: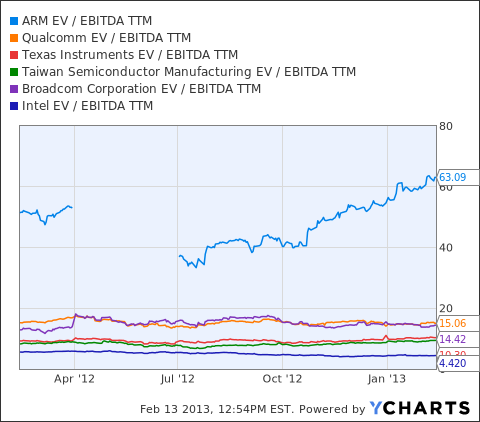 ARMH EV / EBITDA TTM data by YCharts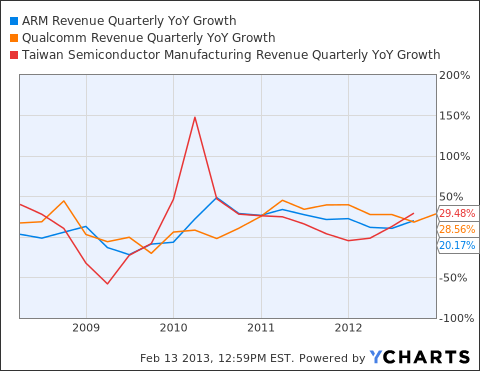 ARMH Revenue Quarterly YoY Growth data by YCharts
Putting aside valuation concerns, it is important to understand just how ARM's stock price was able to nearly double over the last six months or so: it was a short squeeze.
Warren East's Comments Trigger Short Frenzy
A look at the trends in short interest in shares of the stock show that there was a fairly large increase in the short interest between 9/14 and 9/28: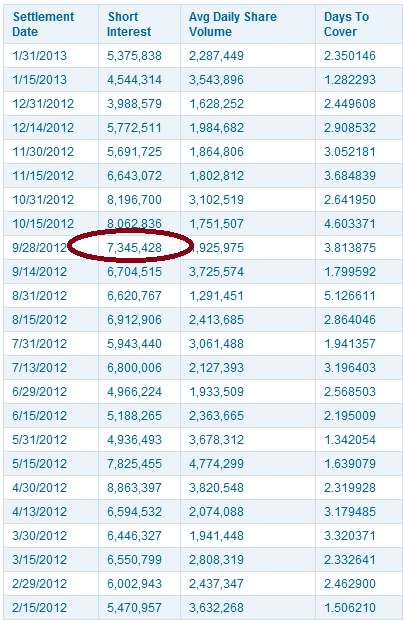 This was likely due to the comments made by CEO Warren East on September 3rd, in which he warned of a slowdown in sales during the second half of 2012. This immediately sent the stock plunging, before it quickly recovered the majority of its losses:

Click to enlarge
However, the shorts became overzealous, and as is seen in the 9/28 and 10/15 short interest numbers, they piled in without mercy. However, there was a fatal flaw in their reasoning: they forgot how ARM recognizes license revenues.
ARM's Results Are For One Quarter Before
In any given quarter, ARM reports licensing revenues for the quarter before. So for the Q3 report, ARM was actually talking about revenues that its partners recognized in Q2. So, of course, when the results came out for "Q3," it looked like everything was fine and dandy. Further, as the sell-side had time to trim its estimates for Q4, the company was able to give its standard "in-line with current market expectations" party line. This, of course, was the beginning of the pain for the ARM shorts.
However, it would get much worse with ARM TechCon.
ARM Tech "Con": Living Up To Its Name And Squeezing Shorts

Click to enlarge
ARM's TechCon is an event at which ARM and its multitude of partners talk up their upcoming products. For the short sellers, this was the catalyst to cause the mother of all squeezes: ARM talked up its 64 bit Cortex A50 and A57 designs, and companies such as Applied Micro (NASDAQ:AMCC) talked up its "revolutionary" 64 bit micro-server chips (that, mind you, won't see revenue until 2014 at the earliest). Investors in bubble stocks, as they always do, thought that the mere fact that ARM extended its instruction set to 64 bits (a feature that Intel/AMD have had since 2003, and that former high-flier MIPS (NASDAQ:MIPS) had since 1991) would suddenly lead to non-trivial market share gains.
It is hard to fight the hype, and with dreams of ARM server dominance at hand, the stock continued its upward march. Nobody cared that Applied Micro, the "first out of the chute," was caught misleading investors about the nature of the "X-Gene" prototypes shown off at both ARM's TechCon and Facebook's (NASDAQ:FB) OpenCompute Summit. These were samples running on FPGAs (not real silicon), despite the congratulatory remarks at the OpenCompute summit that Facebook repeatedly gave to Applied Micro for "getting its first silicon out."
The hype continued, the shorts continued to get squeezed, and the stock continued to march up. All this time, the needle continued to move closer and closer to this bubble, as I will demonstrate below.
The Most Recent Earnings Report: Growth Is Slowing
ARM's most recent earnings results were nothing spectacular. The company saw a mere 16% Y/Y growth in revenues for the year. Profit before tax was up 20%, and EPS was up 18% for the year. Solid growth, but Qualcomm and TSMC, as noted earlier, outgrew ARM, all while sporting much more reasonable valuations. However, the real gem of the earnings report is that the growth in the Q4 results (which are, once again, representative of Q3 unit sales) showed that while revenues were up 21%, earnings per share was up a mere 10%.
Now, this was due to larger bonuses/incentive payments as well as a higher tax rate. However, cost of doing business is cost of doing business. The real gem, though, is that ARM is expecting revenues of $250M in Q1 2013, which would be up about 19.3% from $209.4M. This growth is a Y/Y increase from the growth rate seen in Q1 2012, thanks to the continued adoption of smartphones (which means higher ASPs on chips, and therefore, higher royalty revenues), but this is not sustainable, especially since I believe the major smartphone "boom" (and smartphone chips comprise 35% of ARM's license revenue, despite being only 11% of unit shipments) has mostly occurred.
In addition, while I believe competitive pressure, primarily from Intel (NASDAQ:INTC), will eventually eat into licensing revenue (late 2013/early 2014 and on), it is a little too early to make that call and be able to see a material effect. However, a lot of optimism is baked into the stock for a number of growth drivers that I believe are unlikely to materialize, or that are being significantly overstated.
Windows On ARM Is Dead On Arrival
At CES 2011, Microsoft (NASDAQ:MSFT) announced that the next Windows would be ported to ARM's instruction set architecture. This, unsurprisingly, led to a massive increase in ARM's share price during January 2011:

Click to enlarge
However, as the first "Windows On ARM" (now known as Windows RT) devices hit the market, it is becoming increasingly clear that lack of backwards compatibility and the availability of Intel-compatible alternatives (such as Intel's Z2760) have made Windows on ARM dead on arrival. The Surface RT reportedly sold under 1 million units, while the crowds are lining up for the Intel-powered, "Surface Pro."
With the release of "Clover Trail" to stop any chance that ARM had to penetrate the Windows tablet market, and with the upcoming release of Intel's next-generation "Bay Trail," it is unlikely that the ARM vendors will see any real success here. There is no upside to using an ARM chip, but plenty of downside with respect to lack of Windows software compatibility (and performance deficits).
Intel Moved To Android
While Microsoft was busy making a scene about its ARM plans at CES 2011, Intel and Google (NASDAQ:GOOG) announced that all future versions of Android would be fully compatible and optimized for Intel's X86 instruction set and future processors.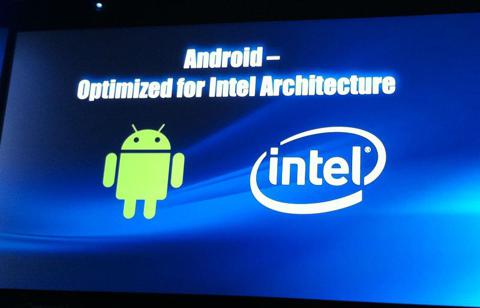 Click to enlarge
Thanks to the nature of Android applications (most are run via the Dalvik VM rather than natively compiled code), the majority of them just work on Intel's chips. The few native applications that exist are run through emulation until Intel works with developers to get these applications recompiled (which is not all that difficult, given the nature of the majority of Android apps).
This development means that Intel has a clear shot at taking away market share from the ARM in Android phones and tablets, fairly uninhibited by the software barriers that exist on the decades-old Windows platform.
ARM In Servers: A Drop In The Bucket At Best
As noted above, another major opportunity that ARM bulls talk up is that of servers. Quite frankly, the opportunity is not all that large. The server processor market today is ~$10B. If ARM partners took 100% market share in all segments of the server room (this means Intel, IBM (NYSE:IBM), Oracle (NASDAQ:ORCL), and others all simply bow to the army of small-cap startups), then at a generous 5% royalty rate (it is more like 2% in smartphones/tablets), ARM, at best, recognizes $500M in revenue.
Realistically, the royalty rate will be in the ballpark of 2-3%, and the market share at best looks to be about 10% for micro-servers by 2016, assuming Intel does not come up with a competitive solution (and it has already announced an aggressive roadmap) and gets ZERO market share in microservers. This means that the best investors can reasonably hope for is a yearly royalty run rate of $30M in licensing revenue by 2016, or about $11M in operating income at 38% operating margin.
Keep in mind that the company has just gained $10B in market capitalization largely on the hopes of this server opportunity.
However, the biggest clue that the top may be in has almost everything to do with the very recent insider sales by key figures instrumental to the future of the company.
The Insider Sales Sound The Alarm
ARM is not a U.S.-based company, so it takes quite a bit of digging to find the insider sales for those not keenly following the company. However, two key personnel: Tom Cronk, Executive Vice President and General Manager of ARM's processor division and Pete Hutton the Exective Vice President and General Manager of ARM's Media Processing Division (think Mali graphics) sold shares on 2/12. However, the insider sale was particularly notable because they didn't just sell shares -- they sold the entirety of their stakes.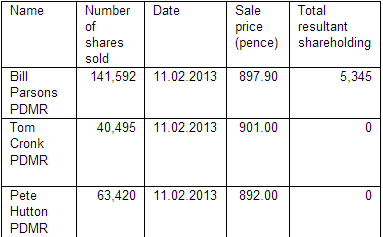 For a company that has spent the last two years talking up how Intel will not be able to design a mobile processor, and then only talking up how Intel will only get 5% of the market (by simplistically dividing 100 by the number of players in the space), it sure seems suspicious that the two men in charge of the company's effort to "take over the computing world" would suddenly sell all of their shares, on the same day, in one transaction.
The sale price of these shares was, as you can see, in the range of 892-901 pence; the stock currently trades for 926 pence on the London exchange (as of this writing).
Sell-Side Analysts: Well Beyond Their Mean Targets
While the aggregate earnings estimate for FY2013 has actually come down $0.02 after the earnings call, it is clear that the enthusiasm from most analysts is fading. Indeed, a quick look at the target prices from the 8 brokerage houses that cover the stock show that the stock is well in excess of the median and mean targets:

Click to enlarge
While a few brokerages upgraded the stock recently on tenuous reasons such as a "lower tax rate" and "higher royalty rate estimates" and set target prices of $50/share, it seems that the excitement from the momentum is really what is driving these claims. At $50/share, it would take a 5 year CAGR of 20% (and again, growth for next quarter is set to be below this value) in order to get the earnings multiple down to the ~30 level. In fact, ARM's own management does not believe in a long term double-digit CAGR. On the most recent earnings call, the following statement was made:
And what that chart -- I mean, which we introduced a couple of quarters ago was really there to show -- because I think the question -- we've always said licensing is a mid- to high-single digit revenue growth stream over periods.
So the long-term licensing growth rate for the company will be in the single digits (royalty growth depends on licensee growth, although I will admit that a greater shift of the royalty revenue stream to a fewer number of customers could keep royalty growth higher than license growth), current double digit growth is slowing, more competition is coming in to knock ARM off of its near-monopolistic position, and yet investors are fine paying over 50x FY2013E earnings.
Conclusion
ARM's stock is in a bubble that is set to burst as soon as the signs that the major growth spurt that it experienced as smartphones ramped fade very quickly over the next year or two. The earnings/revenue growth will slow substantially, and with the advent of competitive pressures from Intel, it is unlikely to maintain a monopolistic position in the smartphone/tablet space for much longer. Further, the server opportunity, should it prove to be more than a mirage, will add next to nothing to the top and bottom lines, as the unit volumes are simply nowhere near what they are in the spaces that ARM is traditionally used to competing in. Finally, as insiders continue to sell out of their positions, it will eventually dawn on the buyers that they have been sold an overpriced, overinflated, and over-hyped stock.
At Qualcomm's or TSMC's valuation of roughly 20x earnings, ARM -- based on FY2013E projected earnings, is worth roughly $16.8/share, implying 61% downside. Given that the highest analyst price target is $50/share, and further, given that the stock has tried and repeatedly failed to hold above $44, 15% optimistic, hype-driven upside for over 60% of very real, numbers-based downside seems like a near no-brainer short sale at these levels.
Disclosure: I am short ARMH. I wrote this article myself, and it expresses my own opinions. I am not receiving compensation for it (other than from Seeking Alpha). I have no business relationship with any company whose stock is mentioned in this article.
Additional disclosure: I am long INTC