I have a target list of about 5 stocks I've been waiting to fall to my target areas - these are small/mid cap generals who have been oblivious to the market's downfall the past month. One such name is
Insituform Technologies (INSU)
which I've had a limit order that finally hit yesterday morning; it's been sitting there the entire month of January. In a nutshell, this company is a play on "Obama infrastructure" - unfortunately, the Nero running Rome as it burns only made 3.5% of the "stimulus" infrastructure; that is sad but typical of our feckless leaders.
I expect the Senate to "bump it up" - hey we might even get 5% of our grandkids's money to go where it should go. Lucky us! 50% pork, 10% social programs, 35% tax cuts, and 5% infrastructure... for an "infrastructure bill".
Either way, as Rome burns civil engineers say we need $1.6 trillion of upgrades to our splintering infrastructure. I read that over the past 2 years, and read something last week that amount has been upped to $2.2 trillion. What the exact correct number is not the point - in America we won't deal with it until a full blown emergency happens (see Minnesota bridges). If you do the research, our major city sewers - many built 80+ years ago are also old and decrepit.


Water is going to be the oil of the next 50 years, and in the West, we are already seeing emergencies every summer. Yet we "leak out" so much water in our sewers because we cannot afford to deal with it. Well now we have money flowing out of our ears so we can deal with every problem.

Here is a company description (company website here, and product list here)

As the leading provider of and a pioneer in trenchless technology, Insituform® is able to respond to worldwide sewer, water and industrial pipeline rehabilitation needs with a long-term, less disruptive solution that's very affordable.

They key here is the company's trenchless replacement technology; that is, instead of busting up streets across America to put new pipes in, a hole is dug at either end and this new pipe is pulled through - creating a pipe within a pipe if you will.

This company is small enough (about half a billion in annual revenues) that Obama spending could actually boost the top line in a material way unlike 90% of the stocks the daytraders run up on hype in infrastructure. I'll add more detail to this piece later but for a quick summary, you can go to this Seeking Alpha piece by Ted Allrich here.

The company has an investor presentation from spring 2008 here.

The chart is (well

was

) excellent as this was a small general who was not letting up. Still in decent shape despite yesterday's action.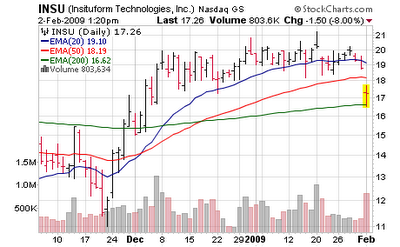 It has been hit on news of multiple acquisitions. These are quite hefty acquisitions for a $500M market cap.... an aggressive stroke, although a broadening of the product line. Since these are privately- held companies it is hard to tell if these are "good" prices or not since I can only see revenues and not "profits".

Insituform Technologies Inc., a contractor that rehabilitates sewers and underground piping systems, said Monday that it will buy Bayou Cos. and Corrpro Cos. in two separate deals that the company values at $216 million combined. Insituform will pay $125 million for Bayou and about $91 million for Corrpro. Both deals include the assumption of debt.
Privately held Bayou, based in New Iberia, La., provides products and services to the onshore and offshore oil and natural gas industries. Corrpro offers corrosion protection and pipeline maintenance services.
Insituform said the transactions will give it cross-selling opportunities and diversify its business.
The company plans to fund the deals with debt and a

public offering of up to 9 million shares of its common stock.
Bayou had $125.7 million in sales for the 12 months ended Sept. 30, 2008. Medina, Ohio-based Corrpro had $186.1 million in revenue for the same period.
The stock is down 8%, and the 9 million shares would equal dilution of 32% (current shares outstanding are 28M) Therefore, it would appear on the surface - the market likes the deal and/or the deal is quite accretive. Together these two companies add $300M in sales to INSU's $550M, so at least on the top line the company grew 55% for 32% dilution. That "sounds" good as long as operating & profit margins in the new businesses are similar to INSU's business. But the market seems to be giving a thumbs up or else the stock would be far lower.

Another strategy that interests me is to play the infrastructure theme is a paired trade - long a small domestic company like this (benefits from Obama) vs short a global infrastructure player that is levered to oil/energy (in which I expect to see some projects being canceled in the year ahead) - or long the good (domestic) chart versus short the bad (global) chart.

I will say, this deal adds more complexity to my thesis for buying - I wanted the sewer business

and had set my limit order to buy when the stock fell near the 200 day moving average ($16.80s). If the market starts to break down, I'll cut back on this position, because instead of being a pure play, there are more layers of complexity to the company now I have a sewer business and an oil pipeline service business on my hands.

I've started this position with a

2.0%

stake around $17.25.



Disclosure: Long Insituform Technologies in fund; no personal position