This article looks at PennantPark Investment Corporation (NASDAQ:PNNT) and compares it with the other BDCs covered in the previous articles. It and is a follow up to Part 1, Part 2 and Part 3.
Business Development Companies in General: BDCs lend to small and mid-sized businesses, with limited financial leverage, paying out most of their income to investors and pay little to no corporate tax. They operate in a market that is mostly overlooked by banks and their non-bank structure gives them flexibility to invest in multiple levels of a company's capital structure. Despite all the focus on investor yields BDCs seem to go unnoticed, in part due to the relatively small industry market cap of around $25 billion, but currently yielding 9% on average.
Updates
MCG Capital Corporation (NASDAQ:MCGC) - on February 11, it announced the receipt of a green light letter from the U.S. Small Business Administration to continue its application process to obtain a license to form and operate a second SBIC. If approved, the additional license would provide MCGC with an incremental source of attractive long-term capital. Some of the benefits of having an SBIC subsidiary:
Exempted relief from the SEC to exclude SBIC debt from asset coverage ratios
Long-term funding, 10-year SBA non-recourse debentures
Up to 2x leverage at SBIC subsidiary
Attractive pricing: fixed-rate of 4%
Diversified funding sources
Prospect Capital Corporation (NASDAQ:PSEC) - on February 11, it entered into an equity distribution agreement with KeyBanc Capital Markets Inc. that allows it to offer and sell up to 45,000,000 shares of common stock from time to time and an offer to sell Prospect Capital InterNotes from time to time in various offerings up to $500 million.
BlackRock Kelso Capital (NASDAQ:BKCC) - on February 12, it announced that it plans to make a private offering of $100 million aggregate principal amount of unsecured convertible senior notes due 2018. This will increase its debt-to-equity ratio above the average for the group so I adjusted the risk category down (less favorable).
These are the five general criteria I use to evaluate BDCs:
Profitability (EPS to cover dividends, growth)
Risk (diversification, volatility, leverage)
Payout (sustainable, consistent, growing)
Analyst Opinions
Valuation (P/E, PEG, NAV)
Evaluation Detail: A well-managed BDC will have dividends that match net investment income and I try to normalize EPS assuming they deploy capital consistently and consider analyst earnings expectations. Many of the typical market risks are involved with investing in BDCs; I focus on portfolio composition including credit quality, industry diversification, and investment concentrations, as well as market cap, volatility and leverage ratios, institutional ownership, and interest coverage. My primary concern regarding payout is if the company can sustain current distribution levels, consistency, and potential for increases. Analyst opinions are important but seem to be more of a lagging indicator. The metrics I use for relative valuation are mostly based on earnings and book value. For more detail, please see Part 1.
Below is an oversimplified chart evaluating the companies I have reviewed among my universe of 30 BDCs giving them a relative score between 0 and 10 (10 being the best). In reality I use different weightings for each criterion. In future articles I will add the new companies to this chart as well as update info.

PennantPark Investment Corporation
Market Cap: $746 million
Yield: 10.0%
Div/EPS: 100%
Div/Proj. EPS: 100%
P/E: 10.8
Price/NAV: 1.08
Debt/Equity: 0.53
Portfolio Yield: 13.3%
Profit
PNNT is another BDC actively raising capital through equity and debt offerings making it difficult to normalize EPS. Net investment income for the most recent quarter was up 21% from the same time last year. EPS and dividends per share were $0.28 and are projected to be the same for the next two quarters. It has plenty of liquidity to grow the portfolio including $190 million from their SBIC and credit facility, and recently issued $67.5 million in 12-year notes, but growth is not its sole objective. In the last earnings call the CEO stated "We are all about quality control and having deals that make sense and if that means that we have excess liquidity and we take our time, deploying for a quarter or two, we may under earn our dividend on a recurring basis. And that's totally fine. We are not going to cut our dividend. We have plenty of liquidity. We certainly believe that as we deploy, we will earn our dividend if not more than our dividend and have a potential to grow our dividend. Well, we feel like we're in great shape, we don't need to rush our originations. We're going to take our time, make sure quality is high and we like to have an excess liquidity."
It reported an active quarter ended December 31, due to seasonality but this coming quarter's activity is lower than normal. Management believes the remainder of 2013 will be active due to its strong sourcing network and client relationships. In summary, it has the capital to invest but is being selective and might not grow as fast as other BDCs, and is committed to covering the dividend for now with the intention of growing it in the future.
Risk
PennantPark has had only six non-accruals out of 231 investments over the last six years, which includes the recession timeframe, and currently has no non-accruals on the books. This is probably due to its focus on quality investments over aggressive growth. Their CEO recently stated "As a result of our focus on high quality new investments, solid performance of existing investments and continuing diversification, our portfolio is constructed to withstand market and economic volatility." However, historical volatility ratios are higher than most but the debt-to-equity ratio of 0.53 is lower than the average with strong interest coverage from income.
Their overall debt portfolio has a weighted average yield on 13.3%. On December 31, the portfolio consists of 56 companies across 30 different industries and invested 29% in senior secured debts, 20% in second lien secured debt, 39% in subordinated debt and 12% in preferred and common equity. It works with its affiliate PennantPark Floating Rate Capital (NASDAQ:PFLT) and covers the higher risk and return levels of financing (see chart below).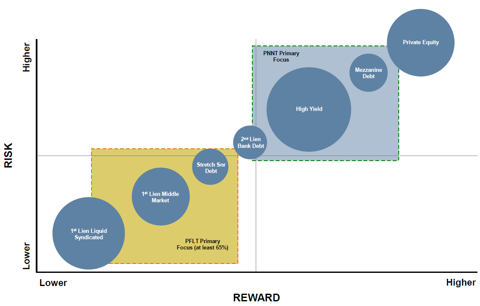 The portfolio is among the more diversified in the group with a good balance in consumer goods and services, energy, healthcare, industrials, materials, and technology but a little light in the financial sector similar to Main Street Capital (NYSE:MAIN). Below is a chart from its website showing its industry diversification as of December 31.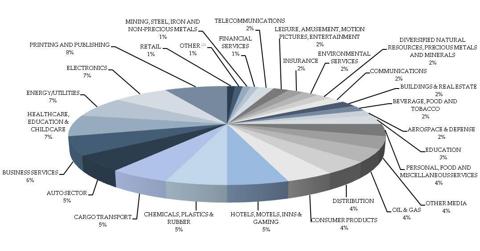 Payout
The current dividend yield of 10% is above the industry average of 9%. It is one of the only BDCs that did not cut its dividend during the recession and currently has a sustainable, steady and growing dividend of $0.28. With the modest projected growth in EPS due to a recent issuance of shares I do not see it increasing until late 2013 at the earliest.
Analysts
The analysts rank PNNT somewhere between hold and a buy, with most of them at a buy.
Valuation
The stock is currently trading at 8% over NAV and a P/E of 10.8, which is currently below the group average of 12.0.
With a healthy dividend yield that is supported by net investment income and a management team dedicated to carefully picking investments I consider PNNT one of 'The Good' BDCs. In my next article I will discuss my personal investment philosophy regarding BDCs and how I balance the various evaluation criteria to fit my investment needs.
Disclosure: I am long PSEC, PNNT, MAIN. I wrote this article myself, and it expresses my own opinions. I am not receiving compensation for it (other than from Seeking Alpha). I have no business relationship with any company whose stock is mentioned in this article.