Historically low yields have been around over the past year and speculators are anticipating a rise in interest rates should the economy recover. Investors have congregated into fixed income exchange traded funds as a result, but where should they go next if inflation sets in and bond yields rise?
The market faces "an impending rise in interest rates" as the economy improves and inflation heats up in 2014, says Jason Schenker, president of Austin-based Prestige Economics. He has recommended clients dump fixed-income assets in favor of equities, commodities and housing, which he believes will protect them against rising interest rates, reports Trang Ho for Investor's Business Daily.
"Today's extremely low-rate environment has impacted Treasury Inflation Protected Securities (OTC:TIPS) in an unusual way: some TIPS are currently being issued with a negative yield because the interest rate on nominal Treasuries is lower than the expected future rate of inflation. Right now, investors are willing to accept a real negative return in exchange for safety," Abby Woodham wrote for Morningstar.
Bond investors flee the sector when interest rates rise because even though they will get paid in full, they miss the opportunity to earn higher rates on their investment. What's more, Todd Rosenbluth of S&P Capital IQ reports that emotional buying and selling can actually cause further losses.
For this reason, short duration bonds are recommended because they are not governed by interest rate fluctuations as tightly as the longer term bonds. The iShares 7-10 Year Treasury ETF (NYSEARCA:IEF) has benefited from yields on a 10-year bond going up 0.35 point to 1.78%, up from the previous 1.43%. The SPDR Barclays Capital Short-Term High Yield Bond ETF (NYSEARCA:SJNK) has a 4.49% yield, slightly less than the longer term fund.
According to Jefferies, investors have put $3.5 billion per week into taxable bond funds in 2013, up 40% from the 2012 average. The possibility that interest rates will remain at historic lows is very real, and some critics claim they could fall further.
A looming "deflationary bust" will prompt investors to dump stocks and load up on no-risk, government-guaranteed assets, David Hunter, chief market strategist at KCCI, said. He projects 10-year bond yields will dive south of 1% and longer-term yields below 2%.
SPDR Barclays Capital Short-Term High Yield Bond ETF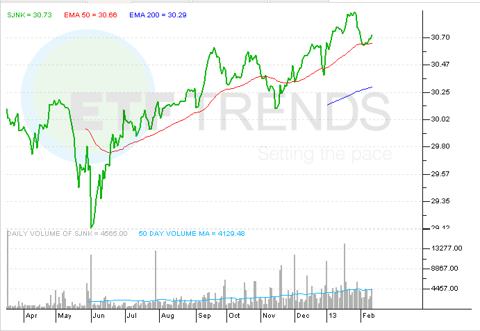 Tisha Guerrero contributed to this article.
Disclosure: I have no positions in any stocks mentioned, and no plans to initiate any positions within the next 72 hours. I wrote this article myself, and it expresses my own opinions. I am not receiving compensation for it. I have no business relationship with any company whose stock is mentioned in this article.