This week, Comcast (NASDAQ:CMCSA) (CMCSK) announced that it would buy the rest of General Electric's (NYSE: GE) equity in NBC Universal, as was agreed upon in 2009. However, the question is whether this deal is an optimum investment for Comcast or not. Are there any any other factors that need to be looked into? Is Comcast's business strategy in place?
In December 2009, Comcast announced that it was buying NBC Universal from General Electric at a total price of $30 billion. In 2011, the deal materialized with Comcast providing nearly $14 billion in assets, including $6.5 billion in cash, for 51% ownership of the new entity. The rest of the money was to be paid over and within the next 8 years. Fast forward to the present (February 2013), Comcast is paying an approximate amount of $16.7 billion to acquire the rest of GE's ownership in NBC Universal, as per the deal.
The deal includes NBC broadcast stations, cable channels like Bravo, USA and E!, the Universal movie studio as well as theme parks among other assets. Needless to say, this will solidify Comcast's position in the media and technology business. As Brian L. Roberts, Chairman-CEO of Comcast said:
"This is an exciting day for Comcast as we have agreed to accelerate the purchase of NBC Universal. The management team at GE has been a wonderful partner during the past two years and their support has been very valuable. Our decision to acquire GE's ownership is driven by our sense of optimism for the future prospects of NBC Universal and our desire to capture future value that we hope to create for our shareholders […] We believe the terms of the transaction are attractive and have planned for this event by taking a number of financial steps to prepare our balance sheet. We believe we are in a strong and unique position to continue to grow and build value in our combined company."
Although this is a huge move by Comcast in the media and entertainment industry, Comcast's business position can face a lot of risks and problems in the near future. A few factors that need to be looked into are detailed below.
Few Factors That Bother Me
Less focus on internet broadband service - While Verizon (NYSE:VZ) and AT&T (NYSE:T) are focusing hard on their wireless broadband service, Comcast is buying cable networks, buildings and broadcasting stations. Is lack of wireless broadband services a deterrent in Comcast's business? Probably, it is, as per the excerpt below (from the annual report):
"In certain of our service areas in 2012, some of our phone company competitors, including Verizon, have their own wireless facilities, which we do not have, and have expanded or may expand their cable service offerings to include bundled wireless offerings, which may adversely affect our business and results of operations."
Now, with the advent of new-age internet service providing technology, will Comcast not have a problem holding on to its internet users?
Take for instance, the Google Fiber service recently rolled out by Google (NASDAQ: GOOG). It offers up to one-gigabit upload and download speed with a full TV channel lineup with no data caps, 1 Nexus 7 tablet, 1 storage box, 1 network box and 1TB Google Drive at a nominal cost of $120 per month plus taxes and fees. Compare that to the Extreme 105 plan of Comcast that offers 105 Mbps internet speed at $199.95 per month or even, 300-500 Kbps wireless internet speed at a range of $40-60 per month.
The rise of new-age internet service technology, spurring the development of internet TV, can certainly eat into the internet service and cable service revenues of Comcast.
Rise of internet TV - Intel (NASDAQ:INTC) is coming up with its new internet TV set-top device this year, as per this article.
"Intel's set-top box will deliver a better viewing experience than traditional cable and satellite companies, as well as Web-connected devices from Apple Inc., Roku Inc. and other manufacturers, Huggers said."
Although the high programming license fees, the lack of time-relevant premium content and the low speed of broadband internet have been straining on the growth of internet TV, things are changing with Gigabit Squared and Google Fiber. That shows in the current Nielson study as follows:
"Traditional TV distribution - such as broadcast or cable - and watching on a TV set continues to be the dominant means of ingesting video content. Much like eReaders, which saw small but noticeable gains in penetration in the last three quarters of 2011, but have since made nice strides and has Q1 2012 penetration at 21 percent, IPTV seems to be following suit and market penetration is on the rise. As of February 2012, 10.4 percent of homes had an IPTV, compared to just 4.7 percent that same month a year prior, according to a recent Nielsen study."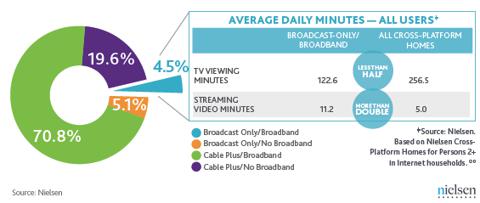 According to a new report from Nielsen, the number of U.S. homes that have broadband Internet, but only free, broadcast TV, is on the rise. Although representing less than 5% of TV households, the number has grown 22.8% over the past year. As cable charges are forecasted to go up in the coming years, this number will go up as well.
And we all know that it means bad news for the cable companies. How is Comcast preparing for that? I would like to see Comcast's concern regarding this area as well in the coming few quarters.
Increased programming costs - The multichannel video provider industry has continued to experience an increase in the cost of programming, especially sports programming. Programming costs are the costs that each TV distributor pays to cable networks. And with rising programming expenses, the cost a of subscription goes up. Consequently, more and more people look for cheaper alternatives.
For example, starting from Feb 2013, the prices of DirecTV (DTV) will go up by 4.5% to offset rising programming costs. This isn't something new. In fact, the satellite company tends to increase its pricing by similar percentage every year around February (for example, 4% increase in 2011 and 2012).
Unfortunately, this spells bad news for Comcast from both sides since it owns cable networks as well. With either must-carry status or retransmission consent, Comcast may have to play according to market rules. It is noteworthy though that all of the NBC and Telemundo owned local television stations have elected retransmission consent for the period January 1, 2012, through December 31, 2014. Yet, these agreements are subject to change after that period, which might affect Comcast's bottom line.
The only possible escape routes are as follows: resort to a "new medium" of distribution, improve the technological process of the company or offset the rising costs with higher prices. The first two obviously sound better than the third one.
Federal support for internet networking - This NBC Universal deal has been sanctioned on pretty stringent conditions that restricts the power from going into one company's hands.
Comcast is supposed to relinquish its rights on Hulu.
Programming should not be withheld for any sort of legal competitor.
Equal agreement terms for all parties, with respect to the market.
This is an excerpt from the company reports:
"As a result of the NBC Universal transaction, we are subject to the NBC Universal Order and the NBC Universal Consent Decree, which have imposed numerous conditions on our businesses relating to the treatment of competitors and other matters. Failure to comply with the laws and regulations applicable to our businesses could result in administrative enforcement actions, fines and civil and criminal liability."
Transaction payment terms - The transactions are to be funded with $11.4 billion of cash, $4 billion of subsidiary senior unsecured notes to be issued to GE, $2 billion of borrowings under Comcast and/or subsidiary bank credit facilities and $725 million of subsidiary preferred stock to be issued to GE.
With $11 billion of cash in hand (as on 31 December 2012), high debt-to-equity ratio of 78.9 and current ratio of 1, the acquisition will tighten Comcast's working capital budget. Comcast will have to perform under pressure and only revenue growth can sustain the company's future stock performance.
Bottom Line
While the deal certainly has a lot of importance for Comcast, it is wise to think whether it will be fruitful regarding the latest technological changes and their effects on the business model of Comcast. With tight working capital, unsteady market consumption preferences and new-age technological breakthroughs, things might get tougher for Comcast and inadvertently, that will be bad for the Comcast stakeholders.
Having said that, this article is not tagging "buy" or "sell" on Comcast. This is just to focus on other factors lurking underneath that might hinder Comcast's growth in the future. Then again, Comcast is a big name in the IT, media and entertainment industry and will always have a lot of traction.
In short, Comcast, like other cable companies, would be better off if they accept the changes. We, as Comcast investors, might be better off holding on to the stock for a few more quarters ahead.
Disclosure: I have no positions in any stocks mentioned, and no plans to initiate any positions within the next 72 hours. I wrote this article myself, and it expresses my own opinions. I am not receiving compensation for it (other than from Seeking Alpha). I have no business relationship with any company whose stock is mentioned in this article.