There's no question that Universal display has had some bumps in the road lately, however there could be "light at the end of the tunnel." Universal Display (NASDAQ:PANL) has put a major focus on their OLED or organic light-emitting diode technology in the past year. While OLED technology is somewhat new and perhaps something you have never heard of, it has enormous potential for Universal Display to gain market share. They have already begun using the technology in smart phones, TVs and other devices. We all saw the incoherent amount of products coming out of the 2013 Consumer Electronics show. The new flexible screens, hyper mobile processors, and of course, new TV's and phones of every kind. Companies such as Samsung and LG are Universal Display's largest customers. Both companies who license and use Universal Displays technology had some great products that really caught my attention this year. Samsung unveiled a curved OLED television, which provides more and better viewing angles. Combined that with their smart TV platform and I'll buy one!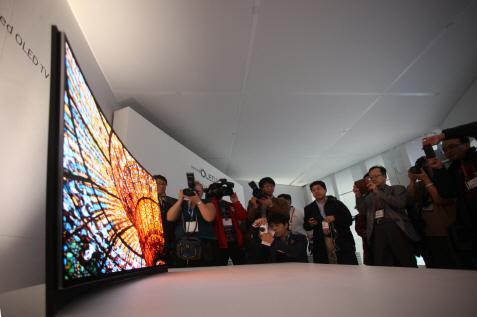 Source: samsungces.com
LG displaying the first commercially available OLED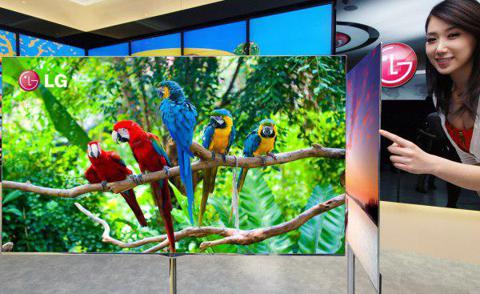 Source: CNET
Looking beyond new television technology, Samsung, Universal Display's largest customer, is already using the technology in their flagship Galaxy S3 smart phone. Others are sure to follow and we will see a major increase in use of OLED technology. As smart phones and tablets continue to replace PC's, manufacturers are constantly seeking ways to make screens and displays as brilliant as possible. Samsung is currently using OLED technology in their Galaxy smart phones and tablets while their biggest competitor Apple (NASDAQ:AAPL) is using their proprietary Retina Display. Despite the comments from Apple CEO Tim Cook that their Retina Display is far superior when compared to the Galaxy S3's OLED display, I strongly disagree as I have personally used both devices and protest that they both offer similar high quality output. It's important to note that the Retina Display is developed by Apple for Apple products and I don't see them licensing that technology anytime soon. So Apple competitors who include every other smart phone maker on the planet are looking to OLED displays for the future.
I'm not going to dive into smart phone market share and whose display is better. The purpose of this article is to shed light on Universal Display who is producing OLED for a significant share of manufacturers besides Apple . That smart phone market is the key driver that makes us bullish overall on OLED technology and thus Universal Display . Smart phones that use OLED as opposed to traditional LED do not need a back light and in turn puts less strain on a smart phones battery. What I wouldn't give to have an iPhone or Galaxy S3 with the battery life of my old Blackberry Bold 9000 or better. Battery life has been the "Achilles Heel" of mobile phones since the DynaTAC8000X.
I'm not suggesting OLED technology is the end all be all fix to battery life, but phone makers have spent tens of billions of dollars over the years to improve it, with about as much progress as solar panels. While I don't have a masters grasp of what it takes to produce the brilliant displays becoming more prevalent in smart phones, common sense suggests that using OLED technology could ultimately reduce components needed for lighting thus improving manufacturing efficiencies and possibly improving margins with reduced costs. This can also allow companies to offer more affordable prices to the end-user, especially in the emerging markets where smart phone makers are fiercely trying to grab market share. Universal Display is in great position to capitalize on this growing market as they currently dominate the space and have a stellar patent and intellectual property pipeline.
Looking at the trade, I do feel earnings could have significant impact on the stock's price. Universal Display certainly had less than stellar performance in 2012 but three key drivers are in play that signals a much more bullish outlook for 2013 and thus I feel it's a prime time to be long on Universal Display .
1. An influx of cash through contract renewal payments, such as the extension of the LG supply contract through October 2013.
2. An increase in new license and production opportunities opened by the vast potential applications for OLED to be used in consumer and industrial devices.
3. The consistent improvement in the stocks technical trends since this same time last year indicates a reversal to the upside and the potential to make new highs on a break out.
With that said, I will look for continuing improvement of earnings and financials through 2013 as they are well positioned to meet demand on the slower growing OLED Television front and the exponentially fast paced smart phone market.
Universal Display is expected to announce Q4 2012 and Year End Results on February 27th. Current analyst estimates range between $0.08 and $0.18 per share. Below is a brief snapshot of earnings history and current estimates.

From a technical outlook, the stock was in an accumulation period; however, the current trend line suggests a reversal from its bottom of $21.55 and several indicators suggest continued upward movement as it has traded above its 50-day moving average since January 15th.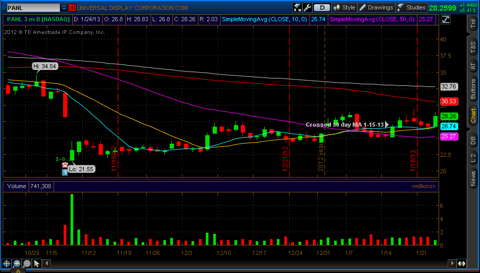 Janurary 18th: MACD crosses to the upside, signaling a move up.

January 24th: the Short-Term KST crosses to the upside, signaling a move up in the next two weeks. This was confirmed by the preceding price jump that followed.

January 25th: The jump in the Williams-%R indicator suggests the stock is moving out of oversold.

February 1st: The price crosses 150-day moving average and February 6th the price crosses 200-day moving average. The chart below also shows some signs of an ascending continuation triangle. $32 is a major support level and $35.59 is a major breakout level.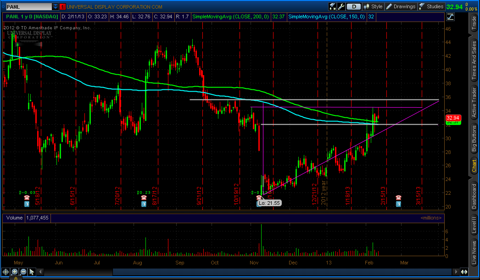 Conclusion: While somewhat speculative ahead of Q4 earnings and 2013 guidance, I recommend a long position on Universal Display. Ahead of earnings, I would look for opportunities to buy on the dips in the $32-$35 range with a stop @ $31. Leading up to and post-earnings I would take a closer look at more long-term technical signals to confirm trend reversal and pay close attention to 2013 guidance once announced. With in-line or better than expected results, I would set a target range of $37-$44.
If what we can deduce about 2013 growth comes to fruition, I see a target range closer to the $44-$49 with the stock making new highs. However, it is important to note the stocks general weakness in 2012 prices, earnings misses and shorter lead in time to the up-trend than previously confirmed signals that led to a downtrend in the same time period last year.
That being said, I am bullish on Universal Display and will look to accumulate the stock anywhere under $35 ahead of earnings with a stop price of $31, and I will be paying close attention to the announcement of year end results and 2013 guidance on February 27th to determine the best upside exit point.
Disclosure: I have no positions in any stocks mentioned, but may initiate a long position in PANL over the next 72 hours. I wrote this article myself, and it expresses my own opinions. I am not receiving compensation for it (other than from Seeking Alpha). I have no business relationship with any company whose stock is mentioned in this article.