Early this morning, AVEO Pharmaceuticals (NASDAQ:AVEO) reported fourth‐quarter operating results, which included an update call with investors. The company provided the final overall survival results from its pivotal Phase III TIVO‐1 study in advanced renal cell carcinoma, which was presented on Tuesday night at the American Society of Clinical Oncology Genitourinary (ASCO‐GU) meeting.
The ASCO‐GU abstracts were discussed with the highlight being a median overall survival of 28.8 months for patients initially treated with tivozanib, versus 29.3 months for patients initially treated with Nexavar. The difference between the two groups was not statistically significant. Of particular note in this trial were patients who discontinued initial therapy. Specifically, 74% of patients on the Nexavar arm received a subsequent therapy (70% of which was anti‐ VEGF) versus only 36% of patients on the tivozanib arm (10% of which was anti‐ VEGF).
The main issue (the one that caused a roller-coaster in AVEO's share price today) was the hazard ratio (1.245; p=0.105), which was in favor of the Nexavar arm. William Blair analysts noted that the one‐way crossover allowance is the primary driver of this discrepancy. They believe the survival seen with tivozanib is highly encouraging, considering the lack of subsequent therapy. In addition, when looking at patients who began on Nexavar and subsequently switched to tivozanib after progression, these subjects achieved a median progression‐free survival of 8.4 months and a median overall survival of 19.6 months, both of which are among the best seen for patients treated in the second‐line setting.
William Blair points out that based on the Phase III results, tivozanib has the ability to be a best‐in‐class product for second‐line RCC, a market estimated at $1 billion, in a class that currently has $2 billion in sales. Tivozanib has seemingly differentiated itself from the existing tyrosine kinase inhibitor (TKI) therapies, Sutent, Nexavar, and Votrient, through its efficacy and improved tolerability profile. However, Pfizer Oncology points out that cross-study comparisons are generally not appropriate because of substantial differences in study design, patient population, demographics as well as other factors.

Additionally, through its partnership with Astellas, AVEO has the potential to receive up to $1.3 billion in milestones for RCC alone.
Looking forward, AVEO will have a formative six months, culminating in the regulatory decision date that is expected to occur by July 28 of this year. In addition, the tivozanib application will take part in an oncology drug advisory committee (ODAC) meeting, which is expected to occur in May or June. Looking into the second half of 2013 and beyond, the company will continue to enroll patients in its BATON‐BC Phase II trial (evaluating tivozanib in patients with triple‐negative breast cancer) and hopefully, present data in 2014.
As for the financial aspect, AVEO ended the quarter with cash, cash equivalents, and marketable securities of $160.6 million, which does not take into account the $53.8 million the company raised through a secondary public offering of 7.67 million shares in January. Based on the company's current operating plans, AVEO expects to finish 2013 with roughly $60 million in cash, cash equivalents, and marketable securities.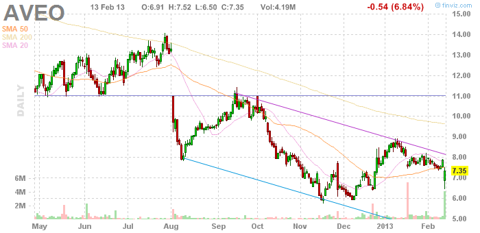 Disclosure: I have no positions in any stocks mentioned, and no plans to initiate any positions within the next 72 hours. I wrote this article myself, and it expresses my own opinions. I am not receiving compensation for it (other than from Seeking Alpha). I have no business relationship with any company whose stock is mentioned in this article.