The negative outlook for the US food industry has worsened in the past six months and may lead to more bankruptcy filings, according to Moody's. The global economic downturn may reduce demand for certain brand-name foods and slow U.S. meat exports to emerging markets, Moody's says in U.S. Food Industry: Six-Month Update.
The Update expresses Moody's expectations for the fundamental credit conditions for the food industry over the next 12 to 18 months.
The rated universe of the US food industry is comprised of two segments: the packaged-food companies — that sell processed food to food-service companies, grocery stores and other food retailers — and the meat processors — companies that sell chicken, beef, pork and other agricultural commodities to food-service companies, grocery stores, and packaged food companies.
Most food producers have significant fixed costs hence a drop in sales volume is likely to hurt profitability and cash flow.In addition, the tight credit markets intensify problems for lower-rated packaged-food companies and especially for meat producers.
The lack of access to credit may make more bankruptcy filings possible.
However, although sales of branded packaged-food companies could come under stress as strapped consumers trade down from national brands to cheaper private-label versions, there are pockets of strength. For example, leading cereal brands have not yet lost material market share to store brands.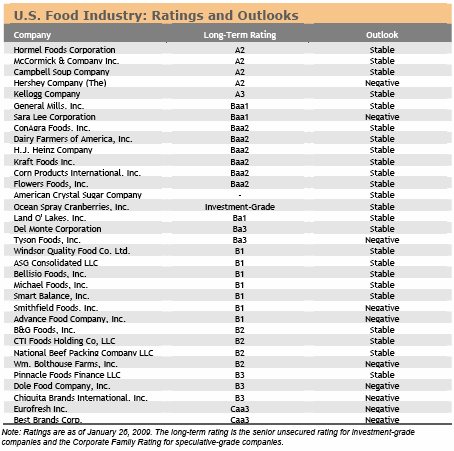 Overall, the outlook for the food sector has grown more pessimistic as many commodities are still expensive on a historical basis and the economic downturn is likely to hurt operating profits, says Moody's. Thus any relief from input price inflation — from lower crude-oil prices, for example — will probably only offset lower operating profits caused by the economic slowdown.