Buffalo Wild Wings (NASDAQ:BWLD) isn't your regular NASDAQ stock. Instead of peddling technology or something else that isn't meat, Buffalo Wild Wings sells wings. And according to their latest earnings report, they sell a lot of wings. The stock posted a 5.7% increase during the day (February 12), but lost most of it during after-hours trading. Although the corporation's press release fell short of Wall Street expectations, it still posted healthy numbers and looks like a solid buy.
According to the press release, Buffalo Wild Wings:
Increased Q4 revenue 37.8% from the year prior ($303.8 million).
22% increase in quarterly profit from Q4 2011.
Posted $.89 earnings per share, compared to $.74 during Q4 2011.
The company is continuing to develop and generate more profit. Buffalo Wild Wings looks to be a good buy right now, but how much bigger can it get? The corporation's unique blend of franchising and company-owned restaurants has provided consistent growth, and this business model will keep them very profitable.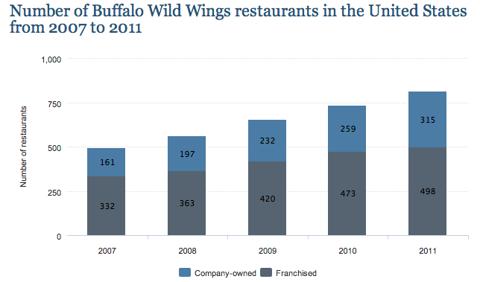 Source: Buffalo Wild Wings, Statista
The corporation actually generates most of its profit from company-owned stores, and has grown that segment of their operation more heavily as a result.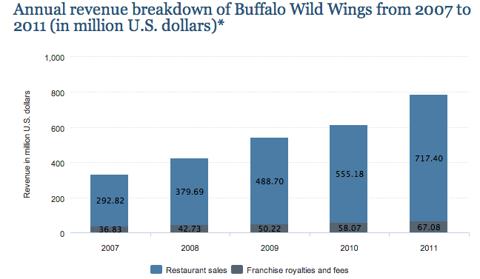 Source: Buffalo Wild Wings, Statista
Now that we have information for 2012 available, it's clear that these trends are continuing. The fast-casual part of the restaurant industry that Buffalo Wild Wings inhabits is a popular and dynamic part of the economy; people want food that is slightly better than fast food, but not quite as good as the fare in a legitimate restaurant. Fast-casual is growing faster than other parts of the restaurant industry. Research firm Technomic found that the 150 largest fast-casual brands generated 8.4% more revenue between 2010-2011, while the 500 largest restaurant chains only generated 3.5% more year-over-year. The numbers for 2012 will likely be even more skewed. All this bodes well for Buffalo Wild Wings.
Let's not forget to mention what's at the very heart of Buffalo Wild Wings: chicken. Although rising chicken prices have bit into Buffalo Wild Wing's profits, it is undoubtedly the king of meats: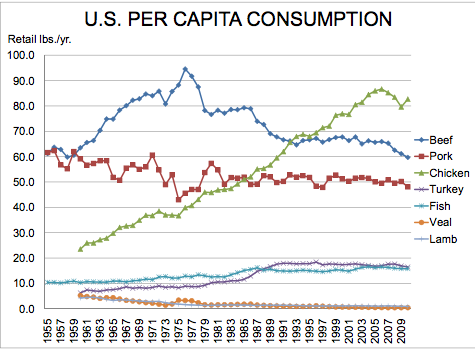 As shown in the chart, chicken has made itself out to be top in the US meat industry. The trend shows chicken consumption rising while other meats stay stagnant or even decline in popularity. People go to Buffalo Wild Wings for their wings, which are made out of chicken. If people are eating more chicken, they will naturally eat more chicken out of their homes. And they will be going to Buffalo Wild Wings.
While the rise of poultry consumption might be good for Buffalo Wild Wings, they are not the only fast-casual restaurants to sell chicken. In fact, it is a safe assumption that every fast-casual restaurant sells chicken. How well is Buffalo Wild Wings generating revenue in its niche? Below is a chart of the most recent earnings per share data for the six largest fast-casual restaurants by market capitalization. Although Brinker International (NYSE:EAT) posts a slightly higher EPS, Buffalo Wild Wings is generating healthy returns for its size, and has displayed evidence of strong continued growth.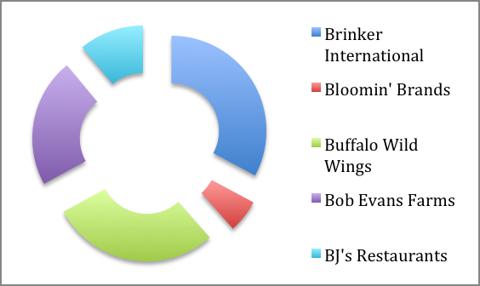 Buffalo Wild Wings is a serious competitor in the fast-casual industry, and has posted several consistent quarters of improving profit and brand expansion. Not to mention that people want to eat more chicken than ever before. I believe that the company is well situated to continue growing, and that its stock will appreciate further within the next year as a result of the domestic trends that I have outlined.
Disclosure: I have no positions in any stocks mentioned, and no plans to initiate any positions within the next 72 hours. I wrote this article myself, and it expresses my own opinions. I am not receiving compensation for it (other than from Seeking Alpha). I have no business relationship with any company whose stock is mentioned in this article.