Deckers (DECK), the parent company of Ugg Australia, is down 46.58% in the past 52 weeks. Investors look at this and flee. But if consumers were looking around for a new pair of Uggs and saw a sale of nearly 50%, they would be rushing in to buy them. So why isn't this mentality applied to the company's stock? For one reason, it's that despite how many times they have been told, investors fail to embrace the "buy low, sell high" motto. Another reason is that people believe that Deckers does not have a bright future, and/or their stock is still overvalued. This, it seems, is just illogical to believe.
The Success Of The Company
You can see in stores, with sales on Uggs becoming more common, that the company has been struggling a bit this winter. This, though, was only a dent in one year of a long-standing trend of wearing Uggs. Since the early 2000s, revenues have been shooting up with only a few bumps along the way. Uggs have remained in style since the 1980s. They are not a short trend that dies out, they have been a standing trend with a few struggles along the way. Uggs are still one of those rare fashion items that, like handbags made by Coach (COH), often have trouble with fakes being made. Although rather than looking at the downside of this (not that there is much, as you can see by looking at the billion dollar revenues and increasing awareness of the problem), you can see that this symbolizes how much people desire Uggs.
The success can be seen in the company's growing revenues and income, which can be seen in the chart below. Aside from consistently increasing earnings, the love for products made by Deckers can be seen through the many awards the company has won. Just to name a few:
An UGG Australia product was featured on "Oprah's Favorite Things" in 2001, 2003, 2005, and 2007.
UGG Australia was named Company of the Year by Footwear Plus in 2008, 2009, and 2011.
In 2012, Angel Martinez won the inaugural Latino Business Award from Pacific Coast Business Times.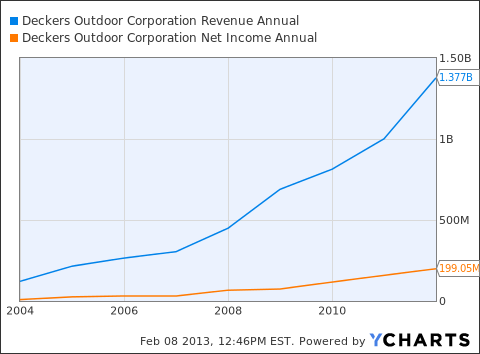 DECK Revenue Annual data by YCharts
Although other investors are running in fear, you can still capitalize on this company's bright future, and do so at a fair price.
Valuation
This stock is on sale right now, and the numbers really show it. It's trading at just above 10 times earnings. This is tremendous compared to another fashion company, Lululemon Athletica (LULU), which is considered to be a place where many trend chasers are flocking to for their popular yoga pants. Lululemon is trading at 42.00 times earnings.
Deckers also has an impressive price/book of 2.25 and price/sales of 1.10. The last time the company's price/book went this low, it jumped up to about 7, as the price soared and investors made a solid return.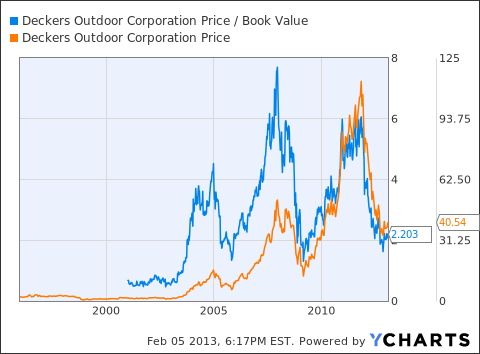 DECK Price / Book Value data by YCharts
The company is currently at a cheap and attractive level. Historical prices and strong earnings indicate that this won't last long. This is investors' chance to profit off of the unjustified pessimism.
"The market is a pendulum that forever swings between unsustainable optimism (which makes stocks too expensive) and unjustified pessimism (which makes them too cheap). The intelligent investor is a realist who sells to optimists and buys from pessimists."

- From one of the greatest books ever written on investing: The Intelligent Investor, by Benjamin Graham.
Disclosure: I have no positions in any stocks mentioned, and no plans to initiate any positions within the next 72 hours. I wrote this article myself, and it expresses my own opinions. I am not receiving compensation for it (other than from Seeking Alpha). I have no business relationship with any company whose stock is mentioned in this article.