Market Recap:
The market reversed back down on Wednesday to continue the seesaw market we are in right now. The market started out stronger on the back of retail sales meeting expectations at 0.1%, but the market continued to decline throughout the day. The cause for weakness was likely due to the market showing quite a bit of overvaluation and lack of catalyst for upside.
Despite some concern that the State of Union would cause weakness, the President made some positive comments that the government needed to move past "manufactured crises," which was directed as both sides. Overall, though, it was another slow day with low volume. With the market strong, bears are still not ready to commit, but at the same time, there was not a lot of catalyst for more upside. Right now, the market needs something to move it with conviction. In the meantime, we should see more seesawing back and forth.
The Dow (NYSEARCA:DIA) finished down 36 points while the S&P (NYSEARCA:SPY) finished up one point.
Stocks To Trade:
Today, we are looking at longs in eBay (NASDAQ:EBAY) and US Steel (NYSE:X) as well as a short in VMware (NYSE:VMW).
EBAY looks very solid right now and should continue to remain strong moving forward. The stock should see some more upside coming as the company got two bits of good news this morning. First, retail sales came in as expected at 0.1% gain for January 2013. The worry was that the combination of the payroll tax increase, as well as increase for taxes on the wealthiest Americans at the beginning of the year, would cause a decline in spending. The news Wednesday morning confirmed that was not the case. While the gain was minimal, it shows a lot of strength in the wake of those increases.
Additionally, the stock got another bit of good news from ChannelAdvisor. The company reported that EBAY same-store-sales (SSS) grew 18% in January, well outpacing the national average for retail. The continued shift to online retailers is going to be very profitable for EBAY over the long-term. While we do see more strength in Amazon.com (NASDAQ:AMZN) retail business, EBAY does play a role in the retail environment.
Further, the company's valuation is very reasonable. The company is trading at 17.7 future PE, but revenue growth is expected to be 16% and 14% in 2013 and 2014, respectively. EPS is expected to grow at similar rates. Growth potential is very strong for the company as more and more shoppers shift to online spending, which is expected to grow 10-13% in 2013.
EBAY, additionally, is not just the marketplace. It also benefits from the company's payment solutions system, PayPal. That division continues to strengthen as well and actually could end up being the larger share of pie for EBAY as more and more online retailers offer payment with PayPal. In the latest quarter, PayPal grew 24%, outpacing the 16% growth for the marketplace side of the business. Further, the division grew to 43% of EBAY's total earnings. The company expects PayPal to do $20B in mobile payment processing. It is currently at $14B. The growth of online payments will continue to make this an attractive business, and we believe the company has a strong economic moat due to scale and in-roads with many major online retailers.
Right now, EBAY is in a great spot, and we believe it continues to remain strong. Shares have been on fire since the beginning of the year, so we prefer selling puts on the stock and then having the shares put to us if it dips below the level we like. We can make 7% selling the Mar16 puts for $52.50 strike currently. If EBAY has a strong reversal, we like owning shares at that level.
Trade: EBAY, Mar16, $52.50 Puts, Sold
Max Gain: 7%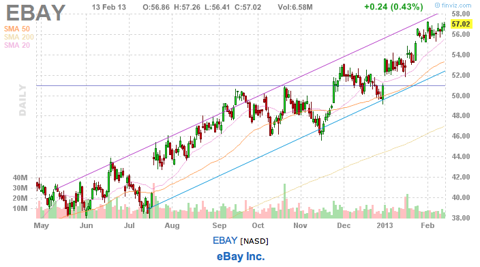 Another long that looks very interesting right now is US Steel. The stock looks like it could break out very soon, with a number of positive catalysts developing for the company. First off, X looks like it should start to see some nice growth for the rest of the year and into 2014. The reason we say this is that X recently said that it was starting to see a bottom in European weakness and better demand in China and North America, which will be very positive for the company. The company is at the front end of cyclical demand during a rebound in the economy, and will benefit a lot from a European rebound. The company, additionally, expects a rebound in Q1 of 2013 as noted by CEO John Surma:
Steel buyers in North America continued to exhibit caution early in the year, but recent increases in our daily order entry rates suggest increased spot market demand as the quarter progresses.
The company beat expectations in the latest quarter with a -0.35 EPS versus -0.41 EPS, but we all know that the company will not really take off until the market expects it to be growing sales and earnings. The company is expected to see a large rise in 2014 as it could be a time when American markets finally rebound fully, Europe comes back, and emerging markets benefit as well. Analysts are currently expecting a 6% rise in revenue for 2014 along with an over 50% gain in earnings.
Further, value is there for X. The company has a 10.5 future PE, which shows great value. We look for 15 future PE for good value, and with the growth expected in 2014, the company is starting to look like its nearing a bottom. We like the company to breakout if it can get moving over $23. We will by at those levels.
Trade: X, Long
Max Gain: Buy over $23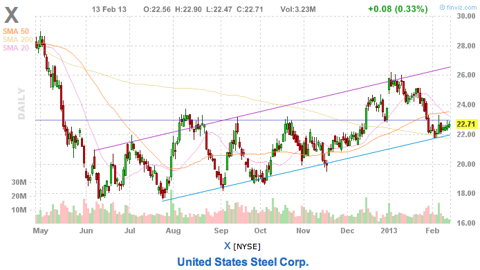 One stock that we like short right now is VMware. The company's latest earnings showed a lack of clear future growth, which makes us wary of this application software company. The company's last earnings were weak, and the stock gapped down strongly on them.
So, is this stock done declining? We do not think so. The company's latest quarter showed solid growth in earnings and revenue, but both figures came in very close to expectations. Despite good growth, we believe the company could be in some serious trouble moving forward due to a lack of growth potential as the company struggles to move its server virtualization to personal computers. Virtualization is the process by which VMW can sell software to companies to be able to see their server, data, etc. and break it down into several different operating systems. It allows a server to do 2x or 3x what it could do without the software. During the boom of servers in the last ten years, VMW has done amazingly. The problem for VMW is that the company is about to see a slowdown in growth. Comments from Barron's about this:
The quarter (Q4 2012) was just the latest in a patter of slowing revenue growth, down from 88% growth in fiscal 2007 and 32% growth in 2011, to just 22% last year. Analysts project 15% growth this year. Profit is on a similar path, with growth declining from a doubling in 2007 and 44% growth in 2011, to just 31% last year and a projected 11% increase this year. And while the company has beaten estimates for revenue for 15 quarters running, the magnitude of that upside has narrowed considerably, from an average sales beat of 2.4% in 2011 to just 1% last year, on average.
Why the slowdown?
The company benefited as companies would take servers and be able to run multiple operating systems within that server. The company made a ton of money doing this, but the market has been virtualized. While the company believes it can move into the next areas of virtualization - personal computers - we do not have the same type of confidence. We believe the company's future could be bright, but it's not as clear as it was two years ago. For that reason, investors are abandoning shares. With a future PE still at 21, shares are still pretty strongly valued for upside, and that argument is becoming more unclear right now. VMW will not see significant upside until the company shows very solid ability to virtualize personal computers. For that reason, we like a bear call spread for Mar16. Shorting the stock alone may not work as well due to how oversold shares are, but upside seems limited as well.
Trade: VMW, Mar16, 80/82.50 Bear Call Spread
Max Gain: 15%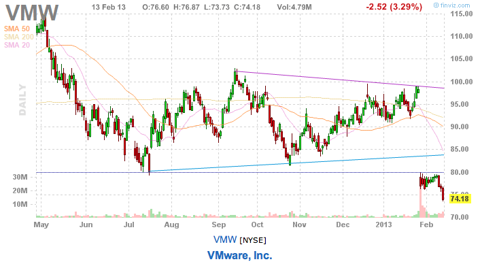 Thursday's Outlook:
The market stepped back on Wednesday as it was not able to get any catalysts for more upside, and we believe that the market continues to lack any important events/announcements to give much upside or downside. Will today be more of the same? Jobless claims are going to be announced, but the market's day may lay in the hands of Europe. GDP announcements from several important European markets are set to be released on Thursday. French, German, Italian, and eurozone GDP reports for Q4 will be announced. These reports have a lot of weight because of the weakness that has been seen in the Euro lately. A good report here could increase the Euro, drop the dollar, and power American markets higher. Weak reports would hurt the markets as well as increase the value of the dollar, weakening the markets further. The key is Germany and Italy. A good report from Italy would help reverse some of the current qualms there. Look for those reports to be the key to movement today.
Chart courtesy of finviz.com.
Disclosure: I have no positions in any stocks mentioned, and no plans to initiate any positions within the next 72 hours.
Business relationship disclosure: The Oxen Group is a team of analysts. This article was written by David Ristau, one of our writers. We did not receive compensation for this article (other than from Seeking Alpha), and we have no business relationship with any company whose stock is mentioned in this article.