The big news today is that growth in the Eurozone appears to be stalling even though the rest of the world appears to be picking up. Japan too had numbers which came in below expectations so this is either the beginning of cracks in this so far anemic recovery, or simply a bump in the road. We prefer to view it as a bump in the road, and thus far we have been correct in our economic thinking since the dark days of the European financial crisis. One may have had the same "luck" simply throwing darts at a dart board, but until the data tells us differently we will continue to believe that growth is headed higher along with asset prices across various classes.
Chart of the Day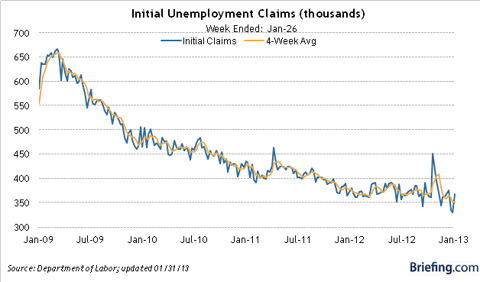 Chart courtesy of Briefing.
We have economic news due out today, and it is as follows:
Initial Claims (8:30 AM EST): 365k
Continuing Claims (8:30 AM EST): 3200k
Natural Gas Inventories (10:30 AM EST): N/A
Asian markets finished higher today:
All Ordinaries - up 0.65%
Shanghai Composite - CLOSED
Nikkei 225 - up 0.50%
NZSE 50 - up 0.42%
Seoul Composite - up 0.18%
In Europe markets are lower this morning:
CAC 40 - down 0.02%
DAX - down 0.04%
FTSE 100 - down 0.17%
OSE - down 0.04%
Technology
Shares in Rackspace Hosting (NYSE:RAX) had a rough day yesterday as the market assigned a new valuation to shares due to a miss on the revenue number. The stock fell $14.68 (19.58%) to close at $60.30/share on extremely high volume of 15.9 million shares. The company managed to grow revenue by 25%, however, the $352.9 million fell just short of analysts' estimates of $355.4 million and the company was downgraded yesterday as well. This has been a hot name in the tech sector and it remains to be seen if this was a one off event or whether this is an indication of things to come (i.e., slowing sales). Readers can find the press release here.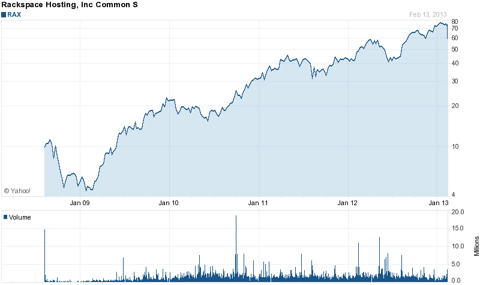 Chart courtesy of Yahoo Finance.
Is the run over in Rackspace?
Another name in the technology space which we watch is EZchip Semiconductor (EZCH) which hit a new 52-week low yesterday as investors reacted to their quarterly earnings. Readers can see the conference call here. The company's largest customer is now Cisco and as the company stated in their press release this has led to higher margins as this revenue is all derived from royalties. For their NP-4 customers they have 80% now in production and their last one has yet to place an order although there is the expectation that they will enter production I the first quarter. The press release is located here.
Biotechnology
Peregrine Pharmaceuticals (NASDAQ:PPHM) saw shares fall $0.42 (19.91%) to $1.69/share after the company released a Phase II study exploring their controversial drug bavituximab and how effective it was against pancreatic cancer. Readers will remember that this is the same company which rose strongly on results of the same drug and its effectiveness against lung cancer, but upon review the company was forced to dial back those results because of how the testing was done in India. It has been a roller coaster and yesterday's announcement is probably an indication of what type of drug bavituximab really is. This is one we would still stay away from as it is hard enough to make money in the biotech space let alone with companies who have a tendency to change the facts.
Consumer Goods
It seems that all of the earnings reports we read yesterday had a common theme for the most part, earnings either beating or in line and guidance below expectations. It is nothing new as it is something which has been going for a couple of quarters, but investors are starting to expect companies to take more risk and deliver on the top line growth that will be necessary to deliver bottom line growth in the future. Dean Foods (NYSE:DF) is facing this issue as investors sold the shares down by $1.69 (9.19%) to close at $16.70/share after the company announced earnings of $0.40/share when analysts had been expecting $0.30/share. The revenue figure of $3.417 billion was also ahead of analysts' expectation of $3.367 billion, however, looking forward the company guided EPS within a range of $0.22-0.27 which was below the $0.30 analysts were forecasting. The conference call transcript is available here for those interested.
Leisure
Although the shares would hardly indicate it (they are still near highs at this time and were near 22 month highs before the most recent incident), the past two years have been pretty tough for Carnival Corporation (NYSE:CCL). The cruise line operator has had two ships bring unwanted attention to itself and in both instances one is left to simply shake their head. There was of course the incident in the Mediterranean where the captain ran the ship into rocks and sunk it and this week the company has been dealing with a disabled ship in the Gulf of Mexico lacking many basic accommodations.
Carnival has indicated that the situation aboard is improving, however, from a stock market and public relations point of view it is only getting worse. The company's stock fell $1.56 (4.00%) yesterday after the company disclosed that this would impact earnings this quarter, no surprise there, and with criticism mounting of their handling of the situation the company announced they would be giving passengers stranded another $500 in compensation.
Disclosure: I have no positions in any stocks mentioned, and no plans to initiate any positions within the next 72 hours. I wrote this article myself, and it expresses my own opinions. I am not receiving compensation for it (other than from Seeking Alpha). I have no business relationship with any company whose stock is mentioned in this article.