Rockwell Automation (NYSE:ROK) is a holding of mine and is currently sitting at a 52 week high. The company provides industrial control products (factory automation), both hardware and software, and operates internationally. I like owning shares of a company that provides products that make manufacturing more efficient and reproducible. On the downside, the stock price is fairly volatile with a beta of 1.71 but it did grow 13.36% this last year (Figure 1).
Figure 1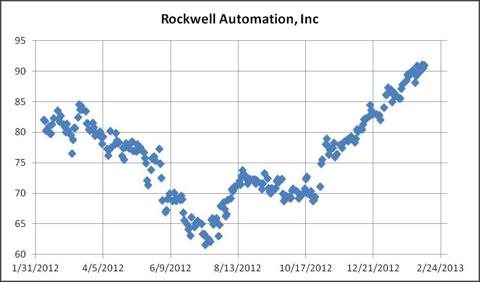 Do I want to keep this stock?
To answer this question, I gathered more data:
Rockwell Automation, Inc

Current PE

Div Yld

Est. EPS Growth

5 year Div Growth Rate

Payout Ratio

Debt/Cap

Market Cap

18.18

2.1

7.0

11.2%

33%

37%

12.7 Bil.
Rockwell's capital structure may be considered conservative with $1.0 billion in cash and equivalents and about $1.2 billion in total debt. According to the February 13, The Street ratings: "The company currently stands out relative to its peers with a price to book ratio of 6.34 versus the industry average of 3.37, indicating the stock is trading at a premium."
Standard and Poor's Market Profile states:
Rockwell's businesses follow a cyclical demand pattern, reflecting global economic growth, business capital spending levels, manufacturing growth and capacity utilization. U.S. manufacturing capacity utilization bottomed at about 64% in June 2009, and has since improved steadily, to about 77%, but is still below the historical average of about 81%. We believe capacity utilization in the U.S. will continue to rise in 2013, but at a slower pace. In addition, industrial production continues to improve steadily in the U.S. and in emerging markets. We expect this growth to continue in 2013.
The company operates internationally and revenue by geography for 2012 was:
| | |
| --- | --- |
| U.S. | 49% |
| EMEA | 20% |
| Asia-Pacific | 15% |
| Latin America | 8% |
| Canada | 8% |
The January 30th Equity Research Report from Credit Suisse, addressing the Chinese automation market, reports:
Fundamentally we continue to think that China offers very attractive long-term growth for industrial automation vendors. One critical point is that 2012 saw the first decline in the size of the Chinese labor market; we think this will spur wage inflation, and increased automation spend.
I took a look at the last 21 years of dividends, not always increasing: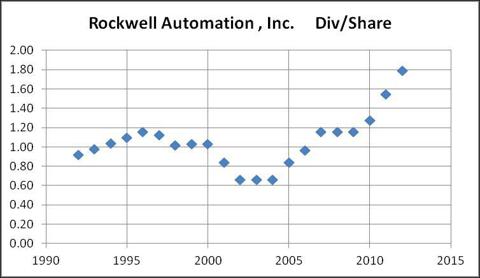 One last thing I wanted to throw into the data pile is the status of their pension funding. According to Rockwell's 2012 10-K, the underfunding amounts to $931 million. This means that present or future earnings may have to be allocated toward this benefit liability.
Summary
Rockwell Automation leads a few of its peers in the Industrials Sector. Certainly other companies in this sector have higher revenue growth and earnings yield (Regal-Beloit Corp. (NYSE:RBC) for instance). The company has paid dividends every year since 1982; obviously, not always increasing. It is a conservatively run company with plenty of cash and it's in the business of manufacturing automation -- which is the future.
So I think my answer is that if I want to own a stock in the electrical equipment sector, I'll still keep Rockwell. Since U.S. manufacturing capacity utilization is on the upswing and the China market is growing, there is no foreseeable reason why the company won't continue to grow and generate dividends for years to come.
Things I'll be watching for: Can Rockwell capture more of the Chinese market share and are they managing their pension liability.
Disclosure: I am long ROK. I wrote this article myself, and it expresses my own opinions. I am not receiving compensation for it. I have no business relationship with any company whose stock is mentioned in this article.