We had an opportunity to meet with Exeter Resource Corporation (XRA) at the recent Cambridge House conference in Vancouver B.C. and capture their corporate presentation. Exeter is on path to join the ranks of other mid-tier gold producers with several projects advancing to resource level in Argentina and Chile.
ExeterCorporate Presentation
click to enlarge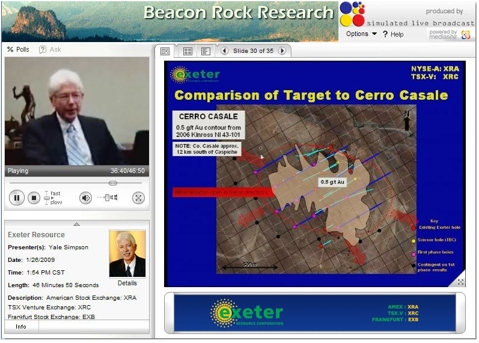 Source: SLBcast.com
We have previously visited Exeter's Don Sixto project in Mendoza Province, Argentina. The company had successfully advanced the Don Sixto project to a 1.2 million ounce gold reserve. The project was put on hold due to the local banning of "specialty chemicals." Since our visit, Exeter has advanced two other exceptional projects and has attracted the attention of major operators in the mining industry. Exeter benefits by having $16 million in the bank, sufficient to remain viable and maintain a two year budget for exploration and development.
Exeter's two projects include the potentially world-class Caspiche and high-grade Cerro Moro projects. Caspiche is in northern Chile, and is potentially a multi-million ounce gold (with copper) project, located in between Barrick Gold Corporation's (ABX) Cerro Casale gold-copper deposit and Kinross Gold Corporation's (KGC) Refugio Mine. The Cerro Moro project is a gold (with silver) project in the Santa Cruz Province of Argentina. Both Caspiche and Cerro Moro are located in areas with significant past mining history that remain amenable to mining.
We are intrigued by Exeter's good fortune to have two projects; while being very different from each other, they may have characteristics which are attractive in different market cycles. Exeter plans to develop Cerro Moro into a gold mine producing 100,000 ounces per year. This should be of interest in the current market cycle, due to its high-grade gold profile and potential for both low operating and capital costs. Caspiche, on the other hand, with potential to increase in size and capital costs, should be attractive with any upturn in copper prices with global recovery or serious investment in infrastructure. Caspiche should have good potential for either sale or joint venture to a major mining company.
The Cerro Morro gold-silver project, Santa Cruz, Argentina
The Cerro Morro project is located in the Santa Cruz Province of Argentina, and is close to ports, infrastructure, and power. Located near the South Atlantic coastline, the Santa Cruz Province is reminiscent of Nevada in both mining culture and terrain. Exeter acquired 68 square miles in 2003, which it has since increased to over 650 square miles.
Exeter has drilled over 400 holes and has found high grade gold in mineralized veins which course just below the surface. They have encountered over 25 gold mineralized veins to date. The Escondida vein extends over 1.5 miles, having many holes with significant intercepts with grades averaging over 10 g/t gold and over 200 g/t silver. The Cerro Morro is in a district which includes AngloGold Ashanti's (AU) Cerro Vanguardia Mine, with over six million ounces of gold and 220,000 ounces of annual gold production, as well as numerous other projects and targets.
Exeter has completed favorable early metallurgic tests and is working to produce its first compliant resource estimate at Cerro Morro by April of 2009, in support of completing a Scoping Study.
The Caspiche gold-copper project, northern Chile
The Caspiche project, unlike Cerro Moro, is located high in the Andes among other established gold-copper porphyry projects. Exeter has already drilled nearly 30 holes, with the deepest reaching depths of over 3,800 feet. Exeter is currently in the middle of a 16,000 meter, $6 million program with three drills turning. They are scheduled to produce a compliant resource estimate by April of 2009 with an eventual resource goal of over eight million ounces of gold. The footprint and depth potential of Caspiche, with comparison of both the Refugio mine (6.2 million ounces of gold) and Cerro Casale (25 million ounce gold resource plus copper), provides some inclination of the project's potential. The aerial in Figure 1 overlays the proposed pit outline of Cerro Casale over the Caspiche exploration target. Exeter continues to report drill results with impressive grades of gold and copper over significant intervals (see press XRA press release dated February 2, 2009).
Caspiche Project, Chile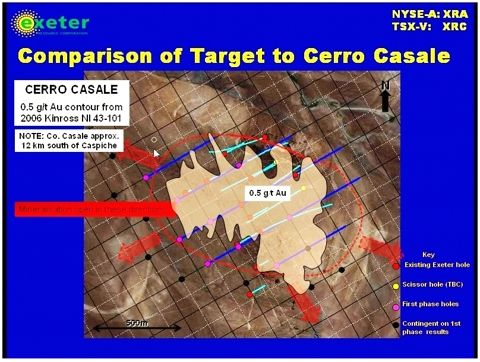 Source: Exeter Resource Corporation
The capital cost of Caspiche has led Exeter's management to consider strategic options for any potential mine development. Located at a high altitude and over 130 miles from the Pacific Ocean, mine development might best be advanced by a major operator.
At the present rate, early calculations suggest cost of discovery at about $1 per ounce of gold. This is interesting because prior to the recent downturn, Barrick acquired 51% of the Cerro Casale project for about $800 million. Kinross recently entered into agreements with Teck Cominco (TCK) and Anglo American plc (AAUK) to purchase their respective shares of the Lobo-Marte gold project in northern Chile for an approximate price of US$250 million. The Lobo-Marte project has a total gold resource of about 5.9 million ounces of gold (5.4 million ounces of Indicated gold resource and 0.5 million ounces of Inferred gold resource). This would imply $46 per ounce price for Indicated resources.
Exeter on course to mid-tier gold producer status
We continue to believe that Exeter is among the best junior exploration companies in South America, and the premiere junior exploration company operating in Chile and Argentina. We are also impressed with the company's management, having observed them for several years, noting their ability to prioritize and advance projects. It appears that over the next two years Exeter might monetize Caspiche to remain on course with mine development of Cerro Moro. Considering the abundance of Exeter's other gold discoveries and targets, it would appear that they are clearly heading in the direction of becoming a mid-tier gold producer.
Disclosure: The author does not have a position in any company included in this report. An affiliate of the author's employer provides corporate advisory services to XRA.