Barrick Gold (NYSE:ABX) has been very trying to hold for shareholders over the last year or two. The stock has underperformed both gold prices and the overall market. The shares currently sell for around $31.50 a share down from approximately $50 a share a year ago. The company had missed earnings estimates for four straight quarters before the company reported today. Today's report finally had some positive nuggets even if it had a big write down of some assets. The stock is extremely cheap and may be finally be ready to stage a significant rally.
Positives from today's earnings report:
After items, the company earned $1.17 a share, four pennies above estimates.
Revenues rose 11% Y/Y to $4.19B over consensus estimates of $3.95B.
It cleared the decks by taking a $4.2B write down, 90% of it due to a revaluation of its copper assets in Zambia acquired via a larger acquisition in 2011.
Barrick Gold is the world's largest gold miner and a major copper producer as well.
Four additional reasons ABX is cheap at under $32 a share:
The stock is selling at a little over 6.5x forward earnings, a sharp discount to its five year average (12.7).
ABX yields 2.5% and has raised its dividend payout at a 18% CAGR over the last five years.
This is a 2013 story. The company reported slightly lower earnings in 2012 than in 2011 on flat revenues. In 2013, revenues are expected to rise just under 15% driving a better than 20% improvement in EPS.
Central banks bought more gold in 2012 than any year since 1964 (I would look for this trend to continue). The stock also bounced hard off this same price level in August (See Chart).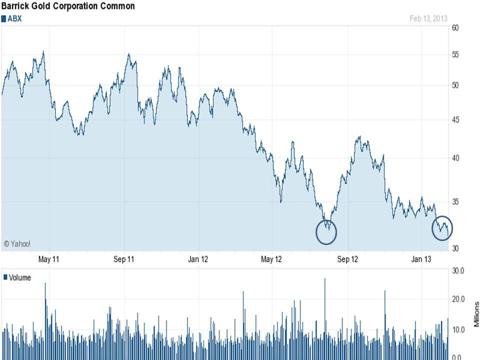 Click to enlarge
Disclosure: I am long ABX. I wrote this article myself, and it expresses my own opinions. I am not receiving compensation for it (other than from Seeking Alpha). I have no business relationship with any company whose stock is mentioned in this article.