When I pulled StoneMor Partners L.P. (NASDAQ:STON) to review from my MLP list, I knew nothing about the company. I was a bit surprised to find a partnership operating cemeteries and funeral homes. I think it is obvious that these lines of business will provide very steady business and StoneMor Partners with its 9.4% distribution yield could be attractive for investors looking for a high level of steady income.
Note: MLP companies such as StoneMor Partners L.P. have units and pay distributions. The words stock, shares and dividends may be used here with the understanding that the rules of MLP units apply including the tax consequences of investing in MLP units.
Company Overview
As of the 2012 third quarter, StoneMor Partners owned 248 cemeteries and operated 18 more. The company also owns and operates 85 funeral homes. These holdings make StoneMor the number 2 cemetery company in the U.S. Revenues are derived from the pre-sale of cemetery plots and equipment - called pre-need and funeral home and cemetery services purchased at the time of death - at need. For the first three quarters of 2012, about 85% of revenue operations came from cemetery services.
StoneMor actively looks for acquisitions to build the company's business. Since 2007, the company has increased the value of assets to over $1 billion from $600,000. Long-term debt has stayed level at less than $200 million. Revenues have increased from about $100 million in 2005 to $280 million in 2011. StoneMor Partners has a current market cap of $500 million.
Cash Flow Issues
One area of concern from the StoneMor business model is ongoing cash flow. The sale of pre-need services and the perpetual costs of maintaining cemeteries result in cash flow that is significantly less than reported revenues. For example, for the first 9 months of 2012, the company reported total revenues of $205 million that were reduced to $170 million as GAAP revenue. Money needed to cover future expenses go into merchandise trusts and perpetual care trusts. The trusts, valued at about $650 million as of Q3 2012 are invested in fixed income, closed-end fund and mutual fund assets. As a result of the business model, the cash from much of StoneMor's sales lag the revenue recognition - and payment of commissions to a large sales force - by several years.
StoneMor generates enough current cash flow to cover expenses and distributions. The cash squeeze most affect the company's ability to make acquisitions and borrow money. Currently acquisitions are funded primarily with the issue of equity, which may take a period of time to be accretive to unitholders.
Distribution History
From a $1.90 per unit annual rate in 2005, the StoneMor's distributions have increased slowly but steadily to the $2.345 paid in 2012. The quarterly rate increased by half a cent to 59 cents in the third quarter, boosting the annual rate to $2.36. The previous quarterly payout had been in effect for 6 quarters. The trade-off for the slow dividend growth is the previously mentioned 9.4% yield, which is pretty fair compensation for slow dividend growth.
Conclusions
StoneMor Partners is a MLP stock for investors looking for a steady, high-yield payout. The nature of the company's business model would seem to prevent the financial results from changing a lot either for better or worse. The one piece of long-term debt comes due in 2017 and I do not expect anything different from the status quo from StoneMor until that date.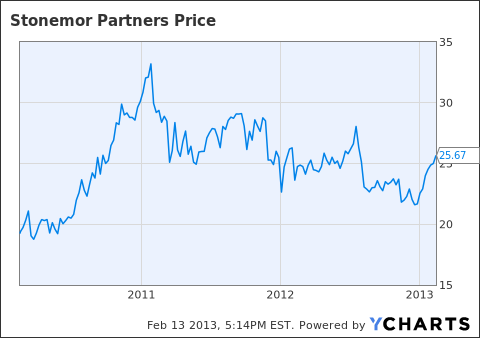 Disclosure: I have no positions in any stocks mentioned, and no plans to initiate any positions within the next 72 hours. I wrote this article myself, and it expresses my own opinions. I am not receiving compensation for it (other than from Seeking Alpha). I have no business relationship with any company whose stock is mentioned in this article.