What a great time for New Flyer Industries Inc. (OTC:NFYEF). New Flyer is the leading manufacturer of heavy-duty transit buses in the US and Canada. Check out some of the company's recent CNG bus contracts:
The San Diego Metropolitan Transit System (SDMTS) has authorized the purchase of up 165 New Flyer compressed natural gas (CNG) 60-foot low-floor CNG buses through 2017. The first 47 of the 60-foot New Flyer buses will be delivered by early 2014. The total contract from New Flyer, with options, is valued at $159.5 million.
The Los Angeles County Metropolitan Transportation Authority has awarded a contract to New Flyer Industries for up to 900 Xcelsior 40-foot CNG buses. The contract is a firm order for 550 buses with 5 year options for up to an additional 350 buses. All 550 buses in the initial order are expected to be delivered by the first quarter of 2015.
The Birmingham-Jefferson Country Transit Authority ("BJCTA") has awarded New Flyer a contract for 50 Xcelsior CNG 40-foot heavy-duty buses. The five year contract contains a firm order of 20 CNG buses with three options of up to 10 CNG buses each. BJCTA is also exercising 10 option buses at this time. BJCTA is transitioning to an all-CNG transit fleet to reduce green house gas emissions.
More New Flyer contract and press releases can be found here. Lately, there seems to be a press release announcing a new contract every couple days.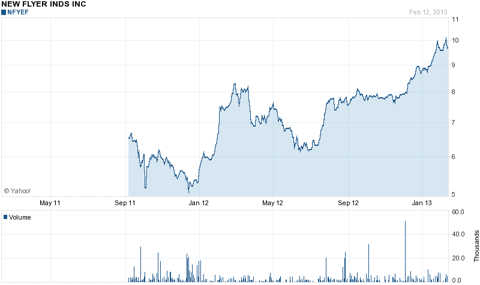 Click to enlarge
In a business update released on Feb. 8, 2013, New Flyer said new 2013 contract awards of 1,009 EUs ("equivalent units"), consisting of 659 firm orders and 350 options, have been received by New Flyer from the following customers: Los Angeles, Rochester, Phoenix and Edmonton.
On January 9, 2013, New Flyer issued its quarterly order and backlog update for Q4 2012, with a total backlog comprised of 6,325 EUs having a total value of $2.67 billion.
Big Stake Recently Taken By Marcopolo S.A.
In January 2013, Marcopolo S.A. ("Marcopolo") announced its intent to purchase a 19.99% interest in New Flyer Industries Inc. A presentation describing this investment can be found here. A slide from the presentation which summarizes the transaction is shown below.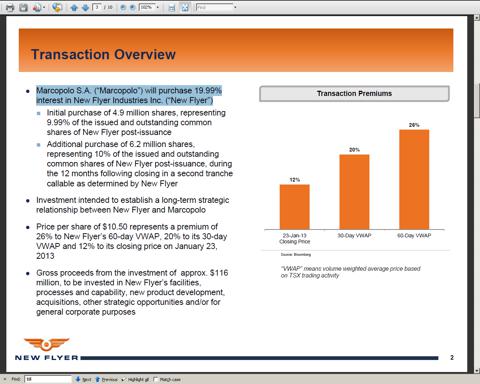 Click to enlarge
Marcopolo S.A. is a leading Brazilian bus and bus body manufacturer with a global footprint. It is publicly traded on the Bovespa Stock Exchange with a market capitalization of ~US$2.8 billion. The company is expected to generate US$1.9 billion in annual net revenue in 2012 and has over 22,000 employees in Brazil and abroad
New Flyer Buses: The Advantages
CNG buses are cleaner and more efficient than standard diesel buses. The benefits of CNG buses are cheaper fuel costs, enhanced air quality and a reduction in polluting emissions. New Flyer buses also feature security cameras and more space and support for riders using wheelchairs.
Transit agencies are contending with aging fleets and increasing ridership. At the same time, solutions are driven by increasing oil prices. As a result, overall demand for new buses, many of them CNG vehicles, is at an all-time high.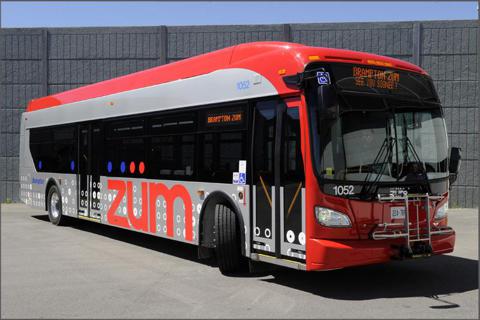 Click to enlarge
For instance, 72 of the New Flyer buses for San Diego's Bus Rapid Transit ("BRT") service will include high-back chairs with thick cushions, an intelligent network system to diagnose engine performance, automatic enunciators for next stop information, signal priority equipment, 20-year CNG tanks, on-board camera system and new wheel-chair restraint systems.
More About New Flyer
New Flyer Industries is based in Winnipeg, Canada and trades on the Toronto Stock Exchange ("TSX") under the ticker symbol NFI. It trades on the "grey market" as NFYEF. The stock currently yields 5.9% and pays a monthly dividend of $0.0487/share. NFYEF has a P/E=17.5.
Market Capitalization $440.9M
Enterprise Value $635.5M
Shares Outstanding 44.38M
In the quarter ended Sept. 30, 2012, the company reported revenue of $208.4 million and earnings of $0.04/share. For full year 2011, the company earned $0.98/share.
All the company's latest financial reports can be found here.
New Flyer's three manufacturing facilities - in Winnipeg, MB; St. Cloud, MN and Crookston, MN - are all ISO 9001, ISO 14001 and OHSAS 18001 certified. The company operates a parts fabrication facility in Elkhart, IN and four parts distribution centers in Winnipeg, MB; Brampton, ON; Erlanger, KY and Fresno, CA.
With a skilled workforce of over 2,200 employees, New Flyer is a technology leader, offering the broadest product line in the industry, including drive systems powered by clean diesel, LNG, CNG and electric trolley as well as energy-efficient diesel-electric hybrid vehicles. New Flyer has delivered over 32,000 heavy-duty buses in Canada and the United States.
The CNG Engines
All versions of New Flyer's Xcelsior buses (35, 40, and 60-foot) are driven by a Cummins ISL 280 engine. Cummins Inc. (NYSE:CMI) is one of my 5 Natural Gas Transportation Stocks for 2013. The company has been on a roll lately and is up 5% so far this year.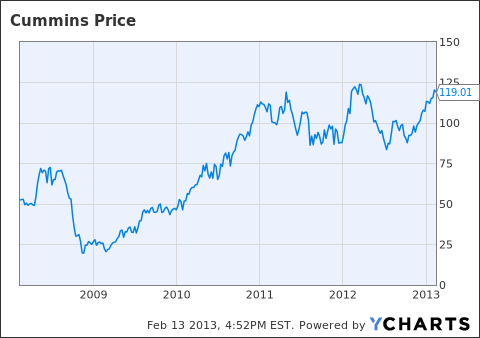 In a quest for clean air and lower fuel costs, large city transit authorities are proving to be a lucrative growth engine for both New Flyer and Cummins. The deal with Marcopolo S.A. adds direct access to the booming Brazilian market. Investors should consider investing in New Flyer and/or CMI based on fundamental worldwide demand for CNG buses.
Disclosure: I have no positions in any stocks mentioned, but may initiate a long position in OTC:NFYEF, CMI over the next 72 hours. I wrote this article myself, and it expresses my own opinions. I am not receiving compensation for it (other than from Seeking Alpha). I have no business relationship with any company whose stock is mentioned in this article.
Additional disclosure: I am an engineer, not a CFA. Please do your own research and contact your investment adviser. I am not responsible for investment decisions you make. Thanks for reading and good luck!