On Tuesday, Intel's (NASDAQ:INTC) Erik Huggers gave an interview (you should watch it) about Intel's new venture in the realm of TV entertainment. Although he didn't reveal what Intel's brand will look like or what its set-top box will be called, he gave us a lot of info about Intel's new service.
Some people, like fellow contributor Dana Blankenhorn, are already disappointed and believe that Intel's foray into the world of television will most likely be a failure. I take a more optimistic view and I believe that this has the potential to be such big a success for Intel as the iPhone was for Apple.
The Service
The new service will be essentially a cloud based TV that plans to replace your cable or satellite subscription. However, you'll still have to buy channel bundles. Mr. Huggers ruled out an "à la carte" TV which means that you won't be able to cherry pick the channels you like the most.
However, he said there will be a more flexible bundle system which means that customers may be able to customize their channel bundles either by adding channels they want to some "mandatory" selections or they may be able to pick whatever they like as long as they pick a minimum number of channels.
The service will provide customers with live TV, an on-line archive of every program that was aired and a variety of on-demand content.
The Device
Mr. Huggers stated that because there is no device or platform able to offer the experience Intel wants to offer, the company decided to create an electronic device that will change the way we use TVs and make it as intuitive as the iPad's user interface.
One feature that this TV box will have, is a camera whose job is to monitor TV users and adjust the proposed content along with their preferences. It will enable a "user account" experience to our household TV. When dad sits down to watch, the TV box will propose football games, comedy shows or whatever he usually watches. However, when the kids sit to watch TV it will propose the latest Disney cartoons or other shows for children.
On the revenue side, this feature will allow for highly personalized advertising and content-targeting benefiting both content creators and advertisers.
Various Details
Mr. Huggers also revealed various other details. The service is intended to expand over time and be available across all platforms and devices. He also said that it will use a video codec that will be at least 50% better than H.264, helping consumers to stay well below the data caps wireless carriers have put in place. He also said that the box will be upgraded continually, unlike the set-top boxes that exist today.
Execution
The most critical element for this web TV to work is execution. Intel has assembled a high-quality team with marketing people from Apple, supply chain experts from Jabra, home media specialists from Microsoft's Xbox division and so on.
One of the most promising things Mr. Huggers said is that they work with everyone. If Intel manages to deal and co-operate with the majority of content providers, then it would have an extremely big lead over the next guy who may try to compete.
Keep in mind however that mistakes will happen at the beginning. However, if they are small and manageable they won't pose a problem to Intel's market share growth. After all, even Apple's first iPhone needed major improvements when it was first launched.
Financial Impact
As Mr. Huggers said, this won't be a value play but a quality one. That means that the device won't be cheap. Now let's assume that the TV box will cost $150 and that the subscription fee will be around $150 per month or $1,800 per year.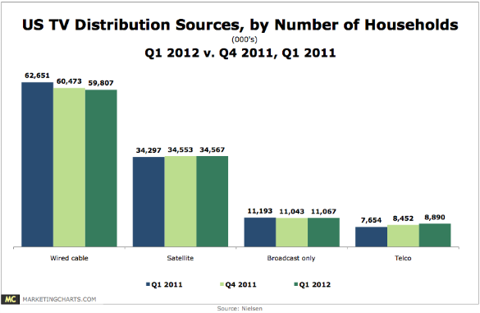 Assuming that Intel will manage to seduce just 10% of the households with cable or satellite TV, it will end up with 9.5 million subscribers. That's $17.1 billion of new recurring revenue plus a one-time revenue of $1.4 billion from box sales. For Intel that would be a 32% increase in revenue and 20% increase in net income, assuming a 15% net profit margin. Now picture a 30% market share scenario and you'll immediately understand just how big this venture's potential are for Intel.
This is something to just keep in mind about Intel. I wouldn't suggest acting on it until we have more detailed information or the actual product is launched.
Disclosure: I am long INTC. I wrote this article myself, and it expresses my own opinions. I am not receiving compensation for it (other than from Seeking Alpha). I have no business relationship with any company whose stock is mentioned in this article.