Breaking ranks with its competitors Juniper Networks (NYSE:JNPR) and Alcatel-Lucent (ALU), Cisco Systems (NASDAQ:CSCO) beat Wall Street expectations once again. The company reported a non-GAAP EPS of 51 cents for Q4 (vs. 43 in Q3) on $12.1 billion revenues, compared to analyst expectations of an EPS of 48 cents on $12.06 billion revenues.
Click to enlarge images.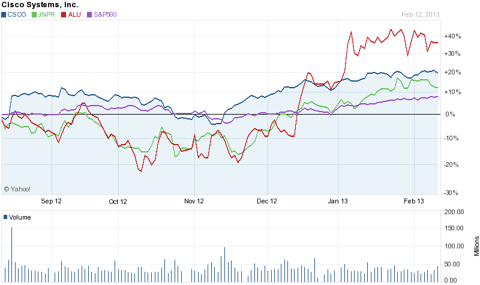 Click to enlarge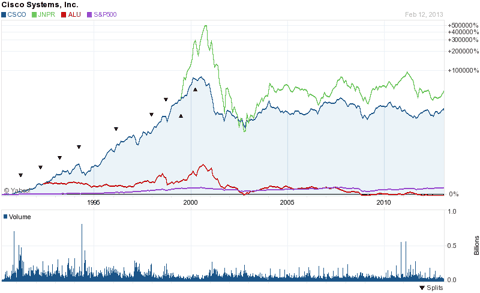 Click to enlarge
| | | | | | |
| --- | --- | --- | --- | --- | --- |
| Company | Forward P/E | Operating margins | Qtrly Revenue Growth (yoy) | Qtrly Earnings Growth (yoy) | Return on Equity |
| Cisco | 9.97 | 22.79% | 5.50% | 17.70 | 16.73 |
| Juniper Networks | 16.27 | 8.18 | 1.80 | -0.50 | 2.65 |
| Alcatel-Lucent | 81.50 | -3.39 | -1.30 | -- | -58.06 |
Cisco is continuing to turn the corner as it is being transformed from a communications products company to an IT company. Here are some highlights from the earnings report:
1. The topline. Cisco's topline was up 5% to $12.1 billion, exceeding analyst expectations - not bad for a mature $82 billion gorilla with 5.5 billion shares (the company reduced its outstanding shares by 100 million last quarter through buybacks) and tens of thousands of employees. The law of large numbers is, therefore, working against Cisco. What was encouraging, however, was that revenue from new products increased by 7%, suggesting that CEO John Chambers' "One Cisco" strategy works.
2. Innovation. Cisco announced several new products such as Videoscape, allowing video service providers to deliver a synchronized multiscreen experience; Cisco Unified Access, which simplifies network design by merging wired and wireless networks; Cisco Stadium Vision, a solution that delivers live video on mobile devices; and advance Wi-Fi location data analytics.
3. Guidance. The company guided in line with Wall Street expectations both on the top and bottom lines. Chambers used the word "headwind," but he avoided the use of words such as "challenging environment," "uncertainty," and "unclear visibility."
The Key Question: Can Cisco regain its old momentum? I don't think so, at least not under the current leadership. Despite what Chambers claims about the successful transition of the company from a communications to an IT powerhouse, the company continues to rely heavily on its core products - switches and routers - which account for almost 50% of the company's revenues. Both products are mature businesses that face a great deal of competition, both from American and Asian manufacturers. Cisco's revenue from switches, for instance - which grew by 3% in Q4 - is expected to remain flat for the next quarter.
Cisco's transition is further relying on large customers like schools and governments, which are expected to be under austerity for years to come. That's especially true in Europe, where the company's sales continue to falter. Can stockholders bet on it? I wouldn't.
The Bottom Line: Cisco's earnings report confirms that the company continues to transform itself slowly from a communications company to an IT company. Cisco continues to rely, however, on big customers that are expected to be under austerity for years to come. That's why I will stay on the sidelines, especially after its recent run-up.
Disclosure: I have no positions in any stocks mentioned, and no plans to initiate any positions within the next 72 hours. I wrote this article myself, and it expresses my own opinions. I am not receiving compensation for it (other than from Seeking Alpha). I have no business relationship with any company whose stock is mentioned in this article.