In a stock market where truly attractive value investments are limited to a few sectors and companies, we at T&T Capital Management still see a disconnect between price and value in the late 1990's leading large cap technology companies such as Cisco (NASDAQ:CSCO), Microsoft (NASDAQ:MSFT), Hewlett-Packard (NYSE:HPQ) and Intel (NASDAQ:INTC). We've profiled Cisco several times at lower prices and on February 13th, Cisco reported very strong fiscal year 2013 earnings, which highlight the improving competitive position of Cisco in an extremely challenging economic environment for IT spending. Cisco brings huge leadership positions in key areas of IT infrastructure such as Switches and Routers, while the firm's financial strength has allowed it to catch up and surpass other companies in areas such as Wireless, where it wasn't initially the clear market leader. As the global economy continues to recover, I'd expect Cisco to organically be able to grow earnings per share by 7-10% over the next 5-7 years. Because of the current discount to intrinsic value that the company trades at, the stock should offer above average returns moving forward with a low-risk profile.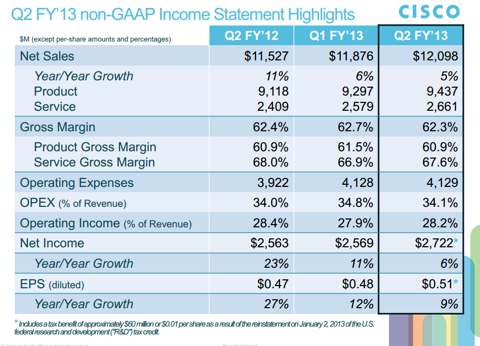 Cisco Q2 Investor Presentation
Cisco posted Q2 net sales of $12.1 billion, which were up 5% YoY. Q2 GAAP earnings per share were $0.59 but those earnings were positively skewed by a tax benefit of $0.17 per share related to an IRS settlement related to the reinstatement of the U.S. federal research R&D tax credit. Non-GAAP earnings were $0.51 per share including a .01 tax benefit. GAAP income was $3.1 billion and non-GAAP income was $2.7 billion. So far over the first six months of 2013, sales were $24 billion, compared with $22.8 billion through the first six months of 2012. Net income for the first six months of fiscal 2013, on a GAAP basis, was $5.2 billion or $0.98 per share, compared with $4.0 billion or $0.73 per share for the first six months of fiscal 2012. Non-GAAP net income for the first six months of fiscal 2013 was $5.3 billion or $0.99 per share, compared with $4.9 billion or $0.90 per share for the first six months of fiscal 2012. Product revenue grew 3% while services revenue grew an impressive 10%. Cash flow from operations was well over $3 billion and the company continues its prodigious free cash flow production.
Gross margins have been very stable around 62% lately for Cisco, exhibiting the strength of the brand versus its competition. Cisco's Services business is a key differentiator between it and its competition, and because the margins are higher on Services than Products, the company's total gross margin should continue to improve slightly. Cisco made the conscientious decision to exit commodity businesses in favor of opportunities where it could more closely align itself with its customers' core networks, and this margin performance exemplifies that the strategy is working. Former high-growth fliers such as Cisco tend to have a hard time controlling expenses for a slower growth environment. While operating expenses as a percentage of revenue are slowly trending lower, the company has more work to do before it really starts attaining consistent operating leverage. 2nd quarter operating margin of 28.2% was excellent for this difficult IT spending environment.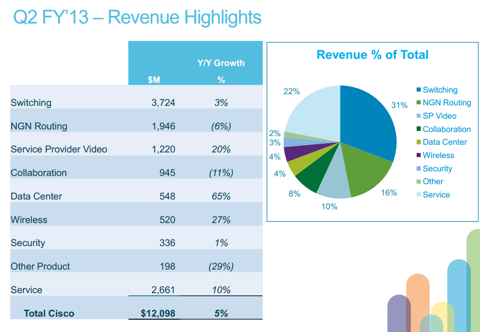 Cisco Q2 Investor Presentation
The quarter saw a very nice 3% YoY increase in the essential Switching business, while the other core legacy business of Routing faced a 6% decline due to lumpy service provider spending. Cisco's Nexus data center switches grew by 20% in the quarter. The company's recent acquisition of NDS allowed Service Provider Video to grow by 20% and is quickly becoming a really major business, which will help define the future of the company. The most exciting growth prospects for the company are in the Data Center, Wireless, and Mobility trends that have emerged. Data Center revenue was up a whopping 65%, while Wireless was up 27%. These high growth segments are now becoming quite sizeable businesses and should have an even more powerful impact on the overall revenue and earnings growth rates moving forward. Cisco has spent aggressively to improve its portfolio product and service offerings, and the success of these investments will have an extremely large impact on investor returns with the stock.
Select Global Business Highlights
· Cisco announced and completed the acquisition of privately held Cloupia, Inc., a software company that automates converged data center infrastructure, allowing enterprises and service providers to simplify the deployment and configuration of physical and virtual resources from a single management console.
· Cisco announced and completed the acquisition of privately held Meraki, Inc., a leader in cloud networking offering midmarket customers easy-to-deploy, on-premise networking solutions that can be centrally managed from the cloud.
· Cisco announced and completed the acquisition of privately held Cariden Technologies, Inc., a supplier of network planning, design and traffic management solutions for telecommunications service providers.
· Cisco announced and completed the acquisition of BroadHop, Inc., a provider of next-generation policy control and service management technology for carrier networks worldwide.
· Cisco announced the investment of $6 million in the venture capital fund Monashees Capital, a leading Brazilian VC focused on Internet companies and online education.
· Belkin announced its intent to acquire Cisco's Linksys product line.
· Cisco unveiled its new "Internet of Everything" global integrated marketing campaign, with a message that connecting people, process, data and things will make the network more valuable than ever.
http://newsroom.cisco.com/release/1136722/Cisco-Reports-Second-Quarter-Earnings?utm_medium=rss
Cisco's intention to sell its Linksys product line is part of the company's prerogative to focus on its enterprise and government related businesses as opposed to on the individual consumer. Ever since John Chambers made this strategic decision a little over a year ago, the company has been making solid headway protecting and strengthening its core businesses. In the last 18 months, Cisco has made 14 acquisitions costing about $7 billion. While these acquisitions will very likely boost Cisco's product lines and offerings to its clients, it is less clear whether the prices paid will be reflective of the optimum capital allocation plan for the company. Management must weigh these acquisitions and their impact on long-term per share value, in comparison with other options such as stock buybacks and dividends. Growth in Wi-Fi and overall connectivity are huge long-term trends that bode favorably for Cisco's product lines, so management's track record in protecting its competitive position have been solid thus far but the jury is still out moving forward.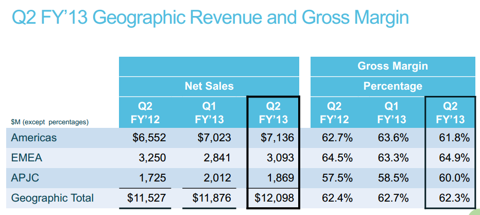 Cisco Q2 Investor Presentation
I've been very impressed with Cisco's ability to maintain strong gross margins in this difficult economic environment. I really believe it speaks volumes about just how important Cisco is to enterprises and governments. The Americas were a source of relative strength, while Asia and of course Europe saw a slowdown in spending. Encouraging data from China and Japan could boost Cisco's performance in Asia, while European problems are likely to be near a bottom in my estimation. The company is turning down low-margin business in areas such as set-top boxes, in favor of higher margin software offerings. With Cisco's refreshed product lines and strong competitive position, it will be extremely interesting to see how the company performs if GDP growth can accelerate to even a reasonable level.
Cisco is forecasting Q3 non-GAAP earnings per share of $0.48-$0.50 and GAAP earnings will likely be $0.08-$0.11 lower. Non-GAAP gross margin is expected to be in the range of 61-62%, while operating margin should hover between 26.5-27.5%. The company believes that emerging markets should improve and that Europe is close to a bottom. The U.S. and Service Providers are expected to be sources of strength for the remainder of 2013. Cisco is on the front end of many of the key technologies, which will define tech's future. John Chambers laid out his goals moving forward:
1) To transition from being the number one communication company to the number one IT company. He defines IT company in terms of Cisco's relevance and value to customers, ultimately determining the profitability of the relationship.
2) The company wants to drive the future programmable networks, enabling the networks to power a new breed of applications, increasing the value of the overall network.
3) The company wants to connect 99% of the people and the way that they process data and things not yet connected to drive new capabilities.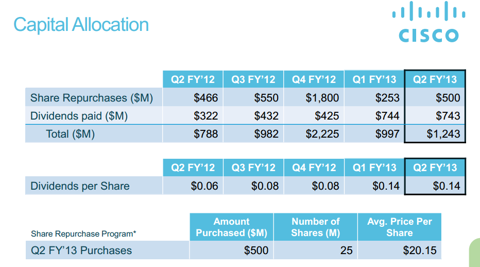 Cisco Q2 Investor Presentation
Cisco had made a huge transition to a solid dividend payer and in the 2nd quarter the company paid $743MM in dividends, and $500MM in stock buybacks. Recently, the company committed to returning 50% of free cash flow to shareholders, which is a great model of other large technology companies. In the Q&A section of the conference call I found it very interesting that John Chambers suggested that he would take it to the shareholders whether or not they preferred a dividend or a buyback because of the changes in the tax code. I personally would very much prefer a buyback at any price below $25 for Cisco, but I think even if the company stuck with the current dividend but then allocated the remaining 50% of its growing free cash flow to buybacks, that will ultimately be highly attractive to long-term shareholders.
At the end of the 2nd quarter Cisco had total cash and cash equivalents of $46.376 billion, with about $7 billion of that cash being in the United States. The company has about $16.254 billion of long-term debt and 5,357 diluted shares outstanding, so the net cash per share is approximately $5.62. I believe the company should earn close to $2.00 per share in 2013, and $2.20 in 2014, which would put the current P/E ratio at just over 10 times fiscal year 13 earnings. If you back out the cash, the stock is trading at more around 7.5 times earnings but obviously there would be tax implications if the company were to repatriate all of that cash.
The reality is that Cisco has huge and sustainable long-term growth opportunities, which will drive the top-line by 5-6%, and if the company gets more aggressive on the buyback, earnings per share should grow by 7-10%. Gone are the days of explosive revenue and earnings growth that were emblematic of a smaller company in the early days of the internet, as the company and the industry has matured substantially. While Cisco might be seen as a pariah for speculators that were willing to pay over 100 times earnings for the stock in 2000, value investors now have the opportunity to buy an extremely well-financed business that can double earnings per share over the next 5-7 years assuming that capital allocation stays reasonable. Even better Cisco carries a yield greater than 2% so the investor gets paid to wait. Because the current multiples are so non-demanding, 7-10% earnings growth should lead to 10-13% per annum stock growth assuming an extremely modest improvement in valuation, which ultimately might prove to be too conservative. I believe the S&P 500 will do much worse than that over the same time frame, while the risks of permanent losses of capital are even less with Cisco. The only major wild card in my estimation, are the acquisitions, which will always scare me with this company and John Chambers.
Disclosure: I am long CSCO, MSFT, HPQ. I wrote this article myself, and it expresses my own opinions. I am not receiving compensation for it (other than from Seeking Alpha). I have no business relationship with any company whose stock is mentioned in this article.