This is a great time of year for me, because it's when I get the larger of my two annual bonuses. Bonuses are not, of course, guaranteed, but we had a nice one again this year, and that means 5% of the gross went into my 401(K). Combined with the money that got withheld from my paychecks since last December, that gave me a nice chunk of change with which to grow my positions in my 401(K).
At this time I've decided not to add to the number of positions in my 401(K), but to keep things simple and just plump up what I already have. As a recap, here are the three ETFs and one mutual fund that I currently hold in my 401(K):
Here's how things looked over two months ago when I last reported on this account, just before I purchase more shares of XLU:

And here's how things looked recently:

A nice overall improvement, across the board, with the exception of the Marco Polo XTF and Morningstar ratings, which I can live with. Also, the 1 Year Returns on the three ETFs have dropped a bit, but I think the boost in the 3 Year returns balances those out somewhat. What I'm most pleased with is that all the ETFs got out of the red in terms of % Gain or Loss, which is always nice to see.
As a refresher, what happens to new money coming into my 401(K) account from payroll withholdings is that I have Fidelity put 25% into YAFFX, and the other 75% goes into a cash account waiting for me to redistribute it to one or more of the three ETFs.
Since I had purchased more XLU with the December batch of cash, it was a relatively simple calculation to distribute the rather healthy amount of funds that had accumulated between HDV and REM, with REM getting just a little more love. The result is now an almost perfect 25% distribution across all four positions.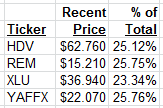 Overall, I'm pretty pleased with the results so far, and, more importantly, with how much I've been able to save in a little over a year. (No, I won't tell you how much that is. Suffice to say, it's more than I had saved in my 401(K) two years ago, which was precisely $0.00 after 5 years with my current employer.)
Unfortunately, looking at my cash flow projections for the household, it looks like I may not be able to (automatically) increase my 401(K) withholding by 2% from 5% to 7% in April like I had planned. I will have to wait and see what kind of merit increase (if any) I get this year, which I won't find out about until mid-March.
If things go better than I expect (I try not to be overly optimistic about these kinds of things, so as not to be disappointed, or worse), and I can keep the Missus from spending too much on non-necessities, I might be able to make a 1% increase to my withholdings; and if things go really well, I might just be back to bumping them up by 2% like planned. All will be revealed in time.
Look for another one of these reports in two months, by which time I'll know what my paycheck will look like for the rest of the year, and will have another clump of cash to distribute somewhere amongst these three ETFs.
I'm not quite ready to add a fourth ETF to the mix yet; perhaps next year when [if] I get another nice bonus, I'll take the whole lump sum and start up a fourth ETF position. That's something to think about between now and then.
In the meantime, if you've got a favorite ETF with a healthy yield and low expense ratio, pass it along, and I'll crunch up some numbers sometime while I have to listen in on a boring meeting.
And if your company offers a 401(K) program, with or without matching funds, and you're not participating in it yet, I strongly encourage you to consider starting. You can start out small, like I did, and gradually increase the amount that is withheld from your paycheck on an annual basis. I'm very encouraged at what I've been able to save so far, and look forward to watching that number steadily grow and, hopefully, accelerate in the years to come.
Disclosure: I am long HDV, REM, XLU. I wrote this article myself, and it expresses my own opinions. I am not receiving compensation for it (other than from Seeking Alpha). I have no business relationship with any company whose stock is mentioned in this article.
Additional disclosure: Disclaimer: I am not a professional investment advisor or financial analyst; I'm just a guy who likes to crunch numbers and can make an Excel spreadsheet do pretty much whatever I want it to do, and I'm doing my best to manage my own portfolio. This article is in no way an endorsement of any of the stocks discussed in it, and as always, you need to do your own research and due diligence before you decide to trade any securities or other products.