It has been two full weeks since the launch of the new BlackBerry (NASDAQ:BBRY) Z10. Tech reports have come in mostly positive and sales reports have indicated strong sales. No numbers have been released, but BlackBerry has stated it had record sales in Canada and the UK. Through a previous article, we looked at reasons that BlackBerry might be successful.
As with any launch the success is dependent on revenue generated for the company. Quantifying the sales numbers prior to the end of quarter financial statements are released is difficult. There are some metrics that can give us a clue.
Average Price
The average price for which BlackBerry sells its hardware devices has fluctuated between $400 and $200. Around February 26, 2011 BlackBerry started to report a loss. The average handheld price metric was withheld from the financial statements for the first time. We have calculated (based on revenue) the average price, and noticed it fell below $300 for the first time and with a low of $206 in June 2012.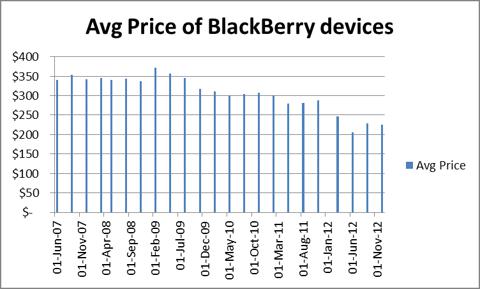 Click to enlarge
Devices Shipped
The number of devices shipped has fallen over the past two years. To gauge the success of the UK and Canada launches, we need the sales data. Thorsten Heins, president and CEO of BlackBerry stated the Z10 is "selling almost three times better" in the UK in its first week sales. Extrapolating with the other metrics (UK revenue, average price and devices shipped), a rough estimate would be 2 - 3 million devices shipped. This takes into account that sales would be heavier in the beginning due to high pre-sales. This does not compensate for the lost sales in the US.

Click to enlarge
Revenue
Global revenue has increased, but in the core markets of North America and the UK, revenue has significantly decreased. Customer loyalty seems to be strongest in the UK, and with the UK launch this is not indicative of a turn around. The greatest impacted to Blackberry's top line is the revenue for the United States. Revenue has dropped over $2 Billion per quarter from its previous record US sales.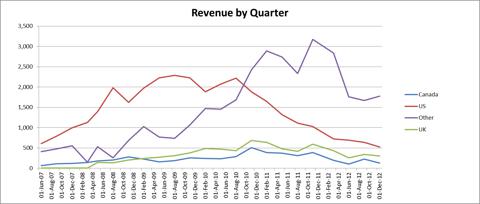 Click to enlarge
BlackBerry vs iPhone
This is for information purposes only and illustrates divergence in the number of units sold started in 2010.

Click to enlarge
Market Share
The recent data provided by Gartner shows that this industry is rapidly growing with a lot more room for growth. This allows Blackberry to slowly increase market share over time, while immediately increasing its bottom line.
| | | |
| --- | --- | --- |
| Smartphone share | 4Q11 | 4Q12 |
| Android | 16% | 31% |
| iOS | 7% | 9% |
| Blackberry | 3% | 2% |
| Microsoft | 1% | 1% |
| Bada | 1% | 1% |
| Symbian | 4% | 1% |
| Others | 0% | 0% |
| Total | 31% | 44% |
Source : Gartner Feb 2013
Availability
The availability of handheld devices into subsequent weeks of the launch would give indication of sales and sell-through. Last week in the UK, Carphone Warehouse was indicating 50% of the stores were sold out. As of today, 3 out of 30 stores checked were sold out. (Note: The white version is still backordered until Feb 18.)
Informal checks have shown that The Source (Canada) has devices on back-order with no ETA at this time. Stores show low stock (1-5 units) with many stores sold out.
Best Buy Online (Canada) appears to be sold out.
What is required?
For a successful turnaround, BlackBerry has to sell a minimum 12 million devices at an average price over $300. With current sales in the UK, Canada and globally the US would require a minimum of 4 million units shipped to contribute meaningfully to a BlackBerry turnaround (for a full quarter). The US launch will give us a better indication of sales and the next financial statements to be released in March will provide the confirmation of success or failure. With the US launch very close to the end of quarter, the following sales data would indicate acceptance of BB10:
US devices shipped : 2M
UK devices shipped : 2.5M
CAN devices shipped : 1.5M
Other devices shipped : 6M
Average device price > $300
Disclosure: I am long BBRY. I wrote this article myself, and it expresses my own opinions. I am not receiving compensation for it (other than from Seeking Alpha). I have no business relationship with any company whose stock is mentioned in this article.