When you finally get a headline and story like the following out of a mainstream financial outlet like Bloomberg, it means the Fed has trouble: "Fed Joining in Alarm over Distortion it Enabled."
During the last several booms, the Federal Reserve has tended to sleep cluelessly through the excesses with the minutes showing the discussions were often about trivial matters. This time, don't say you haven't been warned as a series of Fed members have recently weighed in with concerns of excesses in various markets.
-FOMC member Jeremy Stein voiced concern that "a fairly significant pattern of reaching-for-yield behavior is emerging in corporate credit."
-Atlanta Fed president Dennis Lockhart said this week he is concerned about the markets for Treasuries and mortgage-backed securities.
- Several Federal Open Market Committee members said at a December meeting it would "probably be appropriate" to slow or stop purchases "well before" the end of 2013 because of financial stability concerns.
- Kansas City Fed President Esther George, "Prices of assets such as bonds, agricultural land, and high-yield and leveraged loans are at historically high levels. We must not ignore the possibility that the low-interest rate policy may be creating incentives that lead to future financial imbalances."
Illustrating the poor quality of the current crop of junk bonds, the chart shows the huge surge of lite-covenant issuance in 2012. Then in January sales of so-called covenant-lite loans represented about 55 percent of the debt sold to non-bank lenders, the greatest proportion ever, Morgan Stanley analysts wrote in a Jan. 25 report. Covenant-lite debt does not carry lender protection such as a financial maintenance requirement.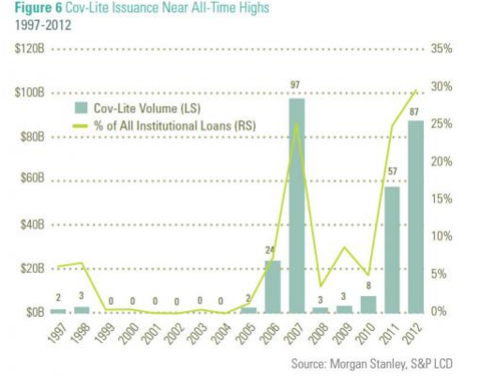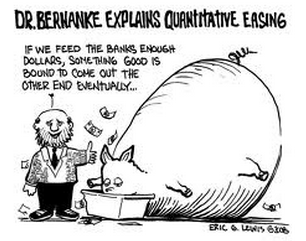 Of late the demand bloom has come off the junk bond market as HYG shares outstanding drop. Prices have been softer over the last week. Estimated at a $3 trillion market, in 2012 new issuance was double the annual average of the prior 10 years, yet now the secondary market for trading bonds is thin. Wall Street firms' bond inventories are at generational lows. 20% of these illiquid bonds are held in funds and ETFs.
source: Zero Hedge

The junk-bond market is the most accident-prone area of the capital markets. Liquidity can dry up overnight. Information on trading is opaque at best. If these bond funds were hit with redemptions, the market would simply freeze up. Prices would literally disappear. And if the hot fast money crowd pulls the plug, is will be especially brutal. This is what the 2008 bust looked like.
An actionable for this trade would be [[JNK]] puts. JNK is one of the junk bond ETFs discussed in this article. The puts are very cheap, and typically trade at 7 -8 digit implied volatility.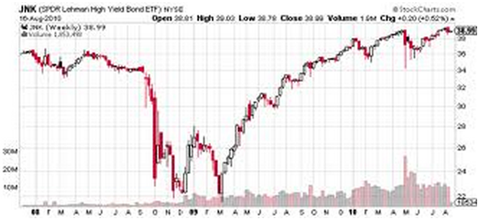 Disclosure: I am short JNK. I wrote this article myself, and it expresses my own opinions. I am not receiving compensation for it (other than from Seeking Alpha). I have no business relationship with any company whose stock is mentioned in this article.