Online business networking giant LinkedIn (NYSE:LNKD) reported fantastic growth for its fourth quarter late last week. Revenue surged 81% year-over-year to $304 million, easily exceeding consensus expectations. Earnings also easily surged past consensus estimates, growing nearly 200% year-over-year to $0.35 per share on an adjusted basis (Image Source: LinkedIn).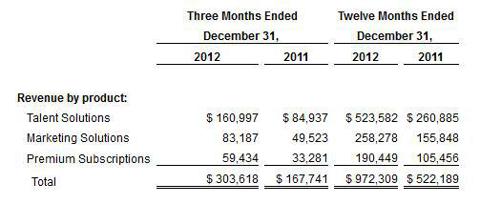 Strength was broad based, as the firm's human resources tools drove talent solutions revenue 90% higher on a year-over-year basis, to $161 million. With membership growth strong (up 39% during the year) and the network now having over 200 million users, LinkedIn has become the de facto market place for employers and job hunters alike. As a result, its talent solutions business becomes more valuable literally by the day. LinkedIn is also doing a solid job of integrating hiring solutions on mobile devices, saying on the conference call:
"Regarding monetization in talent solutions, 2012 was marked by new products, design add value to our corporate customers across all aspects of talent acquisition. For example, our larger customers are more deeply integrated with the talent pipeline into existing recruiting workflows. Jobs On Mobile is also gaining increasing traction. Introduced just six months ago, nearly 20% of job views and nearly 30% of job viewers now come from mobile devices. Finally, we are focused on growing international value of the recruiter platform. Already available in French, we are now rolling out recruiter in German and Portuguese, allowing us to better serve much of Europe and Brazil."
With connections growing and viewing continuing to increase, the firm was able to monetize advertising quite well over the course of the fourth quarter, with segment revenues growing 68% year-over-year to $83 million. Premium subscription revenue was also strong, growing 79% year-over-year to $59 million, suggesting subscribers are relatively happy with the value added by the service.
International revenue was 38% of the company's revenue mix during the fourth quarter (the remainder came from the US). We think the current revenue mix reveals a huge international opportunity for LinkedIn, though it may take time for the network to catch on in newer markets. An impressive 64% of new members came from international markets, suggesting that the international opportunity is already gaining steam. Still, as we've seen from Facebook (NASDAQ:FB), web monetization tends to be superior in the US, so growing the domestic business remains an extremely important strategic task for the firm.
Looking ahead, LinkedIn believes revenue will grow to $1.41-$1.44 billion during 2013, which implies that revenue growth will eclipse a 40% pace on a year-over-year basis. Adjusted EBITDA is expected to range between $315-$330 million for the year (up from $223 million during 2012). We think both targets are attainable, if not pessimistic. The firm continues to capture business from traditional job boards, and companies have started to hire again in a strengthening economy (Image Source: Page 1 of Valuentum's 16 page report on LinkedIn).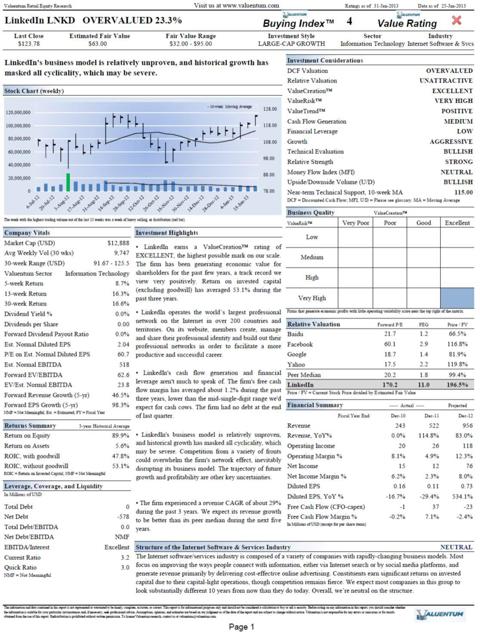 Nevertheless, LinkedIn's shares are incredibly overvalued, and near-term performance in LinkedIn's case offers little information in projecting the firm's long-term intrinsic value (which is heavily dependent on assessing the competitive landscape 5-10 years hence). We have no interest in adding the company to the portfolio of our Best Ideas Newsletter. We disclose our valuation projections below (Image Source: Page 5 of Valuentum's 16 page report on LinkedIn).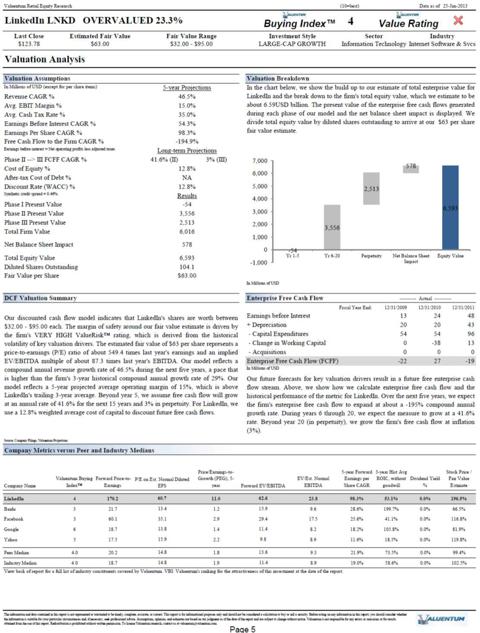 Disclosure: I have no positions in any stocks mentioned, and no plans to initiate any positions within the next 72 hours. I wrote this article myself, and it expresses my own opinions. I am not receiving compensation for it (other than from Seeking Alpha). I have no business relationship with any company whose stock is mentioned in this article.