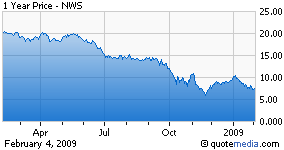 News Corporation (NWS) is expected to report Q2 earnings after market close Thursday, February 5, with a conference call scheduled for 4:30 pm ET.
Guidance
Analysts are looking for a profit of 19c on revenue of $8.39B. The consensus range is 13c-28c for EPS, and revenue of $8.07B-$8.87B, according to First Call. Due to weakened revenue at U.S. newspapers, slowing advertising sales and a declining DVD market, News Corp is expected to have been hit hard by economic conditions.
Analyst View
In a note to clients, Cowen analyst Doug Creutz reduced his forecast for the quarter, meant to account for continued challenges for print media, worsening advertising trends on local television and lower home video sales, as well as for the weaker British pound. Pali Capital recently downgraded the stock to Sell from Buy to reflect the company's lack of strategic direction related to its television station, newspaper and book publishing assets as well as the secular challenges it faces.
Analysts also believe that if News Corp reports a loss, it may be forced to revalue the assets on its books. According to multiple sources, The Wall Street Journal will soon undergo another round of personnel cuts. Around 50 people are reportedly being targeted and some may be offered buyouts. Also, one or more Journal bureaus may be eliminated as part of the cutbacks. News Corp's digital unit is also looking to dismiss about 5% of its workforce.