I recently investigated some of the major banks to see if there still is an opportunity to identify an investment that might offer a suitable margin of safety for a value investor. Another criteria for my investigation is a solid dividend yield. My analysis is based on the financial statements of the company for the last 5 years. The focus is on identifying a trend.
Market:
Background information on Wells Fargo (NYSE:WFC) can be found on the company website. Since the beginning of 2009, Wells Fargo's market price increased from its low of about $10 to the current price of about $35 per share, as is shown in the graph below. This is an increase of 250% in market price in 4 years time. It is also interesting to see that it is back around its pre-crisis high.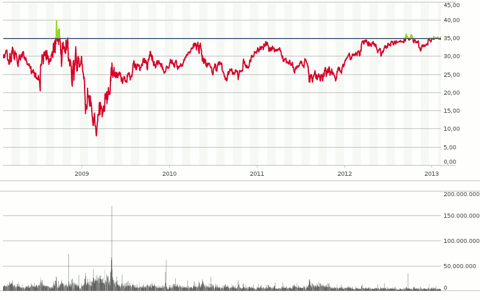 Income Statement:
Looking at the income statements from the last 5 years, as shown in the tables below, we can conclude that as of 2010 the company's revenue, from its interest and non-interest income streams, is shrinking steadily on a year to year basis. It has, however, significantly increased its revenue compared to the pre-crisis figures of $51.6 Billion. In 2012, as is shown in the quarters, the decline has stabilized - ending up around $86.8 Billion, or a decrease of almost 1% compared to 2011.
For the net income and the EPS (Earnings Per Share) it is a completely different story. The figures show that Wells Fargo has been very good at managing its operational cost since 2009. In the whole period it has posted double figure growth in its EPS, with 2012 ending with more than a 19% increase in net income and EPS. Very impressive indeed.


Note: All values in the tables are in Millions of USD (except for per share items).
Balance Sheet:
Wells Fargo has a very solid balance sheet, as is shown in the table below. Its debt has decreased significantly over the years. The intangible assets on the books are also decreasing. Shareholder equity has been growing with double digits up to 2012. On average about 11.2% per year since 2009. The shares issued have, however, been growing a lot since 2008, about 11% per year for the full period. There are now almost 1.9 Billion more shares outstanding than there were in 2008. This is an increase of more than 55%. Apart from the increase in shares, very positive signs for a value investor.

Note: All values in the table are in Millions.
Cash Flow:
Analyzing cash flow statements of financial institutions causes a lot of problems, also see this article. These problems are created by activities that have significant impact on the balance sheet and should be viewed as operational, but are not. They are:
Managing accounts of depositors, which are listed under financing activities;

Lending money to customers, which are listed under investing activities;

Trading in securities, which are listed under investing activities.
As a result it renders the cash flow statement useless to readers of financial statements, and therefore will not be used in this analysis.
Dividend:
Currently, Wells Fargo is paying a dividend of about 2.83% per year. It is not the biggest dividend payer between the major banks but it can be considered solid. Also, as can be seen in the table below, the dividend has significantly increased in the last couple of years, following the decline in 2009 and 2010. It is expected to increase more than 13% in 2013, with an analyst consensus of $1. But if we look at the complete 5 years, we see that dividend is still way below the $1.30 of 2008. This indicating that the dividend is trailing behind the market price, which is currently at the same level as 2008.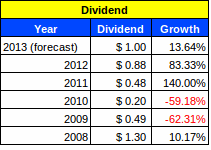 Based on the growth in EPS and how it reflects dividend growth, I personally think that for 2013 the dividend could go to $1.06 and increase to $1.30 in 2015. This is an expected growth of more than 10% per year for the coming 3 year period.
In the table below, we use a "Stable Growth Dividend Discount Model" to calculate the equity value per share based on the above assumptions. This simple model uses the company's dividend history and the cost of equity. Cost of equity is the return that stockholders require from a company, also see article. In the table we use a cost of equity of 10% with different dividend growth rates. So based on the current market price, we are at par with 2012 and a 7% stable growth rate, as shown in the table below. However, if we expect the dividend growth rate to be higher, the stock is currently undervalued. If we expect it to be lower, as the 4% between 2001 and 2008, it is currently overvalued.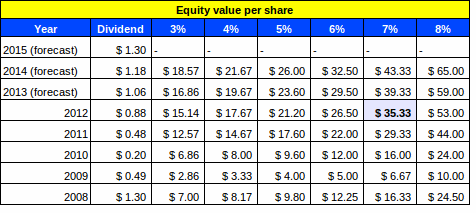 Note: Equity value per share = Expected dividends per share next year / (Cost of equity - Stable growth rate).
Price ratios:
The price ratio I prefer is book value. Book value is used to compare the company's market value to see whether it is under or overpriced. Book value can also be used to compare competitors. With tangible book value, as shown in the table below, we don't include the intangible assets in the calculation. So, based on the current market price of about $35, we pay a premium on book value of about 17% - or a Price to Book (P/B) of 1.17, above the industry average of 1. What is also interesting is the trend in tangible book value. Here we see that it has been growing more than 20% per year since 2009. This is very impressive. However, if we look closer, we see that the current value is about similar to 2008. So from this perspective no value has been added.

The Price to Earnings (P/E) ratio is a "multiple" of year earnings, so for a P/E of 10 an investor is willing to pay $10 per $1 of earnings. P/E is calculated by dividing the share price by the EPS for a particular year. Therefore the quarters, as shown in the table, should be viewed as an indication for 2012. For the last couple of years, the P/E has reduced significantly. The average P/E for 2012 is around 11.1, below the industry average of 14.6 and almost half of its high in 2008.
Efficiency ratios:
To analyze the financial efficiency of the company, we will look at the ratios as shown in the table below. If possible these will be compared to industry average:
Price to Book = 1

Price to Earnings = 14.6

Profit Margin = 11.4%

Return on Equity = 5.7%

Debt to Equity = 1.2
Profit margin is an indicator of a company's pricing strategies and how well it controls costs. The average profit margin for the financial service sector is 11.4%. As can be seen in the table, this has become a strong point for Wells Fargo in recent years, it is almost double that of the industry.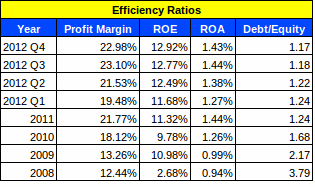 Note: In our calculations for Debt/Equity only interest-bearing debt has been used.
Return on equity [ROE] is calculated by dividing net income by equity for a full year. Therefore, the quarters, as shown in the table, should be viewed as an indication for 2012. Looking at the trend allows an investor to determine the change in profitability over a given period. As shown in the table, after a very weak performance in 2008, Wells Fargo has increased its ROE to more than double the industry average of 5.7%. I consider companies with a ROE between 10% and 20% to be good.
Return on assets [ROA] is an indicator of how profitable a company is relative to its total assets. It is less flexible than ROE because banks can have different asset structures, which makes comparing them more difficult. But it is still a widely used indicator in the financial industry. It is calculated by dividing a company's annual earnings by its total assets. As shown in the table, we see that the company has grown its ROA for the analyzed period by more than 50%. For highly leveraged companies, a ROA of more that 1% indicates huge profitability; as is the case with Wells Fargo.
The final indicator used is debt/equity ratio. This is a measure of a company's financial leverage. The higher the number the more aggressive the company has been in financing its growth with debt. Here the risk is that the debt financing could outweigh the return that the company generated with the debt. This impacting earnings with additional interest expense, which if not well managed could lead to bankruptcy. As can be seen in the table, Wells Fargo was highly leveraged in 2008, but it has managed its debt/equity ratio back to around the industry average of 1.2 in the last couple of years. This is a very good sign. All in all a well managed company with very good efficiency ratios.
Conclusion:
The table below shows a summary of all the analyzed trends in this article. Wells Fargo's current market price is about similar to that of 2008. It has, however, not added to its underlying book value since 2008. This because of the huge increase in its outstanding shares, about 1.9 Billion more than in 2008. What is most impressive, however, is its ability to grow its EPS with a moderate performance in its revenue growth. Its double-digit dividend growth is very impressive too, but again it has not exceeded its 2008 figure of $1.30, with the projected 2013 dividend being $1.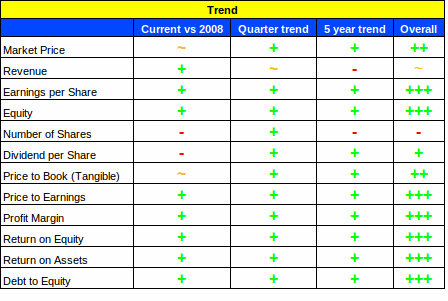 Looking at the efficiency ratios, we have to conclude that this is a very well managed business. All the analyzed ratios are better than or equal to the industry averages. For instance, its ROE is growing year by year and is currently well above the 5.7% industry average. Very impressive for one of the biggest banks in the world.
Considering the above industry average price to book of 1.17 together with an annual dividend of about 2.83%, it does look moderately attractive. However, we have to consider Wells Fargo's ability to grow its EPS and how this reflects its dividend growth. Therefore, considering the complete analysis, I believe that this stock could create an opportunity for a value investor, especially if the company starts reducing those outstanding shares.
Disclosure: I have no positions in any stocks mentioned, but may initiate a long position in WFC over the next 72 hours. I wrote this article myself, and it expresses my own opinions. I am not receiving compensation for it (other than from Seeking Alpha). I have no business relationship with any company whose stock is mentioned in this article.