Coach (NYSE:COH) is a leading American marketer of fine accessories and gifts for women and men. The product offering includes women's and men's bags, accessories, business cases, footwear, jewelry, travel bags, watches and fragrance. It is one of the most recognized brands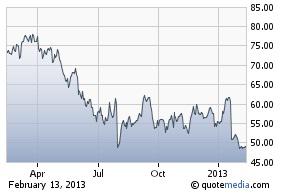 in the U.S. and international markets. Coach annual revenue is $4.7 billion (source: 10-K 2012), with 32% coming from international operations. Men's and women's handbags are the biggest revenue generator, accounting for 65% of the revenue. As a fashion company its competitive position depends on new styles and products. To achieve this, three to four collections per quarter are released with four to seven styles per collection. Approximately 71% of Coach's total net sales are generated from newly introduced products, with no sales in the same quarter previous year.
Coach is a design and marketing company. Products are manufactured by independent manufacturers, mainly located in Asia. Strong control is maintained over the supply chain process from design to manufacturing to guarantee the quality. The manufacturing base is diverse with only one supplier providing 16% of all units. All other suppliers provide less than 11%.
Products are offered through a direct-to-consumer and an indirect channel. The direct-to-consumer channel provides immediate and controlled access to consumers. Coach operates stores in North America; Japan; Hong Kong, Macau, and mainland China; Taiwan; and Singapore. This segment represented approximately 89% of Coach's total net sales (fiscal 2012). The Indirect segment represented approximately 11% of total net sales and offers access to consumers who prefer shopping at department stores. Coach's products are sold in approximately 990 wholesale locations in the U.S. and Canada, like Macy's (NYSE:M) and Nordstrom (NYSE:JWN). International indirect sales are conducted through wholesale distributors and authorized retailers in 20 different countries.
Revenue growth in the last 10 years has been explosive, from $953 million in 2003 to $4.7 billion in 2012. Future sales growth will have to come from international expansion. The North America market is covered with 345 retail stores. Coach expects that there is space for 500 retail stores. This year another 10 stores will be added. The growth from the past can be maintained by adding 10 retails stores a year in North America. China will be the main driver of the targeted international growth. The number of Chinese retail stores increased with 30 to 96 in 2012. This year the plan is to open a similar number of stores. In 2012 the China revenue was around $300 million. The company should be able to grow this to $500 million in 2014. Even then, it only accounts for 10% of the overall revenue. An indication of how much future growth is still possible, especially with an expanding Chinese middle-class.
Coach is very profitable; Gross margins are above 70% and operating margins above 30%. The business requires very little capital to grow. In the last 10 years the company generated $6 billion in net income. It allocated $6.2 billion back to shareholders through dividends and stock buy backs, without increasing debt. (Difference due to cash flow being higher than the net income). Dividend increased by 33% last year. In October 2012, Coach's Board of Directors authorized a new $1,500,000 stock repurchase program for future stock repurchases through June 2015. As of December 29, 2012, Coach had $1,361,627 remaining. In the last 10 years Coach reduced the number of outstanding shares by more than 20%.
The balance sheet is extremely solid. Total cash is $858 million and with less than $23 million in debt the company is as good as debt free. Shareholder equity is $2 billion. The company carries goodwill of $386 million on the balance sheet (tangible book value of $1.614 billion, around $.5.50 a share). Coach is a cash machine. Average free cash flow over the last 5 years has been $830 million (21% of revenue). Return on equity was above 50% in 2012. Remarkably high for a company that carries no debt. Another confirmation there is limited need to reinvest (building equity) to enable growth.
Fiscal second-quarter earnings came in at $1.23 versus expectations of $1.28. This earnings miss resulted in a sell-off (although the EPS was still 5% higher versus same quarter last year). The stock is currently trading around $49 versus a 52-week high of $79. Is this a buying opportunity?
Graph 1 shows the EPS trend of the last 10 quarters. Earnings have a strong seasonality. Coach products are frequently given as gifts. Historically, in the second quarter of the fiscal year (includes the holiday months of November and December) higher sales and operating income is realized. To take out seasonality, I added a trend line. Overall, quarterly EPS are clearly in an uptrend.
Graph 1: Quarterly EPS trend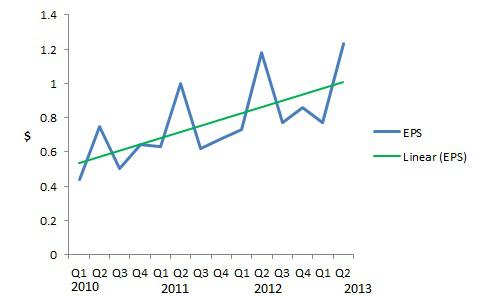 First and second quarter EPS increased by 6% and 5% versus same quarter last year. Assuming a similar trend, Q3 and Q4 gives a 2013 EPS of $3.71. With a current stock price of $49 the P/E is 13 and EV/EBITDA is 7.7. For a company with the track record of Coach this is not expensive. When making an investment I try to have a line of sight to a CAGR of 15% over a four-year period. This means that the stock has to double from my average buy price. Let's consider a few scenarios: EPS growth of 5%, 9% and 12%.
| | | | |
| --- | --- | --- | --- |
| EPS Growth | 5% | 9% | 12% |
| EPS (2016) | $4.29 | $4.80 | $5.21 |
| P/E | 13 | 16 | 19 |
| Share price (2016) | $55.77 | $76.80 | $98.99 |
With the international expansion opportunities, I expect the annual EPS growth to be somewhere between 9 to 12%. The current stock price is beginning to make Coach an attractive investment. I will initiate a position if the stock drops another 10%.
Disclosure: I have no positions in any stocks mentioned, but may initiate a long position in COH over the next 72 hours. I wrote this article myself, and it expresses my own opinions. I am not receiving compensation for it (other than from Seeking Alpha). I have no business relationship with any company whose stock is mentioned in this article.