At times you have to scratch your head and wonder just what the masses of humanity are thinking. North Korea tested a nuclear weapon on Tuesday and yet anti-radiation drug company Cleveland BioLabs (NASDAQ:CBLI) decreased in share price by 4.5%...what the heck!
Anti-Radiation Drug
Cleveland BioLabs has an anti-radiation drug called Entolimod in development that is proven to work before or after lethal exposure to radiation. The drug is in the pivotal stage.

North Korea
North Korea is currently attempting to miniaturize nuclear weapons. This is the key to getting them into delivery systems that can reach targets such as South Korea or Japan. Time is on North Korea's side and thus the need for various counter measures like Cleveland's Entolimod.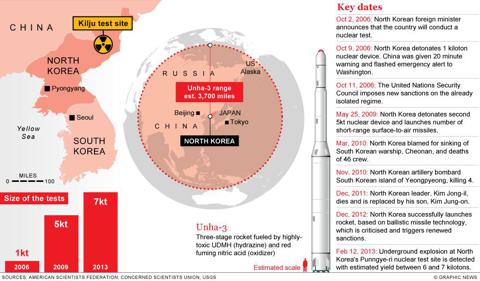 The Market
Today's price action in Cleveland shows that the market either does not know Cleveland exists or simply does not get it. Granted the anti-radiation drug Entolimod is years away with estimations for release in 2014-2015 if the FDA approves it.
Government Funding
Cleveland is trying to obtain extra funding for its wonder drug through a government agency called BARDA. We wrote about this in our last article on Cleveland in detail. The most important thing to realize is that today's events will give extra weight towards Cleveland winning funding from BARDA for its drug.
How To Play The Game
Cleveland is a stock that is risky but you can sell on the spikes and buy on the dips while retaining a small core position for a two-year time frame. The hope is the FDA approves the anti-radiation drug and that Cleveland sells it to various governments for nuclear disaster and military defense purposes. If Cleveland gets funding and its drug approved shareholders will profit handsomely.
Disclosure: I am long CBLI. I wrote this article myself, and it expresses my own opinions. I am not receiving compensation for it (other than from Seeking Alpha). I have no business relationship with any company whose stock is mentioned in this article.