Introduction
In this article earlier this year I outlined the holdings of my income seeking portfolio. H.J. Heinz (HNZ) was one of those holdings. With the news just recently released I now find myself with the unenviable task that many income investors face after being on the receiving end of a buyout. What stock should I buy to replace it in my portfolio? I was very happy with HNZ's 3.4% dividend yield as well as its modest revenue and profit growth prospects. Its brand was globally recognized and its products were very popular both in America and abroad. Replacing stocks in a portfolio requires a little different mentality from opening a new position in a new stock. When seeking to replace a stock you need to compare the fundamentals of the stock being removed from your portfolio to prospective stocks that you are interested in purchasing. To view a list of my current holdings please click the link to the article above. For my income portfolio there are a few specific fundamental data elements that I wish to compare.
P/E Ratio
Dividend Yield
5 Year Dividend Growth Rate
Dividend Payout Ratio
Now that I have identified my key data points let us look at the data for the stock that is being removed from my portfolio. HNZ's P/E and yield are based upon its buyout price of 72.50.
| | | | | | |
| --- | --- | --- | --- | --- | --- |
| Symbol | Name | P/E | Yield | 5 Year Div Growth Rate | Dividend Payout Ratio |
| HNZ | H. J. Heinz Co | 23.28 | 2.8% | 6.35% | 65% |
Now I will take this data and compare it with the same data points of some dividend stocks that I have been tracking lately. In the table below I have color coded the data in relation to HNZ.
Red=Worse
Yellow=Same
Green=Better
Any stocks that have a red field scored against it is not eligible to replace HNZ in my portfolio. This does not mean that I will not open a new position in that stock at a later time. This just means that it currently does not meet the requirements to replace HNZ as my portfolio is currently constructed.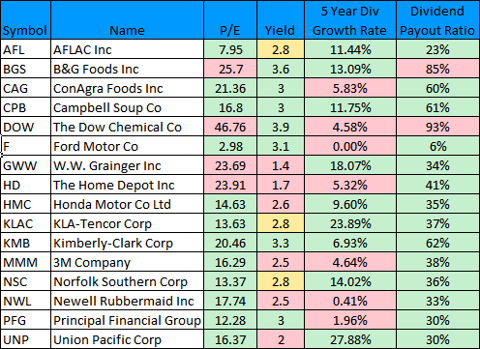 As you can see from the analysis done above we are left with five stocks that I consider eligible to replace HNZ inside of my portfolio. Those stocks are displayed in the table below.
| | | | | | |
| --- | --- | --- | --- | --- | --- |
| Symbol | Name | P/E | Yield | 5 Year Div Growth Rate | Dividend Payout Ratio |
| AFL | AFLAC Inc | 7.95 | 2.8% | 11.44% | 23% |
| CPB | Campbell Soup Co | 16.8 | 3% | 11.75% | 61% |
| KLAC | KLA-Tencor Corp | 13.63 | 2.8% | 23.89% | 37% |
| KMB | Kimberly-Clark Corp | 20.46 | 3.3% | 6.93% | 62% |
| NSC | Norfolk Southern Corp | 13.37 | 2.8% | 14.02% | 36% |
Now that we limited out search and stripped out numerous ineligible candidates it is time to rate these stocks in comparison to one another. Since there are five stocks I will rank their numbers relative to one another 5 for the highest and 1 for the lowest. If there are any ties, the numbers for the tied positions tied will be added together and divided by the number of stocks that tied for that rank. The scoring for these stats is displayed below.

As you can see we end up with two stocks that have the same total score. AFL and NSC both scored a total of 14. When this happens we choose the stock with the lower total P/E ratio, which in this case is AFL. The P/E ratio will always be the data element we use for any tiebreaker scenarios.
Summary
Using the above process I have decided to add AFL to my income portfolio once the buyout of HNZ is complete. This purchase improves my overall portfolio statistics in a couple locations. Adding AFL lowers my portfolio's average P/E ratio. It also lowers my portfolio payout ratio average while maintaining my overall portfolio yield. Please reply in the comments section below if you have any other stocks that I should consider or that you think provide better upside than AFL. Also if you owned HNZ let me know what stock you are replacing it with.
Disclosure: I am long HNZ. I wrote this article myself, and it expresses my own opinions. I am not receiving compensation for it (other than from Seeking Alpha). I have no business relationship with any company whose stock is mentioned in this article.
Additional disclosure: With the current buyout proposal of HNZ I am looking to close this position once the buyout is complete and open a new position in AFL in its place.