For its fiscal second quarter that ended on January 26, Cisco (NASDAQ:CSCO) reported that revenue rose 5% to $12.1 billion versus a year ago. Analysts, on average, were expecting $12.06 billion, as compiled by Thomson Reuters I/B/E/S. Income rose 6.2% to $2.7 billion, or 51 cents per share, 3 cents above analysts' average estimate of 48 cents a share.
Chief Financial Officer Frank Calderoni said demand for equipment to enable data centers and cloud computing were the main drivers in Cisco's results, as well as demand for infrastructure for wireless networks, mobility and service provider video. Its data center business showed 65% growth compared with the previous year, while its wireless business and service provider video offerings grew 27% and 20%, respectively.
JPM Securities analyst Erik Suppiger said revenue was a particular focus for investors.
"People are pretty confident about Cisco's ability to cut costs and maintain gross margins," Suppiger said. "The metric people don't have as much confidence in is revenue," he said. "There was upside to consensus in the second quarter, but it was fairly modest."
Cisco has entered in the areas of cloud computing, data centers and applications with a view to eventually transform itself into an all-round IT player in the field of the "Internet of Things" or M2M. I expect this shift will enable the company to boost its revenue substantially from the current level. But it may take some time, perhaps another year. In the mean time, Cisco's stock is expected to be in a slow and steady uptrend in 2013.
Cisco's M2M Solutions will Boost Revenue and Stock Price
Cisco's Intelligent Networking Tools: By 2015, more people will access the Internet from mobile devices than from conventional PCs. A year later, in 2016, 19 billion devices and gizmos will be connected to the mobile Internet. Worldwide mobile data traffic will increase 13-fold over the next four years, reaching 11.2 exabytes per month (an exabyte equals one quintillion bytes) for an annual run rate of 134 exabytes by 2017, according to the Cisco Visual Networking Index (VNI) Forecast (2011 to 2017). It will create a huge problem for wireless carriers, which are already struggling to keep up with surging data demand.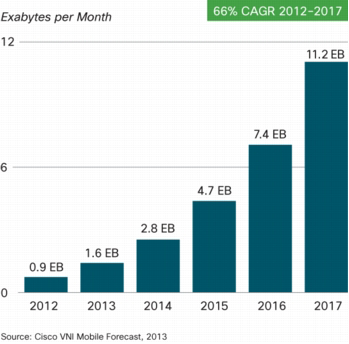 Cisco released a new tool -- the ASR 5500 -- that will let carriers sift through and prioritize the traffic flooding their networks. As the industry's first elastic solution for mobile networks, the new Cisco ASR 5500 platform was designed to capitalize on breakthroughs in software architecture optimized on new, purpose-built hardware. These design characteristics address three multi-dimensional challenges known as the "new normal," which are:
Dramatic growth of mobile lifestyle devices - consumers are buying sophisticated and powerful Internet-enabled devices for use at home, on the road, and at work given the bring-your-own-device or BYOD movement.
Increased usage of next-generation applications - explosive growth in applications by users, always-on applications and those that continually interact with the network.
Rise of the Internet of Things - also known as machine-to-machine or M2M, whereby machines like smart meters and sensors use the mobile network.
Cisco's Additive Manufacturing Solutions: Additive manufacturing is the more formal name for 3D printing. 3D printing will effect big changes in manufacturing delivery models. Sometime soon, we may be able to download a wrench or a new drill just as easily as we download music, books and movies today. But it'll require an amazingly robust and intelligent network.
3D printing is accomplished by creating micro-thin layers of a product. This means the designs for even a simple product take up a massive amount of digital space. And those designs will be stored and shared over a network. 3D data transportation demands will be so large that 1 Gbps Ethernet will not be sufficient. Manufacturers will need to store, transport and protect the 3D design data that is so large that won't fit neatly into relational databases.
Solutions like Cisco's MDS series can provide Storage Area Networking, and the Nexus 7000s and 5000s can transport enormous amounts of data to the 3D printers. Since 3D printing will put a manufacturer's proprietary designs on the network, the designs will need to be protected. Cisco Secure-X framework provides for perimeter security while Cisco Storage Media Encryption enables security in the data center.
Cisco's Cloud Connecters Software: The idea of the Internet of Things is on the verge of becoming a reality due to the plunging cost of connectivity, which is being driven by the emergence of Heterogeneous Networks (often referred to as "HetNets"). HetNets offer a way to increase the density and bandwidth available to mobile devices. While the rise of HetNets is driven by insatiable consumer demand for smartphone bandwidth, the biggest impact will be felt when it becomes cost-effective to connect just about anything (cars, washing machines, vending machines, lights etc.) to the Internet.
Cisco recently launched its virtual cloud-routing and HetNets platform under the Cisco Cloud Connected Solution brand. The introduction of the Cloud Connecters software in the integrated cloud solution should therefore help Cisco leverage its enterprise lead to become a leading software company. The new product solution will help businesses take advantage of cloud computing to deploy cloud-related services and transition their virtual private networks into the cloud. It would also address the traditional cloud computing concerns of speed and bandwidth problems to offer an optimal user experience at the lowest cost.
The Bottom Line
Cisco's initiatives in M2M will certainly be EPS accretive. The company has been generating huge cash flows in the order of billions from operations every quarter. A positive cash flow will ensure that the company is able to return cash to shareholders through regular dividends and share repurchases.
Disclosure: I am long CSCO. I wrote this article myself, and it expresses my own opinions. I am not receiving compensation for it (other than from Seeking Alpha). I have no business relationship with any company whose stock is mentioned in this article.