Beverages are big business. They should be part of your portfolio. My article the past week on perennial favorite Coca-Cola (KO) and its alternatives gives you the picture on the soda and non-fizzy side of the beverage industry. Today I look at what's brewing on the coffee side of the industry.
The four major brewed coffee players are Starbucks (NASDAQ:SBUX), Dunkin' Brands Group (NASDAQ:DNKN), Krispy Kreme Donuts (KKD) and Green Mountain Coffee Roasters (NASDAQ:GMCR). A twelve month price performance comparison is shown below.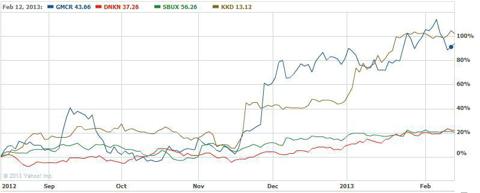 (source: yahoo.com)
As can be seen from the chart, the brewed coffee industry has seen a firming of performance since mid-November with even the laggards, SBUX and DNKN, delivering 20% gains over the past 3 months. A rising tide is floating all boats. Leader, Krispy Kreme, has provided over a 100% gain since Jan 1, 2012, with most of it coming in the most recent 3 months. Likewise, Green Mountain has surged over the past 3 months to almost 100% gains.
Several factors are fueling the renewed strength for these companies. Fundamentals are good.
Profit margins are healthy. KKD can boast 41.2% profit margin, 16.4% for DNKN, 10.4% for SBUX, and GMCR at 9.4%.
5 year EPS growth shows similar strength with KKD again leading at 25.0%, GMCR in 2nd place at 18.85%, SBUX at 18.57%, and DNKN at 15.45%.
P/E ratios show KKD at 5.7 and the other three clustering much higher with GMCR at 19.0, SBUX at 30.0 and DNKN at 39.4.
SBUX market cap leads at $42 billion, GMCR at $7 billion, DNKN at $4 billion, and KKD a small cap at $883 million.
A look at free cash flow shows that KKD (in blue) focuses on managing its business based on this metric with its 5 year trend rock steady. Peer trends are similar although somewhat more erratic.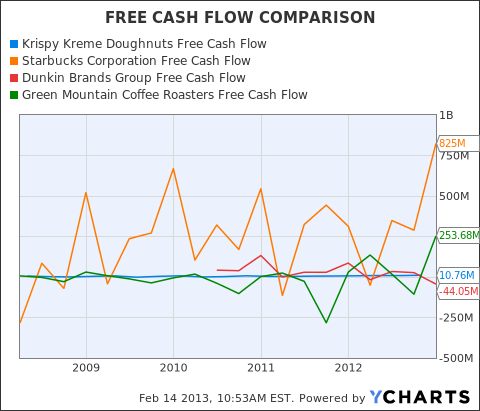 KKD Free Cash Flow data by YCharts
Gross profit margin continues to improve both on an absolute basis and as total percentage for all 4 companies. This indicates the industry still has not reached full maturity. Green Mountain's outstanding performance by this metric reflects its focus on the younger and more robust growth of the at-home premium coffee brewing market.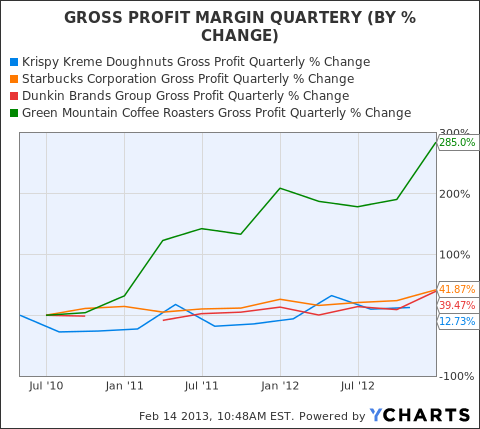 KKD Gross Profit Quarterly data by YCharts
All of the companies show strong operating margins that are growing. The larger operators exhibit the best operating margins. Smaller KKD, however, is improving its margins at the fastest rate as its growth fuels better economies of scale and better purchasing power.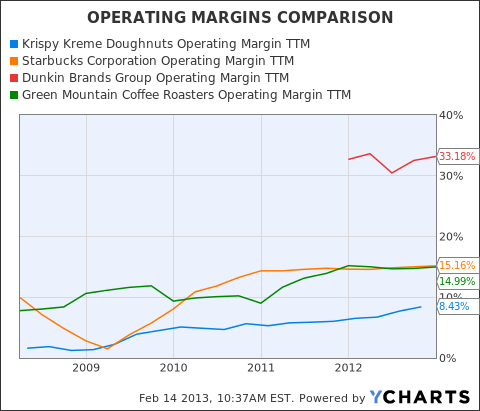 KKD Operating Margin TTM data by YCharts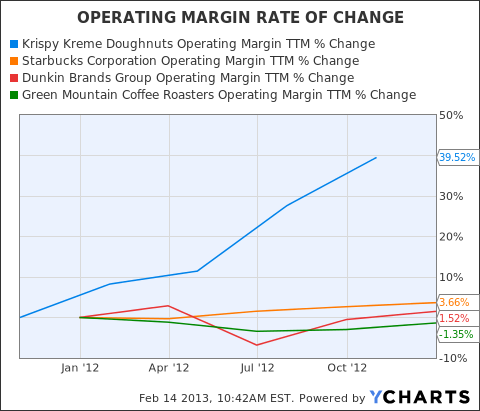 KKD Operating Margin TTM data by YCharts
A comparison of return on invested capitol ((NASDAQ:ROIC)) shows DNKN may have a problem. At only 4.88%, it is not employing is invested cash efficiently enough to reward future growth.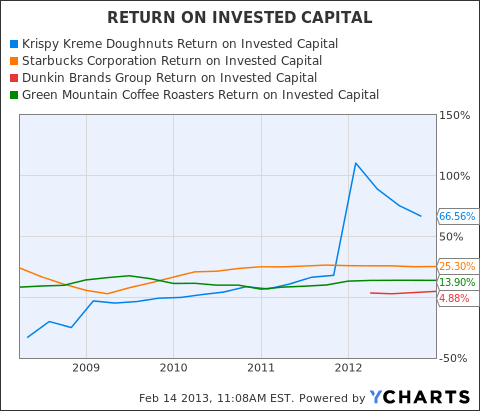 KKD Return on Invested Capital data by YCharts
Earnings per diluted share are strong and rising most rapidly for Green Mountain and Krispy Kreme. Starbucks has a slower but steady growth rate. Dunkin is alone among the pack in showing falling EPS.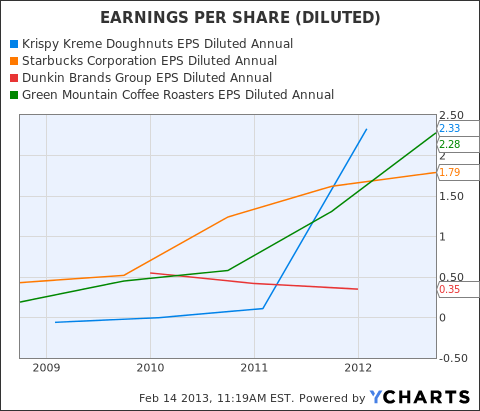 KKD EPS Diluted Annual data by YCharts
Innovations will continue to drive expansion for this industry even as store saturation limits traditional growth. In fact, much of the current growth focus is on the home brew markets. Expiration of some key patents in that arena (such as the modular brew cup) are likely to accelerate competition and growth for the home brewing segment.
The resurgence of share price performance for the coffee brewers sector along with continued strength in fundamentals and market opportunities indicates this is a good time to be establishing and accumulating positions in the coffee beverage vendors.
Krispy Kreme offers the strongest prospects for growth with its current small size giving it agility and room to grow in all aspects of the market. However, this smaller size and more limited current global footprint also makes it more volatile and leaves it facing barriers from established giants.
Starbucks is the gorilla in the pack. This gives it all the advantages of leader in regions served, store saturation, brand recognition, purchasing power and other such economies of scale. It also leaves it with more inertia slowing its reaction to competitive changes. Furthermore, the positive impact of any new product development in the industry will be more diluted in giant Starbucks' overall numbers.
Green Mountain is more focused on the home brew market and less directed toward storefront marketing. Its charts and performance speak for the company's success. However, its history of failing to meet expectations on occasion has made it the target of hedge funds and short sellers and increased its volatility. Some analysts feel it is overly reliant on a limited range of products and marketing outlets.
Dunkin' (DNKN) is the weakest link among the four companies presented here. Its low ROIC and falling EPS are extremely disappointing to me and should be considered warning signs that it may not be a viable competitor to the three peers presented here.
Individual goals and strategies will determine the best approach to blending coffee into your portfolio. My personal approach is to target five percent of my total portfolio into the beverage industry. Half of that is directed towards the soda and non-fizzy drink industry. The other half is available to begin filling up with coffee. My blend leans towards 50% Starbucks for stability. Next is 20% to Krispy for its small size ability to grow fast and grow in ways no longer as widely available to the larger competitors. The final 30% of my coffee money is targeting Green Mountain. The company numbers show it to be firmly in control of its own future and capable of fending off the most extreme attacks from even determined hedge funds.
I may sip a cup of Dunkin' (DNKN) while out driving about, but my investment dollar is driving past this offering.
I am not a licensed securities dealer or advisor. The views here are solely my own and should not be considered or used for investment advice. As always, individuals should determine the suitability for their own situation and perform their own due diligence before making any investment.
Good luck and good investing.
Disclosure: I have no positions in any stocks mentioned, but may initiate a long position in GMCR, SBUX over the next 72 hours. I wrote this article myself, and it expresses my own opinions. I am not receiving compensation for it (other than from Seeking Alpha). I have no business relationship with any company whose stock is mentioned in this article.